New unicorn Hailo raises $136 million Series C for AI chips for edge devices
The Israeli company develops microprocessing chips for artificial intelligence applications used in autonomous cars, unmanned aerial vehicles (UAV), internet of things (IoT) devices, and smart home appliances
Israeli startup Hailo, which develops AI processors for edge devices, announced on Tuesday that it has raised $136 million in a Series C funding round led by Poalim Equity and Gil Agmon. The round was joined by existing investors, including prominent Israeli entrepreneur and Hailo Chairman Zohar Zisapel, Swiss-based ABB Technology Ventures (ATV), London's Latitude Ventures, Israel's OurCrowd, and new investors, including Carasso Motors, Comasco, Shlomo Group, Talcar Corporation Ltd., and Automotive Equipment (AEV). In addition, Mooly Eden, former Senior VP at Intel Corporation, will join Hailo's board of directors, and Eyal Waldman, Co-Founder and former CEO of Mellanox Technologies, will join its advisory board. The round brings Hailo's total funding to $224 million.
Hailo didn't disclose the valuation at which it raised the funds, but Calcalist revealed six months ago that the company was in the process of completing a Series C funding round at a valuation of $1.1 billion.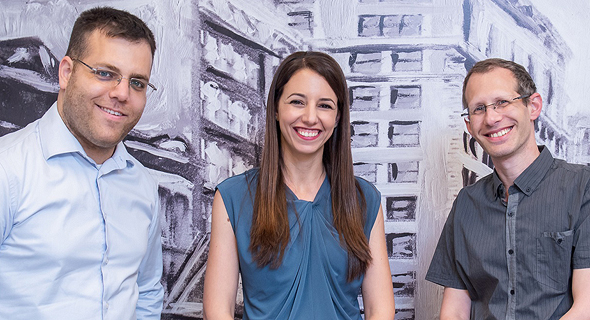 Hailo's founders Orr Danon, Hadar Zeitlin, and Avi Baum. Photo: Eran Tayree
"We are building processors specifically for AI. Our chips are integrated in vehicles in systems that are aiding the driver and the use of our chips results in improved analysis," Orr Danon, CEO and Co-Founder of Hailo, told Calcalist. "Our processors will also be used in robotics systems and heavy machinery in the future. We are expecting significant income already in 2022, although the big leap will come in several years."
Founded in 2017 by CEO Orr Danon alongside Hadar Zeitlin and Avi Baum, who serve as CBO and CTO respectively, and the late Rami Feig, who died in a drowning accident, Hailo develops microprocessing chips for artificial intelligence applications on edge devices used in autonomous cars, unmanned aerial vehicles (UAV), internet of things (IoT) devices, and smart home appliances. The company currently employs over 150 people and plans to recruit an additional 100 workers over the coming years.
Hailo has doubled its customer base to more than 100 clients over the last two fiscal quarters of 2021 as more enterprises seek out AI solutions that empower sensors and smart devices. The company has expanded its presence globally over the last year, opening offices in Tokyo, Taipei, Munich, and Silicon Valley. In addition, Hailo recently announced a partnership with Macnica, a leading global semiconductor distributor in Japan.
"In the coming years, AI will become the defining feature for creating new business value and reshaping user experience as we know it. The ability to bring AI-based features to market will increasingly be the deciding factor over whether companies succeed or fail," said former Intel executive Mooly Eden. "Hailo's innovative and hyper-efficient processor architecture addresses the growing demand for a new kind of chip to handle these new types of workloads, challenging traditional computing solutions."