How JOKR's battle against Amazon accidentally made its way to Startup Nation
After being given $170 million to offer 15-minute grocery delivery in the U.S and Europe, JOKR has set up an R&D base in Israel thanks to one person's relocation
This summer, German-founded startup JOKR made waves in the startup scene. The company, less than a few months old at the time, was given $170 million in a Series A round from GGV Capital, Balderton Capital, and Tiger Global Management to take on Amazon and be a new player in the grocery delivery game. The company, which is based in New York where it launched in June, plans to expand its operations in the U.S, Latin America, and Europe, and it is currently based in nine cities after just four months.

Israel's part in the battle came entirely by accident; only because its VP of Engineering and Team Lead Ben Chen had decided to make Aliyah and move to Israel at the same time.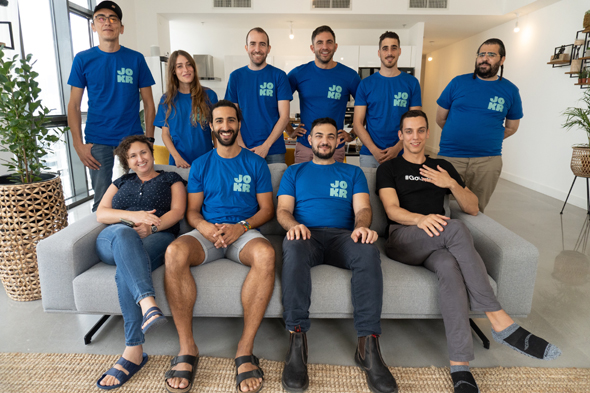 The JOKR team in Israel. Photo: N/A

"I made Aliyah about two months ago. I was working at LinkedIn for five years and really wanted to come here for a while," Chen explained when talking about how JOKR ended up setting up offices in the Middle East. "Once I met the JOKR founders and learned about their ambitions of expanding their engineering team, it was the perfect timing for me to take the step."

JOKR was founded in 2021 by Ralf Wenzel (CEO), Aspa Lekka (COO), Benjamin Bauer, (CCO), Sven Grajetzki (CPTO), and Konstantin Sorger (CMO). Its platform has been described as "Amazon on Steroids", helping small local businesses sell their goods, sourced from other businesses, via their platform to help expand their reach. Warehouses are set up in populated neighborhoods that are never more than an 8-minute journey to help deliver grocery products to homes within 15 minutes.

Israel's role in JOKR's impressive early days is entirely because Chen wanted to move to Startup Nation, something the management praised and welcomed."The founders very much appreciate the Israeli tech scene and the talent here, so it was a great opportunity for me to move and build a tech hub in Israel." Suddenly, Chen was given a budget and the responsibility to build a team of engineers and developers to work from here. In the first two months, Chen has hired eight Israeli engineers and plans to expand to a team of roughly 18 to operate out of offices in Tel Aviv.

Chen shared with CTech that the reason why the company is happy to keep hiring in Startup Nation is because of the success the company has seen so far. Despite the talent shortage faced in the country's tech sector, JOKR is hiring Israelis as quickly as its grocery delivery times.

Israel currently has its own form of online grocery delivery services, notably Yango Deli, that became popular during the pandemic. However, while the country has many R&D centers for these kinds of companies, they are usually integrated into society relatively late. Israelis only received access to Amazon delivery earlier this year, and are often burdened with high import taxes if they use the service. Locals might have to wait a few more years if they want to enjoy the benefits of American and European services like Instacart, Prime, and JOKR. For now, they will be in charge of building the platforms that millions of people around the world can enjoy.

"We definitely want to grow this into a major tech hub for the company and we will continue to hire and expand here in Israel," Chen concluded.