Interview
TripActions CEO: "We will become the Amazon of business travel"
Ariel Cohen is aiming high after raising another $275 million at a $7.25 billion valuation and admits an IPO is on the horizon
"We are not far from an IPO, we believe that something very big can be built here, something like Amazon but for business travel. Something that is not built in six-and-a-half years but in 20 years, and not only through private financing, so we will go public. I guess we are not far from an IPO but I want to see more stability and visibility considering Covid," said Ariel Cohen, TripActions CEO and one of its two founders, in an interview with Calcalist.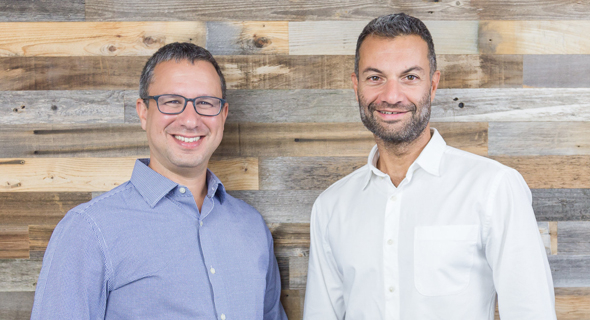 TripActions co-founders Ariel Cohen (left) and Ilan Twig. Photo: TripActions

On Wednesday, the travel-tech company announced it raised $275 million at a $7.25 billion valuation, bringing its total fundraising since its inception to $1.3 billion, showcasing an impressive spike in value as well, compared to the $5 billion valuation that the company reached at the end of 2020.

"It is impossible to continue working with travel agents"

TripActions has changed the way companies manage their business travel, booking a flight, hotel, or rental car. It developed software for such trips, which enables the workplace to reduce expenses and gain better control over them. The software can also plan the trip itself, for example, it can arrange for Covid tests at the country of destination, it provides the employee with a credit card for the trip, which is another means of income for TripActions through fees. In addition, it also allows employees to travel privately using its services.

Tourism, of course, suffered heavily since the beginning of the Coronavirus pandemic and within it, the business travel sector, an industry reaching trillions of dollars. Technology companies operating within this realm got hurt as well.

TripActions, one of the most prominent tech companies in the industry, was founded in 2015 by Cohen and Ilan Twig, two veteran Israeli entrepreneurs living in Silicon Valley. This latest fundraising round was led by Greenoaks Capital with the participation of investor Elad Gil, Base Partners, and the principal investors who took part in previous investing rounds. The company's past investors include Andreessen Horowitz, Lightspeed, Oren Zeev's Zeev Ventures, and Dovi Frances' Group 11. In recent months, the company established an R&D center in Tel Aviv.

Up until 2020, TripActions' growth seemed unstoppable. But in March 2020 Covid struck and suddenly the company's revenues dropped to zero in a short time and forced its founders to make rapid changes. They let go hundreds of employees during a zoom call, and began preparing for the future. Cohen admitted that "18 months after the Corona I can say it did us some good, but in March 2020 I did not see it that way. In April 2020 we realized that people would return to a routine, and on that day they would continue with business trips. We understood that this is a good opportunity to go to major companies like Heineken, Primark, and Netflix and tell them that 'the way you travel must change', in the new digital world it is impossible to continue working with travel agents and outdated systems."

"In the post-corona era, new things will become important, how do you manage passengers safety, how to track which country is safe, which country requires testing, and it is hard to manage this information manually and we understood that back in April. This understanding led us to produce new products that fit the new reality. We continued to invest in sales and marketing, while those who were in the company kept faith that even though revenues almost dropped to zero, they have to continue working, it was not an easy decision."

During Covid, the company raised $780 million, $250 million of which was used in May 2021 to acquire Reed & Mackay, a British travel agency that manages meetings, events, and VIP services for TripActions customers. The agency employs about 500 people.

TripActions claims that between February 1, 2020, and July 31, 2021, it more than doubled the aggregate travel budgets it manages, while the spending budgets it manages increased by 1,400%. Notable corporate clients who have begun using the TripActions platform include Heineken, Crate & Barrel, and Snowflake. "We are making more money from March 2020, generating hundreds of millions of dollars and next year we will do at least three times what we did this year," Cohen said. He noted that the company is not making a billion dollars yet, but that "while our business today is fundamentally different from what it was before Covid, thanks to our acquisition and new products, our revenues have risen substantially."

Referring to the issue of profitability, Cohen said that it "does not concern us today, but it is very important to us that our business activity is strong and profitable in itself, meaning every transaction we make will be profitable. We want to win in a market where there are many big players today. And if we want to win we have to invest a lot in marketing and sales. "

"Travel dropped by half"

TripActions still feels the daily volatility of the business travel sector during Covid and the changes it brought. "Business travel is about 50% less than it was before the Corona and the reason is not that people do not want to fly, rather mainly because of the Covid restrictions. Whenever borders reopen or restrictions are eased, almost immediately you see a return to normal. U.S. and European travelers are still very restricted, once restrictions are lifted, I think we will see a major spike in business flights. Anywhere restrictions were lifted, business travel came back to pre-Covid days. That is what we see across the U.S. where there are no restrictions. We all worked with video calls pre-Corona and have now learned to do things with Zoom that we didn't know beforehand, which is very good, but nothing can replace a face-to-face meeting."

Corona has led the company to make a series of significant changes, the first of which is the development of a product called Liquid, meant to manage companies' business expenses and financing for customers. Also, recently the company has developed a private travel system for its business customers called Lemonade.

TripActions is not Cohen and Twig's first startup. In 2013, they sold the social work platform StreamOnce to the American software company Jive for $15 million after raising only $1.5 million. The prominent investors in StreamOnce, Lightspeed Fund and the private investor Oren Zeev, also invested in TripActions, which they rushed to set up after finishing their work at Jive.