Appointments
DataRails bolsters executive team with four new hirings
The cloud collaboration platform has appointed a new CFO, VP of Sales, VP of Marketing, and VP of Product
DataRails, an Israeli startup that provides next-gen financial reporting for SMEs, has announced four new executive hires simultaneously to help it meet the challenges of its continued acceleration. Zviki Shimon is its new CFO, Yair Areli is the new VP of Sales, Nir Mandel was appointed VP of Product, and Aviv Canaani joins as VP of Marketing.

"We are thrilled to have completed the building of a world-class executive team at a pivotal time in our journey," said Didi Gurfinkel, Co-Founder & CEO at DataRails. "The past year has been one of global opportunities for CFOs of small-and-medium-sized businesses who are putting financial planning and analytics at the forefront of their future growth. Our innovative financial planning and solution is critical in consolidating SMEs data and automating financial processes. With their combined decades of experience, we look forward to Nir, Yair, Zviki, and Aviv helping us to blaze the path to market leadership."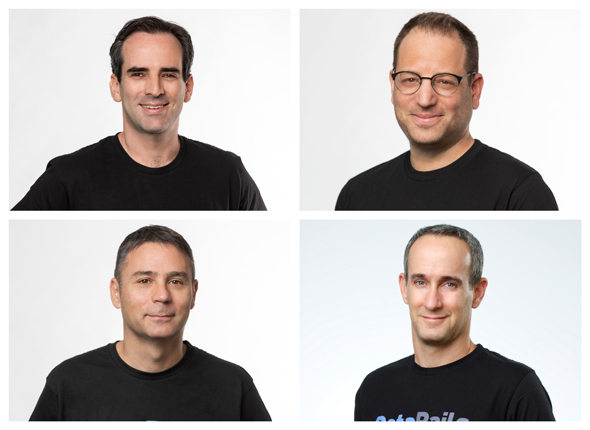 Clockwise from top left: Aviv Canaani, Nir Mandel, Yair Areli, and Zviki Shimon. Photo: DataRails

Shimon will be joining following his experience as CFO at CloudEndure, which was acquired by Amazon Web Services in 2019, and Retalix, an Israeli IT company that is publicly traded on the Nasdaq and TASE. He holds a Certified Public Accountant (CPA) and Masters in Law (LLM). Areli is joining as Senior Vice President, Global Sales, following a decade at Sisense helping build its U.S sales team.

Mandel will be VP of Product Management after his time at Rapyd, a Fintech-as-a-service platform, and before that as the founder of Clarus.io. Finally, Canaani will be the company's VP of Marketing following his time in the same role at Workiz. Before that, he had led B2B marketing teams at IBM and Natural Intelligence. Outside of work, he teaches a course about "Startup Marketing" at Reichman University.

DataRails was founded in 2015 and has created a platform that automates the process of consolidating, analyzing, and reporting financial data. The four appointments come after a recent Series A funding round of $43.5 million in June 2021. In the last year, the company has doubled its valuation and customer base, expecting to hit 1,300 by the end of next year.