From prison to the TASE: the convicted murderer seeking a $250 million valuation
In 1998 Harel Hershtik was convicted of the murder of Yaakov Sela. Today, he hopes to become the CTO of a publicly traded company, with the support of Israel's former National Security Advisor
Routine financial reports and statements often go under the radar, but sometimes there are a few that hide extraordinary stories. The following falls within the latter category.
A convicted murderer, who during his years in prison was involved in medical developments, is released after 25 years and leads the company he founded, which includes well-known business figures, to merge into a shelf company that is traded on the Tel Aviv Stock Exchange (TASE).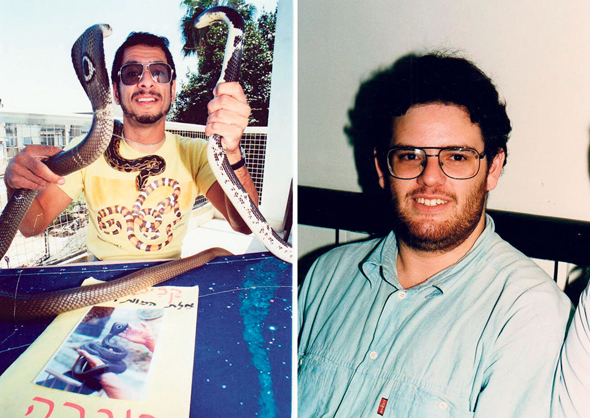 Harel Hershtik (right) and victim Yaakov Sela.

But the story does not stop there. The chairman of this shelf company, who spoke on behalf of the man convicted for murder in front of the release board, is none other than the former Israeli National Security Advisor and an IDF Major General in reserve, Yaakov Amidror.

This unheard of scenario is expected to reach its boiling point soon, with a vote of the shelf company's shareholders on the appointment of the released killer, who is also behind the technological development, as the company's CTO and his lawyer as a board member.

A hand sticking out from the ground of the Golan Heights

The story began in May of 1996 when several boys on a trip to the Golan Heights in Israel's north noticed a hand on the ground and immediately called the police. The body that was discovered at the scene was identified as a well-known snake wrangler, Yaakov Sela, who at the time had been missing for nearly a month.

Quickly, investigators were able to trace the last person Sela met, 20-year-old Harel Hershtik from Kibbutz Degania Bet. Sela, who was also known for smuggling venomous snakes, some of which are forbidden in Israel, had a following of fans and pupils. Hershtik was one of them, but the relationship between the two had its ups and downs, meanwhile, his mother, Rina Hershtik, was romantically involved with Sela.

Sela caught young Hershtik stealing tens of thousands of shekels from him, however, he agreed not to go to the police on the condition that Hershtik return the money with 100% interest. Hershtik agreed, but he did not return the money and carried out his murder plot.

In addition to the murder charges, Hershtik was also convicted in 1998 of obstruction of justice (after attempting to coordinate testimonies to fabricate an alibi for the murder), conspiracy to commit murder, theft, fraud forgery, and impersonating another. He was sentenced to life in prison, which was set at 30 years from the time of his arrest - until May 2026.

PhDs in chemistry and mathematics while in prison

During his years in prison, he completed two doctorates, in chemistry and mathematics, and began developing different ideas, "and conducting business activities outside the prison walls," as it was written in one of his psychological diagnoses, which further stated that "the prisoner is involved in several companies outside prison walls."

Hershtik sued the Israeli prison authorities quite a bit, among other things to get a computer so he could work on and promote the start-up he co-founded more than a decade ago called Spectrosense. The company boasted about developing a non-invasive cancer diagnostic device using a breath sample, and a device detecting explosives and narcotics from a distance. Like many startups, the company failed to take off.

Five years ago Hershtick asked for his sentence to be reduced, in part due to his medical condition, but he was unsuccessful, and this year he petitioned again for early release on parole. This time, speaking in his favor was Amidror, former head of Israel's National Security Council, and the chairman of the shelf company NextGen BioMed Ltd., which is trading on the TASE at a NIS 135 million valuation (about $42 million).

NextGen seeks to absorb into it the full activities of Scentech Medical, which was founded by Hershtik, who is also the major shareholder in it and the "brain" behind its technological capabilities, along with Dr. Ehud Cantor (who was also Hershtik's partner in their previous start-up) and American biomed investor Drew Morris, a member of a wealthy family active in real estate.

Again, in what is reminiscent of his invention from a decade ago and based on similar technology, Hershtik is developing a "breathalyzer" that will be able to detect a wide range of viruses and malignant diseases. Today, however, the main focus is on identifying the coronavirus through exhalation.

Amidror, the retired general, described how Hershtik was leading R&D from within the prison walls, saying the company was "facing a scientific breakthrough." He noted that he is in continuous telephone contact with Hershtik, in order for the latter to provide solutions to the issues encountered by the company, and that his impression of him is extremely positive.

The parole board approved Hershtik's early release, provided he was closely monitored for at least two years including a night house arrest with electronic restraint from 10pm to 6am and a flight restraining order until the end of his sentence in 2026.

As early as April 2020, at the height of the Coronavirus' first wave, NextGen announced for the first time that it was examining the possibility of merging with Scentech's medical operations, and appointed key Scentech shareholders to its own board: Sholem Lapidot, former IDB CEO (who at the time, was also appointed as NextGen Chairman), economist Yaniv Hevron, and Australian investor Steven Bermeister (whose brother was one of the founders of Skype).

Since then, NextGen has been reporting on progress in development made at Scentech's laboratory in Ness Ziona and in experiments it conducted in hospitals on verified Covid patients. Subsequently, the company reported on the start of sampling at various hubs, and recently on collaborations with United Hatzalah and with the commercial arm of the Biological Institute.

The company stated that its technology "is expected to enable the detection of viruses in a non-invasive manner, by blowing into a straw, similar to the breathalyzer test, with results given within a few seconds."

Since the shelf company announced its intention to take over Scentech's medical activity, its share soared by 850%, peaking in January 2021. However, the merger agreement, signed in June 2020, did not materialize due to a dispute among Scentech shareholders that was reported to the TASE.

The largest investor in Scentech is Drew Morris (other members of his family hold shares as well), whose share in the merged company will stand at 8.9%. He is followed by Yaakov Zarchia, Moshe Birman, and Hershtik, who will hold a 5.7% stake in the merged company. The list of investors includes other well-known figures in the Israeli market such as Jacky Ben-Zaken, who was convicted and imprisoned for securities fraud; former journalist and current media consultant Emmanuel Rosen, who advises the company; and Liya Felus-Domb, a high-profile criminal lawyer, who accompanied Hershtik in his petitions against the prison services. Felus-Domb is expected to be named to NextGen's board after the merger, where she will sit alongside former minister Colette Avital, who serves as an external director. It seems that the company is aiming high because the compensation terms for investors are assuming it will reach a market value of at least NIS 800 million (about $250 million).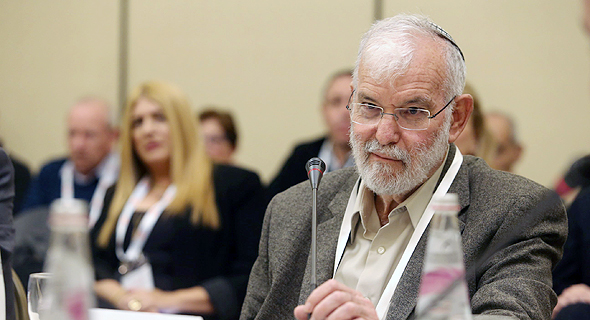 Former Natioanl Security Advisor and NextGen Chairman Yaakov Amidror. Photo: Nimrod Glickman
The shareholders' assembly will also vote on the appointment of Hershtik to the position of CTO of the merged company. He will receive options for 0.75% of the company's shares, which he can exercise on the condition that it meets professional-technological milestones. Scentech's latest financial report states that Hershtik's salary was updated in May 2021 with his appointment as VP of technology - from NIS 22,500 (about $7,000) to NIS 40,000 (about $12,500) per month, in addition to car expenses and the capital compensation he received. In its prospectus, Scentech stated that it employs 13 people and 4 consultants, focuses on R&D, has no revenue and does not anticipate sales until 2022, at which time it expects to start commercial operations. The company concluded 2020 with a loss of NIS 25 million ($7.8 million) and registered losses of NIS 15 million ($ 4.6 million) during the first half of 2021.
Furthermore, the company stated it does not yet have permission to market its product in the U.S. or Europe, and that it is collecting data through tests in order to request permission. In addition, it appears that the company has filed several patent applications, but the process has not yet been completed.
The legal question
In July 2020, a presentation to investors was published, stating the names of leading team members. It did not mention Hershtik, who was still in prison at the time, but was nevertheless a key figure in the company. In a recent filing ahead of the merger, he was named as the "Chief Technology Officer," a position he was appointed to in May 2021, following his release from prison.
NextGen had previously been under the watchful eyes of the Israel Securities Authority and was handed fines twice for missing details in their reporting and for not appointing a chairman to the board for almost a year. However, legally, there is nothing preventing it from appointing to a senior position, as an officer or director of a public company, someone convicted of serious offenses, and in this case a murder.
Israeli law prohibits such appointments of someone convicted of major economic crimes such as bribery, fraud, theft, forgery, etc. but only for five years from the date of conviction. Hershtick was convicted in 1998, so he complies with the provisions of the law, and the Securities Authority has no legal reason to intervene.