Is Celsius the bank of the future or just a $3 billion-pyramid scheme?
After raising $400 million, Israeli-founded Celsius wants to become the respected financial institution of the crypto world
Daniel Leon is laughing all the way to the bank. Not as a metaphor, but literally.

Two years ago Leon returned to Israel after 20 years in New York to manage Celsius Network's operations, as one its co-founders. Leon was already a techie entrepreneur with several successes (and failures) on his resume, and had quite a bit of money. He had been holding that capital at Merrill Lynch, one of the largest and oldest financial institutions in the world. But then, he returned to the Holy Land.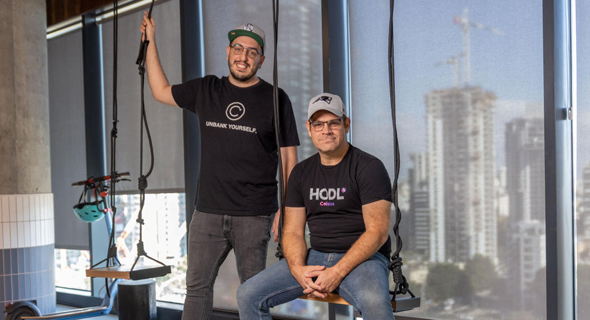 Daniel Leon (Right) and Roni Cohen-Pavon. Photo: Tal Shachar

"I went to my bank's local branch to take out a loan to buy an apartment," he told Calcalist in an interview. "I wanted to put down NIS 1 million (approximately $311,900) in personal capital, and take the rest out in a loan. They asked me how I had so much capital to make a down payment, and I explained that it came directly from my bank account, which I've managed for years at Merrill Lynch. It was an account in my name, with all my information, and it wasn't just some unknown number. At the bank, the tellers raised their eyebrows, but moved forward toward finalizing the loan. They asked questions, I filled out a form, and when I mentioned that crypto was my occupation, they asked me to leave. The banker told me more or less: 'Sir, please leave the bank and be grateful that I'm not going to close your account, you're lucky.'"

Leon laughs as he tells this story. He can afford to. He already purchased an apartment. He continues to amass wealth, mainly due to his shares in Celsius. Two weeks ago, the company completed a $400 million round at a $3 billion valuation. The huge round with an exceptional valuation is part of a move that still seems surprising: in July 2020, Celsius raised $30 million at a valuation of a little over $100 million. Within less than a year that valuation leaped thirty-fold, and the company is happy to talk about how they could have raised more in the current round. But Leon is mainly proud of the fact that that money in the current round didn't come from crypto investors, but large, established, and solid institutions - a Quebec teacher's fund and WestCap, an investment fund. Aside from the cash, the round is meant to serve as a stamp of approval of the company's legitimacy.

Celsius is a sort of bank for cryptocurrencies. In the middle of last year, it managed a billion dollars in crypto. Today, it already manages $26 billion. It has a little over a million customers, who deposit different digital currencies, from Bitcoin (which comprises about 40% of deposits), Ether (which makes up 30%), to SushiSwap. Celsius doesn't just keep the money like a bank, it also allows its customers to take out loans, with the cherry on top being a weekly interest rate which those who deposit crypto earn (which Celsius refers to as "rewards"). Its yearly interest rates are between 5%-12% - which are amounts that customers at regular banks can only fantasize about.

This issue of high interest rates on deposits that customers don't even have to pay commission on raises many questions, and puts Celsius on the defensive. The company understands all too well that it still needs to prove that its business model is feasible and valid. And that's why it made a point to bring in Canadian pensioners.

"That was exactly the point of our round - to kill all doubt," Leon says. "Now, we have investors who have a lot more to lose than myself, and they're putting their reputation on Celsius. This is almost my dream."

What is your dream?

"My dream is that people stop asking me why this isn't a pyramid scheme."

"New investors withdraw every day"

Leon (47) is the President and COO of Celsius, and co-founded the company in 2017 with CEO Alex Mashinsky, and CTO Nuke Goldstein. After the latest round, each co-founder is now worth hundreds of millions of dollars on paper. Leon is the face of the company's Israel branch, and is joined by Roni Cohen-Pavon (34), the CRO, during the course of our interview. Until last year, Cohen-Pavon served as a lawyer at the Herzog Fox & Neeman law offices, and handled the area of blockchain technologies. Cohen-Pavon was slowly drawn to the world of blockchain, and left the legal side to join Celsius, and now he also defends the company.

Before we even get to the topic of interest rates, the first doubt that arises regarding whether this might be a pyramid scheme is the fact that when customers deposit cryptocurrency at Celsius, that ownership transfers to the company, and it either invests that money or lends it to other customers. The original owners don't pay any fees, not for managing an account, or making withdrawals, and they also enjoy a weekly payment return (which is conducted with the same currency that the deposits were made in). And these returns are, of course, extraordinary.

You want people to stop asking you whether this is a pyramid scheme, but that's a valid question. Banks offer meager interest rates, but yours can be double-digits. Banks are regulated and depend on decisions made by the central bank, but you make your own decisions. Customers have a reason to worry and ask where the money for those rates comes from.

Cohen-Pavon: "We're the only ones in the market with a business model that doesn't include income from end-customers. Even when withdrawing these funds - which could yield hundreds of dollars worth in fees - we don't demand anything. We don't have any profit that originates from customers. It's entirely dependent on our ability to generate more currency from that which we received from our customers. We're trying to bridge between the world of crypto and traditional finance, and operate like a bank, which takes deposits from private customers and lends them to institutional customers."

But Celsius is more like a hedge fund than a bank: it employs a variety of trading strategies to generate returns in any situation, and some of those also come from mining Bitcoin. "Soon, we'll be one of the largest cryptocurrency mining companies in the U.S.: We'll have more than 67,000 machines generating Bitcoin by the end of the year, which will allow us to mine 420 bitcoins a week, without polluting the environment, using a method that is neutral in terms of carbon emissions," Cohen-Pavon said.

"If we would bet on Bitcoin or a certain cryptocurrency, we could make a lot more money, but our secret ingredient is risk management. It's true that we aren't sure that we can generate enough yield for customers on a weekly basis, but we've accumulated enough to give us breathing room that even if we have a hard week or month, we can still pay the interest. There are three definite things in life for us: taxes, death, and Celsius' interest payments," he quipped. The company also provides customers with reports and paperwork in accordance with the law to pay taxes on profits earned on its platform. "The sunlight regulates us," he said.

So customers aren't suspicious?

"In the beginning, we definitely recognize customer doubt which is usually expressed in the first few weeks when they withdraw their crypto on a daily basis and feel their coins. Every week they also feel the interest, to know that it's real. Afterward, they relax and HODL (holding on for dear life)."

Can you understand the suspicion?

Leon: "Our relationship with banks trained us to think that there's only one way to do things - that the customer gets screwed over. We're used to making a deposit and receiving 0.5% interest, but if we ask the bank for a loan it will give us one at 5%, that's the current model. That's why when we tell people they can receive interest at 5%-7% or even at 12%, everyone thinks it's a pyramid scheme. But the global financial system could issue these interest rates, but it doesn't want to. Once you start to get a little rich, or even just do well, you realize that there is a financial model that is only open to a specific group. Suddenly, I'm being invited to invest in hedge funds. Suddenly Merrill Lynch is ready to give me 5% in returns and not 0.5%."

But who's on the other side?

Cohen-Pavon: "Me, as Celsius and that isn't your problem."

It's unclear how a body with which I deposit cash isn't my problem. Maybe it's Celsius' biggest catch: unlike a security deposit with a bank, when you make a deposit at Celsius, there isn't any insurance to cover your funds in the event of a cyber attack, technical crash, or other dramatic disruptions. After transferring ownership of the digital assets, Celsius transfers them to a custodian that has insurance coverage, but not for the entire sum. "It's true that this insurance won't cover everything, and that's also one of the reasons why we are strengthening the Israeli office. We've established a cyber branch with plenty of expats from the Israeli military's Unit 8200, and they are also involved in our decision-making and examine the platforms we operate."

But you're still far from being a bank, also security-wise. If we compare your model to those of the traditional financial world, then Celsius is a nostro (an account that a bank holds in a foreign currency in another bank) company that lends customers capital and pays them back part of the returns, when it succeeds in generating money.

Cohen-Pavon: "Yes. A few months ago we and our competitors felt that the market was shrinking, and we needed to decide whether to turn into a basic bank and charge fees. Our competitors chose to do so, but we decided to be more active in lending, and demand more significant collateral."

"We're not active in Israel"

The current round, they claim, is only for the sake of receiving legitimacy, and not for the money. "There was no urgent need to raise funds in terms of money," Cohen-Pavon says. "Listen, $400 million is the maximum amount that we were willing to give and the minimum that investors were willing to take. We've been profitable for over a year now, and growth isn't our problem."

So why raise the funds?

"We started our round with the sole intention of adding to our list of shareholders strong and well-known institutional shareholders. In the past, we raised funds from one of the strongest names in our industry, Tether Limited (which operates its own stablecoin), but we weren't a relevant player on Wall Street. While well-known investors like Peter Thiel and the Winklevoss twins invested in our big competitors, we were lacking in that department. In a market like ours, where customer trust in you as a financial institution is critical, it's important that we have institutional involvement."

This institutional involvement came courtesy of the Quebec Deposit and Investment Fund (CDPQ) and the growth equity firm WestCap, which was founded by Laurence Tosi, a former Partner at Blackstone, the largest investment firm in the world, and one of the first investors in Airbnb.

However, when it comes to Israel, it seems nothing has changed. Celsius isn't allowed to operate in Israel despite the fact the company was founded by Israelis and employs 100 people in the country. "Israel is the only country in the Western world in which we aren't active," noted Cohen-Pavon. "There are other countries with regulatory hesitation when it comes to crypto, like Japan, but we are able to operate in them through local partners. We aren't even able to do that in Israel. I can't even pay my employees in Israel a bonus because it is coming from abroad. I understand that this isn't personal and this is just the way the regulators are, but they are throwing the baby out with the bathwater."

Nevertheless, you are intending to expand here.

Leon: "We will double our workforce in Israel by the middle of the year as we see it as a strategic location to develop our platform and our finance department is also located here. But growth in Israel is challenging. I'm not sure if it's more difficult to find developers or office space in Israel."