Fabric joins unicorn club with $200 million Series C
The Israeli startup which develops robotic solutions for the fulfillment center industry is valued at over $1 billion following its latest round
Israeli retail technology startup Fabric announced on Tuesday that it has closed a $200 million Series C funding round at a company valuation of over $1 billion. The round was led by existing investor Temasek, with participation from Koch Disruptive Technologies, Union Tech Ventures, Harel Insurance & Finance, Pontifax Global Food and Agriculture Technology Fund (Pontifax AgTech), Canada Pension Plan Investment Board (CPP Investments), KSH Capital, Princeville Capital, Wharton Equity Ventures, and others.

Don't miss Israel's complete list of tech unicorns

Fabric was founded in 2015 by Ori Avraham, Eyal Goren, Elram Goren, and Shay Cohen. The company employs 300 people in Israel, New York, and Atlanta and has raised $336 million to date.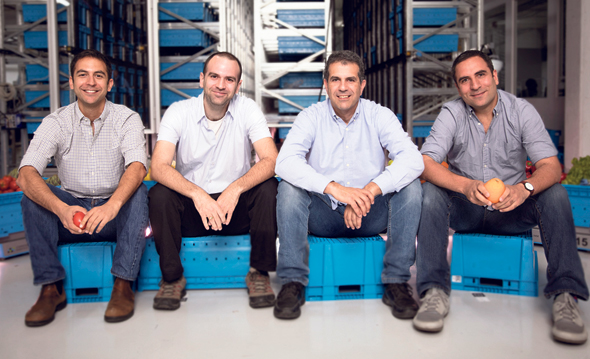 Fabric co-founders. Photo: Ran Yehezkel

"We are very focused on the U.S. market but the connection with Temasek creates additional opportunities for the future that we will not rule out," CEO Elram Goren told Calcalist. "2020 was a positive year as far as market entry but it was difficult to complete projects due to the circumstances. We started with two active centers but by the end of next year, we will have over 10. We are in the early stages of significant growth."

Fabric leverages its proprietary robotic micro-fulfillment technology stack to make on-demand fulfillment profitable and scalable for all retailers. It runs micro-fulfillment operations for grocery and general merchandise retailers in New York City, Washington, DC, and Tel Aviv. Just recently, Fabric announced major partnerships with Walmart, Instacart, and FreshDirect.

"We provide a solution for the needs of this new era in which people want to receive their order quickly and they are ordering more than ever online. Despite the delays in construction, this has been a perfect storm for us," added Goren. "Generally speaking, Fabric is an anomaly in the market as this is very complex technology and a product that requires a big investment but presents a massive opportunity."

E-commerce sales penetration more than doubled to 35% in 2020, the equivalent of roughly ten years of growth within a few months. This unprecedented surge in online shopping has been compounded by evolving consumer expectations to receive their orders faster than ever, a prohibitively expensive and challenging proposition for retailers. This trend will only continue, as the same-day delivery market in the U.S. is poised to grow by $9.82 billion over the next four years. Despite this surge in consumer demand, fulfillment capacity has struggled to keep up, and finding and retaining labor remains a costly bottleneck.

"While we use the term 'robocorn' a bit tongue in cheek, we see this milestone as a real turning point in the industry, from what was once trepid exploration of micro-fulfillment to total market validation and now rapid expansion," concluded Goren.