StartUp+ Competition 2021: High tech leaders reveal their mistakes on the way to glory
Calcalist and Poalim Hi-Tech's competition brought together senior figures in the Israeli high tech industry and they spoke to Calcalist about their greatest wins and losses, and the lessons they learned on the way to becoming the next big success story
Bill Gates once said: "It's fine to celebrate success but it's more important to heed the lessons of failure." But Gates isn't the only one who understands that the path to success is paved with ups and downs. From discussions with several senior investors in the high tech industry over the past few weeks, we've discovered that even those looked up to by entrepreneurs have at least one story that presents the road to success in a different manner.

"Success is something that we often examine by subjectively comparing ourselves to others. Sometimes that could be a family member (a parent, sibling, in-law, cousins, or the like), or even a friend who started out with us, and had a big breakthrough," Yael Elad, who serves as a Operating Partner at Aleph VC, said in an interview. "Ambitious people struggle to define success in real-time because there is still far to go, there's still another mountain to climb, or another goal to fulfill. The biggest setback is often not realizing that you earn recognition for your success - whether big or small, temporary or permanent - when it happens. There are several significant achievements that function as milestones on the path to success, and success isn't necessarily a certain unique point with a finite end."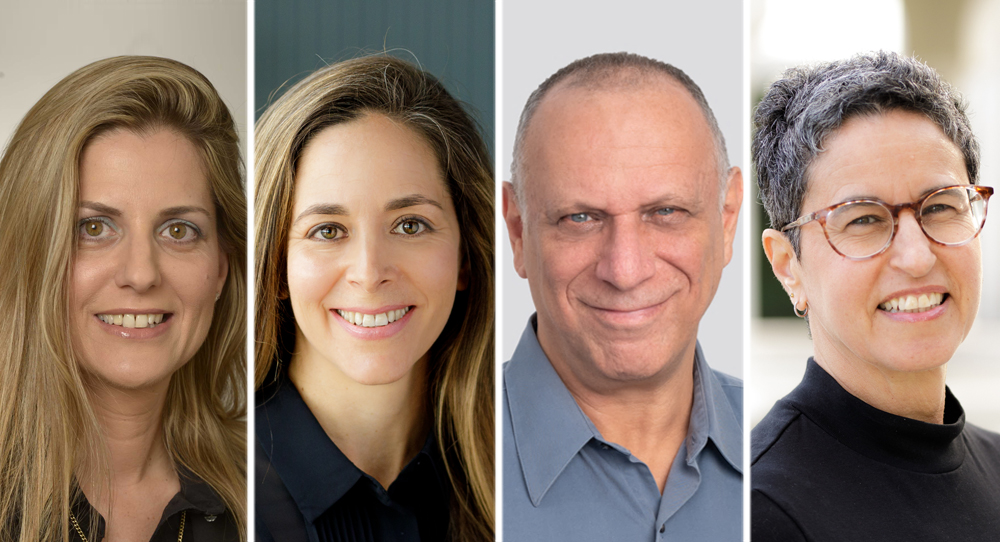 From right to left: Elad, Moran, Bronner, and Drayman. Photo: CTech

Elad is part of a panel of impressive judges who will oversee the StartUp+ competition, hosted by Calcalist and Poalim Hi-Tech that is taking place for the second time after its success the year prior. Some 250 startups applied for the competition, but only 15 have been chosen and will actively take part in the final event. The winners will receive a cash prize, professional consulting from industry experts and office services from Mindspace, in an effort to provide a boost to these seed and pre-seed startups.

Another judge on the list is Dov Moran, Managing Partner of Grove Ventures, an entrepreneur, venture capital investor, and inventor of the USB memory stick (as well as holding 40 other patents), who shared with us that his path to success was paved with risks and blunders: "When I was at A-M Systems, during those first few years, we thought of ways to make a flash drive function like a CD-ROM. My then-partner, Amir Ban, wrote algorithms that could emulate a hard disk on a flash drive. The software equivalent at the time was something engineered by Microsoft and Intel together, but didn't compare. We were newbies, we didn't think registering a patent was important, but prefered to 'be ahead of everybody else.' I remember thinking back then that registering a patent was a waste of time."

"It's clear to me now that someone eventually copied our software and big companies came up with solutions, and our software lost a lot of its value. If we would have registered it as a patent, A-M Systems could have been in a much better place earlier. But I learned that when you miss your chance, you have to think forward and not backward. We came up with new ideas and developments, and that later became the Disk-On Key."

Michal Drayman, Partner at JVP, and a veteran investor in the digital health and medical device sphere, also shared an important lesson that she learned early in her career. "In 2005, at the beginning of my journey as an investor, I invested in a breakthrough medical company in the radiation therapy arena, whose technological capabilities were exceptional. The company was chosen due to its team and the innovative nature of its product. The product showed a real improvement in patient quality life, exceptional precision in screening and exceptional execution during the regulatory process with the FDA, creating a portfolio of patents."

"Despite its success and great potential, the company shut its doors since its owners felt that the path to success wouldn't be immediate - something that happens unfortunately with companies who invest a large amount of money in medical technologies. Its team did a great job trying to persuade the investors once they decided to shut its doors. I think that determination and persistence could have created a real success that was ahead of its time, particularly in several areas of noninvasive surgery and digital health."

"Similar companies in other fields like Mazor Robotics were acquired by Medtronic for a lot of money. My gut feeling was that it was a mistake to shut down the company. I needed to express my opinion (although I was young at the time and less experienced in managing an investment team), and convince the entrepreneurs and investors to stick with the process. What we can learn from this is that investments in medtech, foodtech, and agritech fields can be much longer and processes are far more conservative and time-consuming. However, the ability to have an influence and change the world and make a positive impact on people's lives and the Earth is a worthy price to pay for a great economic potential. It's worth the effort."

"Afterward, as the CPO, I made sure to discuss these issues with all the people on our teams and those in the necessary positions who hadn't yet developed a product, making sure to ask the right questions in the right way (not those whose answers were obvious), and to be very critical of finding what the problem was and how we could solve it, instead of how we originally thought it could be resolved. Today, when I meet and work with entrepreneurs this issue arises often. While every company is different, I believe that one of the most important qualities of an entrepreneur is the ability to ask and listen without any obstacles or defenses, and then make the best decision possible for the company."

First place is important, but it isn't everything

The StartUp+ competition will reach a conclusion this week during a celebratory finale. After the semifinal stage in which 15 entrepreneurs will present their brief pitches before a panel of judges at the competition, the five that succeed in impressing the judges will move forward. At the end of the event, only two will be awarded monetary prizes and expert consulting, as per the competition's terms.
Jonny Sacks of F2 Venture Capital. Photo: CTech

Regardless of where companies ultimately finish in the competition, the judges' message to all the participants is clear, or as Jonathan (Jonny) Sacks, who serves as Managing Partner at F2 Venture Capital, put it: "Making mistakes is an inseparable part of an investor's journey. Ten years ago, I decided not to invest in a startup since the CEO was missing some qualities that I was used to spotting in founders. Today, I'm really upset that I missed out on that deal with a company which later became a unicorn. Since then, I've learned that entrepreneurs also come in all shapes and sizes. After more than 20 years in the venture capital industry, I've made terrible investments, missed out on some pretty great ones, and everything else in between. But one of the most important lessons I learned is to make sure not to fall prey to prejudices and biases, and to always learn from your mistakes."