Exclusive
Darrow raises $20 million to uncover corporate legal violations and bring justice to all
The Israeli startup is focused on locating violations that have caused damage to millions of people on average – the threshold for a potential class-action lawsuit
Darrow, an Israeli startup founded a year ago by two lawyers and a former member of the IDF's Unit 8200, announced on Sunday that it has raised $20 million. The investments were led by F2 Venture Capital, Entrée Capital, NFX, and Y-Combinator. The company currently operates in Israel and New York, with more than 40 employees. Darrow raised $4 million in its Seed round at the start of the year.

Darrow has developed a machine learning-based platform which discovers legal violations by some of the biggest corporations in the world. Operating chiefly in the U.S., the company is focused on locating violations that have caused damage to millions of people on average – the threshold for a potential class-action lawsuit.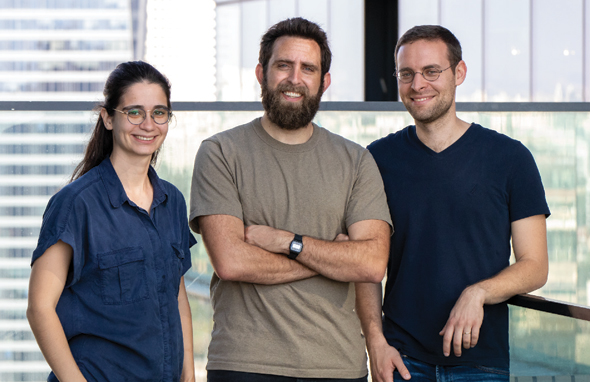 Darrow co-founders. Photo: Oren Gilor

"We identify companies that have violated the law and hurt people. Acts that resulted in wide-scale damage, usually to millions of people and sometimes also to tens or hundreds of thousands," CEO and co-founder Evyatar Ben-Artzi told Calcalist. "The classic examples are from the world of privacy, like data leaks and misuse of customer information, but we have since expanded to areas like consumerism, and the environment. We don't lead the legal action but rather pass on the information to the law office with the best chances of succeeding in this case based on their track record. Should the law firm decide to take on the case, they pay Darrow an initial sum and additional fees later on."

Darrow was founded in June 2020 by Ben-Artzi, Elad Spiegelman and Gila Hayat. Ben-Artzi and Spiegelman met at the Hebrew University Law School in Jerusalem. After graduating, they clerked together at the Chambers of Israeli Supreme Court Justice Uzi Vogleman. Hayat was a senior software engineer and team leader at Unit 8200. Darrow said it is already serving dozens of leading law firms and generating millions of dollars in revenue.

Every day, reports on corporations and their violations of basic rights are published – privacy breaches, consumer fraud, environmental pollutants, overcharges, unfair competition – these cover only a fraction of the legal violations committed by corporations around the world. "Most violations are never discovered. The information is available, but the challenge lies in finding it within the vast amount of online data and assembling the legal story from the bits and pieces scattered across multiple sources. This is where we come in," said Gila Hayat, Co-Founder and CTO.

"The law enforcement system extensively invests labor, time, and resources to detect violations of the law," explained Hayat. "And still, with the tools at its disposal, the legal system does not know how to uncover the cases which Darrow discovers and takes to court. We teach a machine to understand the law, identify harmful actions, and bring them to light and justice. This is a huge challenge that the legal system has not yet been able to deal with."

Despite its legal focus, Darrow doesn't describe itself as a legaltech company. Whereas legaltech startups find technological solutions aimed at changing the traditional way in which legal services are delivered, Darrow develops technologies aimed at solving some of the most fundamental issues preventing justice for all.

"We are not satisfied with merely discovering these violations," added Hayat. "In fact, we accompany law firms throughout the entire litigation process. Darrow provides the factual basis for the case, matches it with the best-suited law firm in order to bring it to court, and supports the firm throughout the proceedings."

"We haven't abandoned the legal world. What we are doing is changing the legal world and the justice system," Ben-Artzi told Calcalist. "We looked at the legal world from a macro standpoint."

"We are dreaming of a world where people don't have to be concerned with 'which company wronged them today', but rather, they will know that somebody has their back," Hayat concluded.