Spotlight
NanoScent develops device to detect Covid-19
The Israeli medical device startup's sensor is capable of detecting a variety of diseases through scent, including coronavirus
Company: NanoScent

Product: NanoScent device

Raised: $20 in Series A, Grant

Founded: 2017

Founders: Oren Gavriely (CEO), Eran Rom (CTO)

Headquarters: Misgav, Lower Galilee

What if a machine could analyze a person's breath, and detect whether or not they have contracted Covid-19 (coronavirus)? Israeli medical device startup, NanoScent Ltd has devised exactly that type of solution. A person simply breathes into a machine, their breath is collected into an airbag, and sensors inside the device are equipped with smart algorithms that are able to show an indication - based on molecules inherent in a person's breath - whether or not a person has contracted the virus. NanoScent was originally founded in 2017, by CEO Oren Gavriely and CTO Eran Rom, to show indications for other diseases, such as cancers or other health predicaments. "We want NanoScent to function with that same level of precision that dog noses cannot detect," said Gavriely, who has a background in medicine, while his co-founder Rom, is a former software engineer.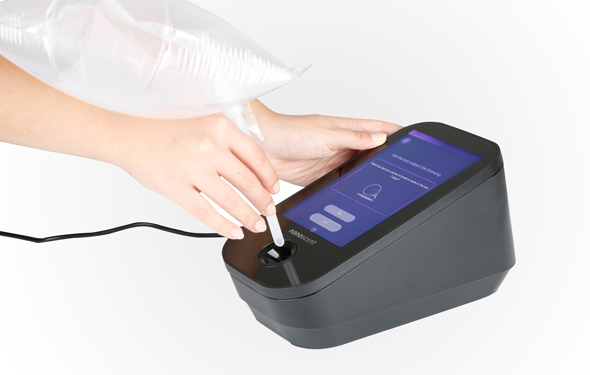 NanoScent's device analyzes a person's breath and provides and indication for a variety of diseases. Photo: NanoScent

Using scent to sniff out diseases

The NanoScent device is equipped with a miniature sensor, whose machine learning-scent recognition technology analyzes volatile organic compounds (VOC). The sensor is located inside a box, with an interface featuring a touch screen, and collects a person's breath with a small bag. The machine then analyzes the air and provides an output, explained Gavriely.

"Different diseases can be detected by smell, in the same way that some people who suffer from epilepsy use dogs who can 'smell' or predict a seizure," Gavriely said. "Similarly to when cheese goes bad, there's different activities going on within the organism that can create a unique odor pattern, but serve as an early indicator. NanoScent wants to capture this odor by using a very scalable solution to help provide early indications for different diseases."

This sensor's core proprietary technology can detect a signal at very low concentrations that only dogs can pick up. It has been developed in conjunction with a clean room, chemical, biological, and analytical laboratories. The coding, he explained, generates a response from the molecules, and the device "captures" this response. Specifically, the medical device company falls in the in-vitro diagnostics category. "Currently, there's no other solution on the market that is so scalable, sensitive, or reliable," noted Gavriely.

The company has raised a total of $20 million to date, of which the majority is from its strategic partner, Japanese giant Sumitomo Corp. It also received a grant from the European Union, from the Small-Medium-Enterprise Grant, as well as from the Israel Innovation Authority. That includes its recent signing of a MOU (memorandum of understanding) with Dreamtech, a Korean company and investor. "We definitely have plans to expand to other markets, but, as far as going public, that will not be in the foreseeable future. First, we aim to build a strong revenue scheme. We have received offers for mergers with SPACs (special-purpose acquisition companies), but declined," Gavriely said.

Family-friendly atmosphere

NanoScent is based in Misgav, in the green Lower Galilee section of northern Israel, and the company exudes a family small-town atmosphere. Despite coronavirus setbacks, due to the nature of its lab work, it enabled employees to bring their children to work at a daycare that it also ran on a separate floor. So far, the small startup employs 35 people, of which over 50% are female. "Equality is very important to us, and we have Christian Arabs, Muslims, and Israeli Jews working side by side. We want to create a safe place for people to be creative, and it also makes our ecosystem that much better."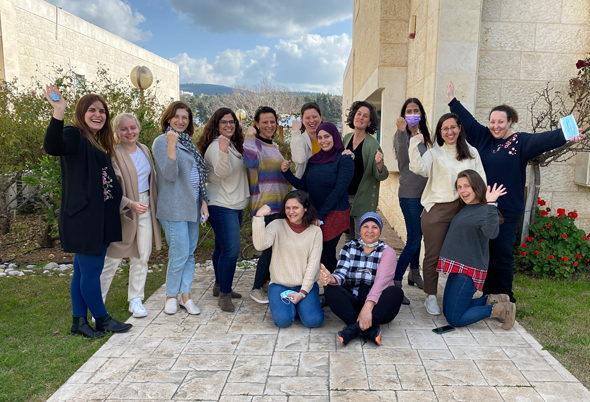 The female scientists and staff of NanoScent make up over 50% of the startup's workforce. Photo: NanoScent

Its environment features chemists, biologists, and software engineers that all work together in a holistic way. Most of its employees work from its Israeli offices, although it has one working on clinical studies overseas in Spain with a healthcare group. Gavriely is a serial entrepreneur, previously co-founding HemaClear, a privately-owned medical company that captures red blood cells from patients who lose blood and can re-transfuse them, and E.T. View Medical Ltd, which was sold to Danish Ambu, which developed a disposable endoscopic camera on an endotracheal intubation tube.

NanoScent already conducted its first clinical trial in January 2020 at Sheba Medical Center and participated in the IIA's call for proposals to create a product that could help fight the pandemic.

"No one was even talking about how to resolve Covid back then," Gavriely said, "so we jumped on that bandwagon." Now, the company is working on gaining regulatory approval from the FDA, and is also working with European bodies. "We're creating the new standard of breath detection," he concluded.