Minute Media acquiring bootstrapped startup Wazimo for $60-70 million
The Israeli startup specializes in combining engaging content with advanced technology to drive audience growth and monetization, and will help Minute Media enhance its video and multimedia publishing platform
Israeli technology and content company Minute Media announced on Wednesday that it has acquired Wazimo, a bootstrapped Tel Aviv-based company which specializes in growing and monetizing audiences at scale through an automated data-driven approach. Minute Media is aiming to enhance its Voltax platform by adding more robust data and business intelligence products and services with an emphasis on first-party data.

Wazimo was founded in 2015 by CEO Oded Rosenboim, a former senior executive at ironSource, CTO Adi Daniel, and Eldad Shaltiel. The value of the deal was not revealed but it is estimated to be in the region of $60-70 million.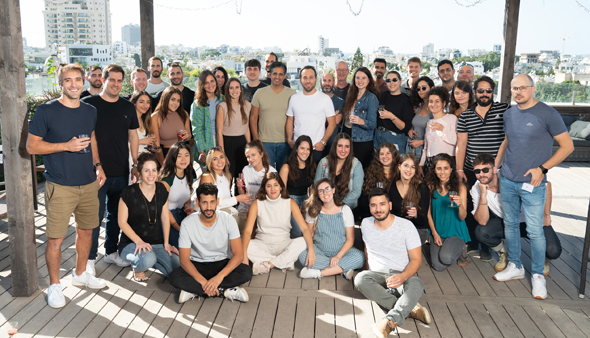 Wazimo team. Photo: Wazimo

Bloomberg reported in June that Minute Media is planning on going public as soon as this year. The Israeli company, which was ranked in first place in Calcalist's list of the 50 most promising startups for 2021 earlier this year, hired Goldman Sachs to work on the matter.

Wazimo is the first technology-focused acquisition for Minute Media. Previously, Minute Media had expanded its content portfolio through acquisitions including The Players' Tribune and FanSided. The Wazimo deal was focused on acquiring the company's technology and data capabilities. The company's 42 employees will join Minute Media's team which will grow to a total of 450 employees.

"The engine behind Minute Media's growth is our technology platform Voltax and we are continuously looking to enhance and strengthen the Voltax offering for our content businesses and those of our partners," said Asaf Peled, CEO and Founder of Minute Media. "Wazimo brings an exceptional team with expertise in growing audiences and revenue at scale through a data-driven approach."

"Our partnership with the Minute Media team began two years ago, and we are confident that the strategic alignment of our technologies, and increased resources, will drive exponential growth for our partners," said Oded Rosenboim, Co-Founder and CEO of Wazimo. "We will continue to invest in technology and first-party data solutions to ensure we and our partners are well-prepared for the cookieless world and the ever-changing content industry."

Minute Media was founded in 2011 by Asaf Peled, Gili Beiman, and Yuval Larom. Its video and multimedia publishing platform, Voltax, powers the creation, distribution, consumption and monetization of third party publishers and advertisers as well as its own sports and culture content brands, including The Players' Tribune, FanSided, 90min, DBLTAP, Mental Floss, and The Big Lead. As of September 2021, the company is ranked as a top three property within U.S. sports video unique viewership and U.S. sports reach according to Comscore.