A Day in a Life
By day, a JoyTunes Senior Product Designer, by night cocomusa
Marina Sokolov finds art and aesthetic expression everywhere she goes, whether as a product designer at JoyTunes or as an Instagram artist persona
ID
Name: Marina Sokolov
Position: Senior Product Designer
Company: JoyTunes
Age: 32
Living in: Tel-Aviv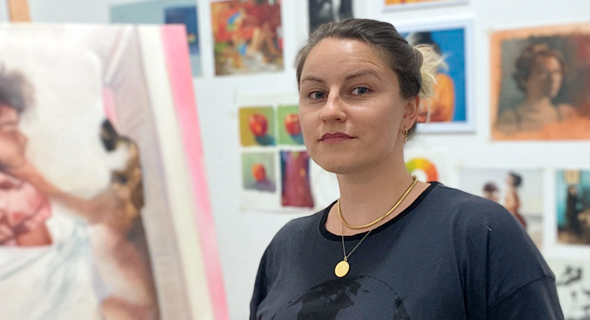 Marina Sokolov of JoyTunes. Photo: Or Paz
For a Starter
All my life I was drawn to aesthetics, shapes, and colors. When I was 6-years-old, I had two after-school activities: Art and Synchronised Swimming. Mysterious turn of events led the Art class to close, and I pursued swimming for a decade. Synchronized swimming was fascinating to me. It's a combination of Sports and Art - self-discipline meets teamwork. Sports meets Dance.
I found art and aesthetic expression everywhere I went. And even though I excelled in swimming and my team and I got to participate in world championships, the calling to do something with art was stronger, and I eventually left Israel (at the tender age of 16) to study Design and Visual Communication in Italy. I experienced the culture, learned Italian, met amazing people from all over the world with whom I'm still in touch. And above all, I was independent. When I finished my degree, I looked for a way to make a living from my passions and maintain my autonomy all at the same time - which brought me to the startup world and eventually to JoyTunes.
What do you enjoy the most in your work? I've been part of the startup industry for 15 years, and I love it. The pace, working with brilliant people, the independence of thought, and the ability to constantly grow and evolve - both as a professional as well as a person.
What is so special about what you do? I am the sole User Experience (UX) authority within my team, yet I feel completely in touch with the industry and fully supported by my fellow designers. So it has the benefit of having ownership without losing touch with the outside world.
What do you like about working for JoyTunes? We are creating ways to empower people worldwide to spend their time more meaningfully (we call it "uptime"). Our products - Simply Piano and Simply Guitar teach people how to play music, and turn our screentime at home into a positive experience. We work in pods, small teams that are essentially like a mini startup, completely independent in decision making, so we can move fast . My team consists of 5 brilliant professionals, each from a different field, and I am the UX entity. We work directly with users (we call them learners) and data while always staying focused on our business goal, so it's very high touch and we make an actual difference. I'm evolving here, acquiring new tools, and getting better as a product designer. My professional and communication skills are growing, and my understanding of the big picture gets more solid. The unique way of working puts teamwork in the center. It might sound too good to be true, but I feel that JoyTunes walks the talk.
Preference - working from Home / Office / Hybrid: Definitely Hybrid. Teamwork is crucial to me to be at my best while working from home allows deep-diving into a task without distractions. JoyTunes understands that and is very flexible and responsive to each teammate's needs and preferences.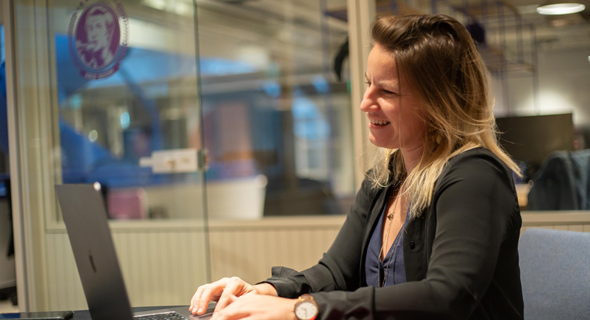 Marina Sokolov at work. Photo: Or Paz
My Daily Routine
7:00
I wake up early and dedicate the early hours to recharge for the day: 20 minutes meditation followed by a workout session. On Tuesdays I'll usually join a yoga session in the office, it's much more fun to workout with friends. JoyTunes offers all sorts of group sports activities (running groups, functional training, basketball etc.), but yoga is my jam.
9:30
I walk to work with my dog, he gets his walk, and I get my sunshine. When we arrive, I usually stop in the kitchen to get some breakfast and coffee while Pablo, my dog, gets right to business and greets everyone. After a friendly catchup, I'll usually go upstairs to join my team. We are very flexible in the way we define our weekly schedules. Things vary according to the tasks at hand. When a new sprint is about to start I'll usually take some time to plan ahead and schedule all the meetings for the upcoming week and align with my team.
10:00
After catching up with the team I'll take some time to plan my schedule for the day. Although my tasks and decisions are closely tied to the team's needs, I'm the only one in charge of my schedule and priorities. It's very important to us to be happy about our mutual plans and feel that we are working on the right things as a team. When there is a disagreement about something we talk about it openly. If there's no agreement, we'll opt for a mutual decision to commit even if we disagree, so that we don't waste time.
10:30
We might decide to split into pairs and work together, or work alone for a little while and then regroup again and review our progress - it really depends on each sprint's objective.
12:30
Lunchtime never looks the same. Sometimes I'll have lunch with a fellow co-worker, sometimes we'll have a team lunch - go out or order something in, sometimes I'll use lunchtime to get to know someone new. Once in a while, we'll have some designer quality time over food with fellow designers from other teams. There's usually a jam session on the main stage near the kitchen, so we often have a live concert to accompany our meal.
15:00
Working with people from all over the world, the afternoon is usually the best time for conducting user interviews or preparing user surveys. We stay in direct contact with learners as much as possible, it makes our work much more accurate. If there are no interviews in the pipeline, I might dedicate this time to analyzing interview results or going over the data with my analyst peers. As the company grows there are more and more new faces, so we are encouraged to make some time every day to really get to know the people we work with - on a personal level, not just the boring CV review...
16:00 I try to make the most out of my caffeine drop :) I'll usually schedule a "15 minutes of joy" with someone new over coffee - which is the JoyTunes way to meet new people. These conversations often take unexpected turns leading to stronger connections with the people and exposure to new and exciting topics. As a bonus, it usually lifts me right up and fills me with more energy for the rest of the day.
18:00
I try to leave my table clean by the end of the day. "Pass the ball" to everyone that needed my help, wrap up all slack messaging and to-do's - so no one is left without my attention. After which, Pablo and I leave the office and proceed to the second half of the day.
After Hours
What do you do in your spare time? When leaving the office, I cease to be Marina and become @Cocomusa (my Instagram artist persona). I'll usually go to my art studio, where I'll pursue personal projects and enjoy connecting with fellow neighbor artists. I'm painting both physically (charcoal and oils) and digitally (iPad) and can sometimes stay there until around 22:00.
On evenings when I don't have the energy or stay a little later at work, I'll skip studio time and head home to enjoy the fantastic cooking of my roommate (who is a chef for a living).
Apple or Android: Apple, of course. What a silly question :)
What type of music do you listen to? Everything. Lately It's been World Music or Bossa Nova. Sometimes I'm into Italian rap - it reminds me of my time in Italy... but also lots of Israeli, Indie rock... depending on my mood and the season. Being in a musical company like JoyTunes is amazing for music lovers: there's always music in the office, you are surrounded by super talented musicians (some of which have bands!) and are always exposed to new bands, songs, and genres to discover.