Mind the Tech NY2021
"This conference is, in a sense, a wake-up call for the industry to grow up"
Speaking at ​​Calcalist's Mind the Tech NY 2021 conference Dr. Nimrod Kozlovski called for "different conduct, which encompasses aspects of corporate governance, financial planning, and transparency," as Israeli companies rapidly scale
"Alongside the justified and exciting celebration of the industry's great success in establishing an assembly line that mass-produces unicorns," said Dr. Nimrod Kozlovski, co-founder and partner at cyber crisis management firm Cytactic, and a lecturer at Tel Aviv University, "we must also examine the commitment and expectations that accompany such growth, and figure out how to brace ourselves for a time when Israeli companies are expected to conduct themselves as mature organizations."

According to Kozlovski, we must consider the commitments and duties that come with the new status these Israeli companies reached. "They need to grow up because with great power comes great responsibility. When a venture speedily metamorphoses into a mature, independent company, and even more so when that company goes public, it entails a bigger commitment - different conduct, which encompasses aspects of corporate governance, financial planning, and transparency. Additionally, the startup is expected to manage risks and exposure stemming from its activity, and recognize their possible consequences."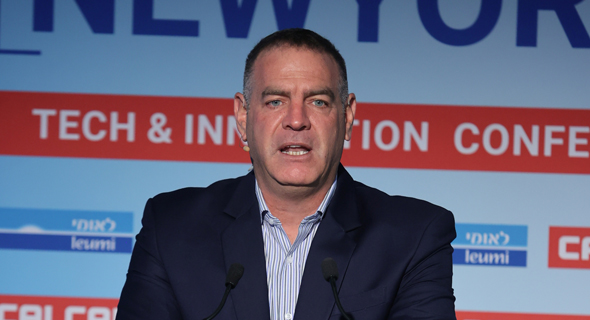 Dr. Nimrod Kozlovski at Mind the Tech NY 2021. Photo: Orel Cohen

"This conference deals with the changes the Israeli high-tech industry is going through. It will also address the changes that need to be made to the companies themselves, he said, adding that "this conference is, in a sense, a wake-up call for the industry to grow up."

"Nowadays, Israeli ventures don't build themselves to be bought quickly. The industry strives for ventures that will mature into independent companies. At the same time, the digital transformation acceleration, which further accelerated during Covid-19, quickly sends ventures into production environments. A startup could very quickly find itself serving millions of clients directly in a B2C model, or thousands of companies in a SaaS model. Scaling becomes much, much faster. Companies, which raise money fast are expected to accelerate their scaling. Suddenly, ventures at the core of international activities in sensitive fields, like health, finances, or trade, become main actors," he said.

Kozlovski shared with his listeners how, in recent years, Cytatic assisted Israeli companies in crisis, as they were under cyber attacks, or as a weakness with their product was used to hurt their users, including global corporations. "When you serve huge corporations in the SaaS model, any fault you have has the potential to propagate considerably. They process and store sensitive information, so they become critical components in the trustworthiness and availability of processes - and inevitably turn into potential points of failure," he said.

"When an incident is discovered, the venture is expected to behave like a fully grown company – knowing how to investigate the incident, level-headedly conducting communications, risk managing, and complying with reporting and inspection requirements. That's when we sadly realize that ventures which grew too fast are simply not up for the challenge," Kozlovski explained.

"Sometimes they run sensitive digital health activities, or are embedded within a significant financial process," he said. "But when an information and privacy security incident occurs, they are exposed as unprepared for the very likely scenario of a cyber-attack or a data leak. They lack a cyber crisis management team - often, believe it or not, they don't even have a CISO or a cybersecurity person, the procedures to handle the incident, and a response that matches the risk they pose."

"But when a venture has already raised hundreds of millions of dollars and is traded in the billions, customers, regulators, and the capital market are neither tolerant nor forgiving," Kozlovski concluded.