Mind the Tech NY2021
Israeli tech's big breakthrough celebrated at Mind the Tech NY
The conference got underway with a traditional opening cocktail on Monday night attended by entrepreneurs and investors from Israel and abroad ahead of two busy days of business meetings, panels and lectures by the top names in the industry
After almost two years of the Covid-19 pandemic on the one hand, and amazing growth in the Israeli tech sector on the other hand, Israel's community of entrepreneurs and investors has never been more excited for the meetings and opportunities presented by Calcalist's Mind the Tech NY 2021 conference held in partnership with Bank Leumi.

The conference got underway with a traditional opening cocktail on Monday night attended by entrepreneurs and investors from Israel and abroad ahead of two busy days of business meetings, panels and lectures by the top names in the industry.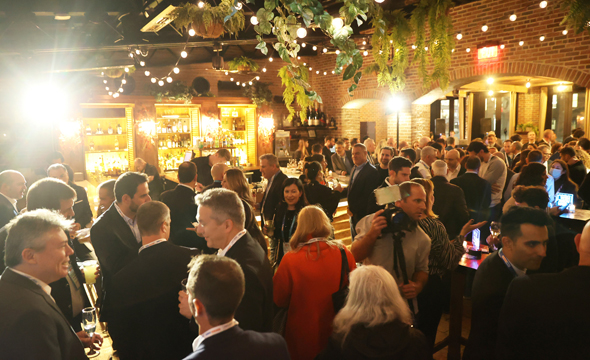 Mind the Tech NY 2020 cocktail party. Photo: Orel Cohen

This year's event is being held amidst Israeli tech's big breakthrough, in particular in the cybersecurity sector. Israeli tech has registered significant growth and local startups are shifting their focus from being acquired as soon as possible to building big companies that go public at unicorn valuations and acquire other companies for hundreds of millions of dollars.

"While the past 18 months have been with multiple challenges for all of us as individuals, the good news was that Israeli tech did extremely well. Reaching new frontiers that before were even beyond imagination, Israeli tech attracted a staggering amount of over $20 billion in 2021, and can boast an unbelievable number of 74 Israeli unicorns," Anat Katz, Economic Minister at the Israel Economic Mission to the USA - East Coast, said at the cocktail party. "Sectors such as Fintech, Digital Health, Retailtech, Cloud and Enterprise solutions and many more integrate AI, and pave the way to Israel being recognized as a leading powerhouse of top notch leading solutions. In cybersecurity, Israel, accounting for 0.1% of the world population, attracted 40% of total cyber investment in 2021, with seven Israeli unicorns in cybersecurity, accounting for one third of the total number of unicorns in this field worldwide.

"It is not coincidental that celebrating Israeli tech occurs here, in NY," added Katz. "Not only is Israel a home for hundreds of U.S. top technology companies, but it is primarily U.S. funding that fuels and energizes the Israel tech scene. According to IVC-online in 2021, 73% of investment deals in Mid-Late Rounds were done by U.S. based investors. In 2021, we saw a new trend of U.S. Private Equity (PE) investors that have assumed a more significant role with nearly 30% of the first investment deals made by PE investors. The PE funds' participation is significant, as large amounts are needed to nurture the unicorn's ecosystem. With our private sector doing so well, our role of government becomes even more important, to continue to support and secure Israel's leadership position. It is our job to create better infrastructure for the companies to work, innovate, lead and thrive, both in Israel as well as overseas."

LeumiTech CEO Timor Arbel-Sadras highlighted the impact LeumiTech has had on the progress being registered by the local tech scene. "I can proudly say that today, LeumiTech has become the financial home of Israeli hi-tech, serving more than 60% of Israeli and Israeli-related tech companies, operating in Israel and abroad. In addition, we also provide service to some 70% of Israeli VCs operating in Israel," noted Arbel-Sadras.