Mind the Tech NY2021
LeumiTech CEO: For companies raising capital, "the cost of debt becomes negligible"
Timor Arbel-Sadras spoke at a roundtable panel during Mind the Tech NY 2021 alongside head of International and tech banking at Bank Leumi USA, Ori Kaufman-Gafter, and industry leaders
"It is clear why they choose to do so in today's market, these companies know that buying time will bring them higher recurring income. And when every dollar of recurring income means ten, twenty, or thirty times in valuation, for that dilution you will get ten, twenty or thirty times cash. So the cost of debt becomes negligible," she explained.

The round table focused on questions of growth and financing, with the backdrop of recent huge fundraising rounds and IPOs of high-tech companies from Israel and around the world, producing many unicorns quickly.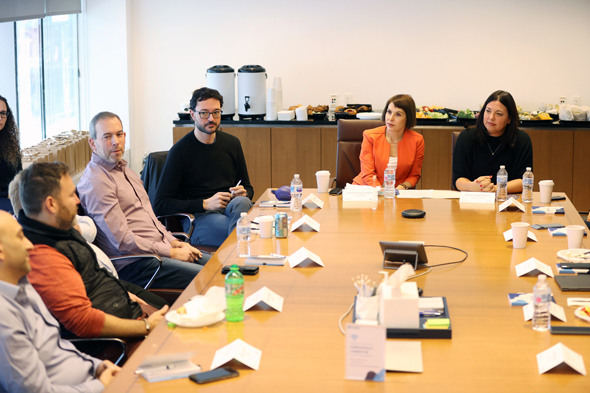 LeumiTech CEO Timor Arbel-Sadras (right), LeumiTech USA CEO Ori Kaufman-Gafter with other industry leaders. Photo: Elad Gershgoren

"When building a company long-term, and meticulously considering the company's strategy and building blocks, the high valuations that exist in the market today become background noises," said Aglika Dotcheva, Riskified CFO.

"The market is so inflated these days, and some investors expect companies to achieve high valuations during investment rounds. I can say that the way down is not pleasant," warned Lluis Pedragosa, CFO at Team8. "Always do what you feel comfortable with, if you will only raise capital with high valuations, you may find yourself at a point where people will not want to give you more money at these values."

"The checks keep on growing," added Mani Shalom of Adraba. Asaf Zviran, CEO and co-founder of C2i Genomics, added that "at some point, it's not about money, rather about recruiting strategic partners who can open doors for us in the markets, or showcase credibility, presenting us as long-term players, significant players."

"Recruiting investors is a partnership," said Yaron Galai, co-CEO of Outbrain. "American funds tend to traditionally follow a model having two or three winning companies in a portfolio of ten, while the others are zombies you have to kill with no sentiments. Meanwhile, Israeli partners often have more commitment. But that too ultimately has to do with a relationship that develops with the investor."

"We skipped the Israeli financing stage on purpose," said Saar Yoskovich, co-founder and CEO of Augury. "In Israel, companies work for investors, and in the U.S. investors work for companies. We did not take a salary for two years to take this skip," explained Mark Gazit, CEO of ThetaRay, who added that: "When I started building companies I did not think I was choosing investors, today I understand that everyone who invests in a company should be doing good for the company. It took me a while not to be shy about it.".

"Fill the board with significant consultants"

"There is a conflict and an ongoing effort to balance growth and financing," explained Liran Tancman, CEO and founder of Rezilion. "You have to be careful not to burn too fast. I found myself thinking a lot about how to balance financing and burning cash. How burning cash affects revenue."

"Experienced venture capitalists can provide guidance and common sense to companies on what we should do," said Steven Schneider, CEO and co-founder of Worthy. "It is very risky to only be focused on dollars and on who your partners are. It is not only the consulting but the strategic partnership. We really need to think about how to fill the board with significant consultants."

"We have seen how important it is to apply strategic considerations to financing decisions. Choosing the right partners and achieving the desired balance between decision-makers and stakeholders is not trivial," concluded Ori Kaufman-Gafter, head of International and tech banking at Bank Leumi USA. "It requires a balance between the short-term cash needs to the long-term approach, always taking into account the northern star and the vision of the company."