IoT security company Armis announces $300 million round at $3.4 billion valuation
The Israeli company increased its value by $1.4 billion in just nine months and is raising funds ahead of its U.S. IPO
Israeli cybersecurity company Armis Security officially announced on Monday that it has closed its latest investment round, raising $300 million at a $3.4 billion valuation. The round was led by One Equity Partners, in conjunction with existing investors. OEP's Andrew Dunn will also be joining the board of directors. Calcalist first revealed the funding round last month.

Armis' latest round comes nine months after it raised $125 million at a $2 billion valuation. The company has raised $600 million in total to date, with all funds going into Armis accounts.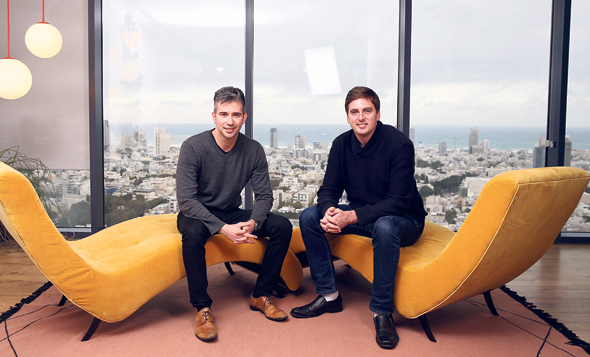 Armis co-founders Nadir Izrael (right) and Yevgeny Dibrov. Photo: Orel Cohen

OEP will join the board of directors and lead acquisitions initiatives alongside existing investors Insight Partners, Brookfield Asset Management, Georgian, RedDot, and CapitalG, Alphabet's independent growth fund. Insight Partners will remain the majority owner, and Armis will continue to operate independently, fully managed by its two co-founders, Yevgeny Dibrov, CEO, and Nadir Izrael, CTO, and the executive team.

Armis was acquired by New York-based venture capital and private equity firm Insight Partners and Google's investment fund Capital G for $1.1 billion in January 2020.

"This round only closed over recent days and is our biggest round to date," co-founders Dibrov and Izrael told Calcalist. "OEP is also an investor that brings with it significant customers from among its clients, which is something that already happened on the first day of doing business together. The money will all go into the company's account with the goal of building a cybersecurity giant in Israel. This money will fund significant acquisitions over the coming year. There are a lot of good companies in the local market and this provides us with a relatively big advantage when we assess companies here. Our center of activity will always remain in Israel."

Dibrov and Izrael said that the company's sales doubled over the past year and that Armis is closing on $100 million in annual revenue. "Our goal is to reach an IPO with the right figures. We have seen many examples over the past year of companies who saw their price significantly drop after going public so it is important for us to be ready," they said. "An IPO isn't an exit but rather a step in the maturation of a company which you need to be really ready for."

The Armis platform spans multiple verticals and can cater to the convergence of IT and OT. The close alignment of the OEP portfolio and the capabilities of Armis across healthcare, industrial OT, and technology will drive significant investments in customer acquisition and expansion. Allegro MicroSystems, a global leader in sensing and power semiconductor technology for motion control and energy efficiency, will be the first OEP portfolio company to deploy Armis protection throughout their networks.