Exclusive
IoT security company Armis raising $300 million at $3.5 billion valuation
The Israeli company increased its value by $1.5 billion in just eight months and is raising funds ahead of its U.S. IPO
Israeli IoT security company Armis is raising between $250-300 million at a valuation of $3.5 billion, Calcalist has learned. Most of the investment will come from a single new strategic investor, similar to the funding round in February of this year when Brookfield Technology Partners poured funds into the company. Calcalist has also learned that this is likely to be Armis' final funding round before it goes public in the U.S.

Armis joins the likes of fellow Israeli companies Rapyd and Papaya Global who saw their valuation increase rapidly in a short time between funding rounds, not just due to excellent results, but also thanks to the fact that investors are willing to pay a premium to acquire a holding in these companies.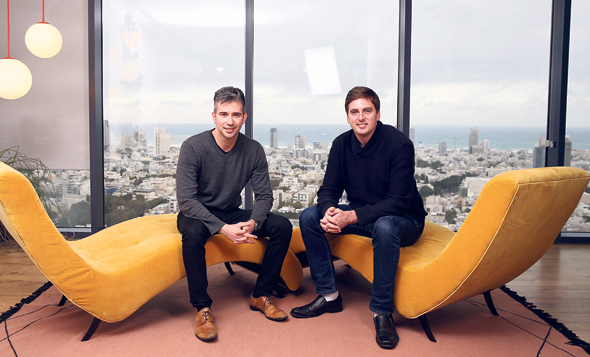 Armis co-founders Nadir Izrael (right) and Yevgeny Dibrov. Photo: Orel Cohen

Armis has registered a massive increase in its sales over the past year, taking its valuation from $2 billion eight months ago to $3.5 billion.

The entire investment is set to enter the company coffers and won't be used in secondary deals. The round is set to be completed in the coming weeks and will also be used by Armis to acquire other companies. It is believed that Armis is already in negotiations with several companies that could be a good fit to be purchased in the future for several tens of millions of dollars.

Armis was acquired by New York-based venture capital and private equity firm Insight Partners and Google's investment fund Capital G in January 2020.

To date, Armis has raised $300 million in total financing. The company will continue to operate independently and will be fully managed by its two co-founders, Yevgeny Dibrov, CEO, and Nadir Izrael, CTO, and the executive team.

According to IDC, there will be more than 40 billion connected devices by 2025. Many of these devices, often referred to as the Enterprise of Things devices, Internet of Medical Things (IoMT), Manufacturing/OT, the Industrial Internet of Things (IIoT), or just the Internet of Things (IoT), have little to no security defense and cannot be protected in the same manner as traditional devices, posing unprecedented risks for organizations of all size and scale.

Armis has developed an agentless, enterprise-class device security platform designed to address the new threat landscape of unmanaged IoT devices. Armis was recognized as a leader in connected medical device security by Forrester, a leader in OT Security by ISG, as well as the 2021 IoT Security Company of the Year by IoT Breakthrough Awards, and named in the Gartner 2020 Market Guide for Medical Device Security Solutions.

Fortune 100 and Global 2000 enterprises across all verticals such as Mondelēz, Sysco, Fresenius, Home Depot, Oracle, and DocuSign rely on Armis to help protect their businesses.