Aqua acquiring Israeli software supply chain startup Argon
The cybersecurity unicorn will pay tens of millions of dollars to purchase the startup founded just last year
Cybersecurity unicorn Aqua Security announced on Wednesday that it is purchasing fellow Israeli company Argon. The startup has only raised $5 million to date, with its investors including seriel entrepreneur Shlomo Kramer. Argon's 30 employees will join Aqua's team.

Argon, founded just last year, has developed a software supply chain security platform and operates in the same sector as Israeli company CyCode, which announced a $56 million funding round on Tuesday. Aqua and Argon didn't reveal the price of the acquisition but it is believed to be in the tens of millions of dollars.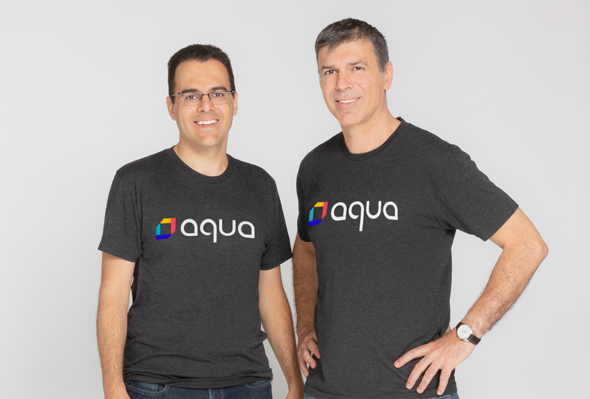 Aqua Security co-founders Amir Jerbi (left) and Dror Davidoff. Photo: PR

"Leading cloud services providers are releasing software as frequently as every 15 seconds. Humans cannot keep up with the velocity, and the threat of supply chain attacks has never been greater. The industry demands a new approach," said Eilon Elhadad, CEO and Co-Founder of Argon. "We believe in Aqua's vision for cloud native security and its mission to protect enterprises in the cloud. We are eager to join forces and become the only vendor to allow organizations to not only run, but also build software, securely."

Argon, founded last year by Elhadad and Eylam Milner, has developed a product which connects to existing CI/CD pipelines via an agentless implementation and instantly maps the development environment itself, as well as assets, code, and user activities. The solution prioritizes and automates remediation of issues to follow security best practices and compliance rules while ensuring zero-trust deployment. Argon's code-tampering detection technology performs validity checks on every step of the software delivery process to confirm no tampering has occurred, ultimately preventing supply chain attacks.

Aqua completed a $135 million Series E at a $1 billion valuation earlier this year, and has raised a total of $265 million to date. The company employs around 350 people, half of them out of its headquarters and R&D center in Israel.