CyCognito raises $100 million at $800 million valuation
The Israeli cybersecurity startup, founded in 2017, has developed a platform that identifies internet-exposed and unmanaged assets that could serve as entry points for attackers
Israeli cybersecurity company CyCognito announced on Wednesday that it has raised a $100 million Series C funding round at an $800 million valuation, led by The Westly Group. New investors Thomvest Ventures and The Heritage Group joined the round alongside existing investors Accel, Lightspeed Venture Partners, Sorenson Ventures and UpWest. This new financing round brings the company's total amount raised to $153 million, all raised in just the three-and-a-half years since the company was founded. Among the notable early investors in the company is John Thompson, the former Chairman of Microsoft.
The CyCognito platform autonomously builds a graph data model that portrays an organization's business structure—from the company's name to the hundreds of departments, subsidiaries, acquisitions and brands an organization owns. The platform then scans billions of servers and devices across the internet to contextualize and identify internet-exposed and unmanaged assets that could serve as entry points for attackers.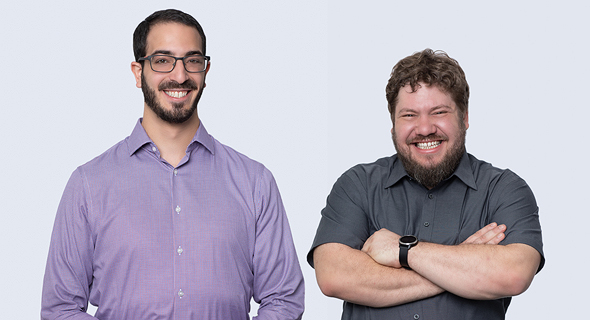 CyCognito co-founders Rob Gurzeev (Left) and Dima Potekhin. Photo: Scott Kline
CyCognito was founded in 2017 by former Israeli intelligence unit soldiers Rob Gurzeev and Dima Potekhin. The company has offices in Tel Aviv and Palo Alto. Around 90 of its 140 employees work out of the Tel Aviv development center.
"Most attacks on organizations occur because of unknown or unmanaged servers, applications and cloud servers," said Rob Gurzeev, CEO and co-founder of CyCognito. "The attackers are smart and are looking for weak points in the organizations. Organizations sometimes spend hundreds of millions of dollars in cybersecurity but are hacked because of a server they aren't even aware of, but which provides entry into their network. That is why we have developed an intelligence platform that autonomously maps the organization's attack surface and identifies weaknesses."
CyCognito said that several Fortune 500 companies, including Colgate-Palmolive, Tesco and Scientific Games Corporation, as well as government groups like the State of California, are using its platform and that in the last 12 months the company generated 4x in new ARR.
"We are building something for the long term so the valuation was less important to us," Potekhim told Calcalist. "We could have brought in more money at a higher valuation but we wanted top-class investors and that is why we went with this valuation. We have been building quietly in order to show that our product works. The unicorn status is coming."