Tnuva preparing for IPO: Hires Meitar Office to lead prospectus process
The company's management, which also met several underwriters, is in a race against time towards the IPO that is planned for May - June 2022. This is while shareholders, Bright Food and the Kibbutzim, have not yet reached a compromise regarding the volume of shares to be sold
Tnuva's management has launched the company's IPO process. Calcalist has learned that Meitar law firm was chosen earlier this week to provide the company's prospectus for the IPO.

Tnuva, owned by China's Bright Food and the kibbutz organizations, intends to complete an IPO on the Tel Aviv Stock Exchange in May- June 2022, based on the annual reports of 2021.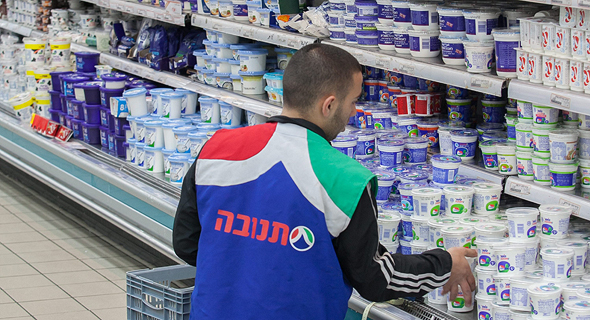 Tnuva products. Photo: Orel Cohen

The value the company is aiming for is NIS 10 billion, and it is based on multipliers of food companies the size of Tnuva in Israel and around the world.

The IPO requires the approval of the kibbutzim, which are a minority partner in Tnuva with 23% of the shares. There is a bitter conflict between the kibbutzim and China's Bright Food - which owns 77% of the shares - which has only intensified recently.

To date, the kibbutzim have opposed the IPO, as they demanded the sale of all their shares in the company as part of a sale offer. Bright Food, for its part, demanded that it will sell 77% of the shares offered for sale as part of the offering, while the kibbutzim will sell 23%. Such an outline will leave the kibbutzim as stakeholders in the company and will oblige it to treat any transaction with any kibbutz as a related party transaction that requires approvals. In addition, a (Pari-passu) sell of shares of this kind may, in a sense, also limit the income that the kibbutzim will be able to record from their sales to Tnuva.

In the coming months, Tnuva's management is expected to select underwriters and the IPO consultant. As part of the preparations, the company's management, which included CEO Eyal Malis, CFO Yaakov Chen and Chairman Haim Gavrieli, held meetings with several underwriters, including Discount underwriters , Lider, Poalim IBI, Barak Capital, Epsilon, Rosario, Menora underwriters and two foreign investment banks - Barclays and Jeffries.

It seems that at least one foreign bank will have representation in the offering, in order to hold a road show and recruit foreign investors for the offering. During the meetings with the underwriters, Tnuva presented revenues of NIS 6.9 billion per year and EBITDA (operating income) of NIS 900 million, with a value of NIS 10 billion reflecting the company's EBITDA multiplier of 11.