Rothschild Group launching $250 million foodtech fund with PeakBridge VC
The new fund will cut relatively big checks for the sector, ranging between $5-8 million per company, and will invest in 15-20 startups over the coming years
The foodtech sector is still not close to being cybersecurity or fintech, but it is getting closer. Calcalist has learned that the private-equity unit of family-owned investment firm Edmond de Rothschild Group is in the process of raising a NIS 800 million (approximately $253 million) fund for investments in foodtech.
The fund is being raised together with PeakBridge VC, headed by Israelis Nadav Berger and Erich Sieber, who will be launching their third fund. The Rothschild Group, headed by Baroness Rothschild, has $170 billion in assets under management and has already committed to providing 20% of the fund. The rest of the money is set to come from institutional investors, both in Israel and abroad. Should the fund reach $250 million, it would become one of the largest foodtech-focused funds in the world.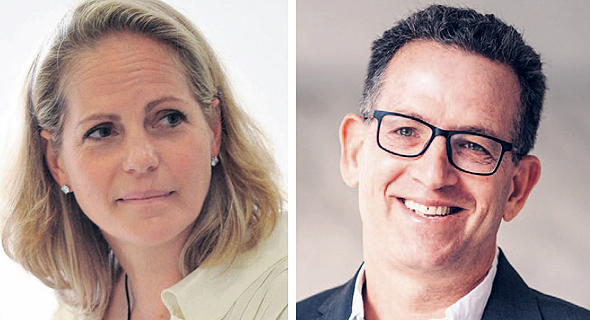 Nadav Berger (right) and Baroness Ariane de Rothschild. Photo: Jeremy De Batista and Guy Asayag
The new fund is set to focus on investments in companies from Series A onwards, unlike the first two funds raised by PeakBridge which invest in Seed stage startups. The first fund, named FoodSparks, manages €30 million (USD $43 million) worth of assets, with the second fund, named Newtrition, managing €45 million (USD $51 million) in assets. The first fund is managed by Yoni Glickman, previously the president of Natural Solutions and EVP at Frutarom and IFF.
The new fund will cut relatively big checks for the sector, ranging between $5-8 million per company, and will invest in 15-20 startups over the coming years.
PeakBridge was founded by Berger and Sieber, who are both veterans of the food industry. Sieber is a former Partner of Nestle''s €750 million (USD $848 million) strategic "fund-of-one" since its creation in 2001, while Berger is a third generation food industrialist, co-founding in 2008 the food applications lab FoodLab. The innovative developments at FoodLab led to the founding of FoodLab Capital, a premier seed fund.
Israeli companies PeakBridge has invested in include: UKKO, Imagindairy, Tastewise, and Vanilla Vida. Sieber and Berger believe in investing only in foodtech companies that have developed unique technologies, therefore they won't invest in cultured meat companies, for example. One of PeakBridge's recent successful investments was made in Swedish zero sugar food company NICK's. PeakBridge invested at a $20 million valuation in 2019, with NICK's raising $100 million at a $300 million valuation earlier this year.