Gateways to Israeli Tech
Nimrod Cohen, TAU Ventures: There is almost no field that is oversaturated in tech
Speaking to CTech as part of a special investor survey, Nimrod Cohen, the Managing Partner of TAU Ventures, insisted that it is the founders who should be managing their companies. "We as investors need to help them in any way we can"
"In a world where technology is so advanced and constantly changing, there is almost no field that is oversaturated. As we see it, strong teams can bring innovative solutions in nearly any sector," says Nimrod Cohen, Managing Partner of TAU Ventures, which he co-founded with Tel-Aviv University.

Cohen shared his views in CTech's exclusive investor survey conducted with participants of the Poalim Hi-Tech and Calcalist Road Show event. The event brought together dozens of startups who pitched their venture to more than 20 leading Israeli investment groups and investors.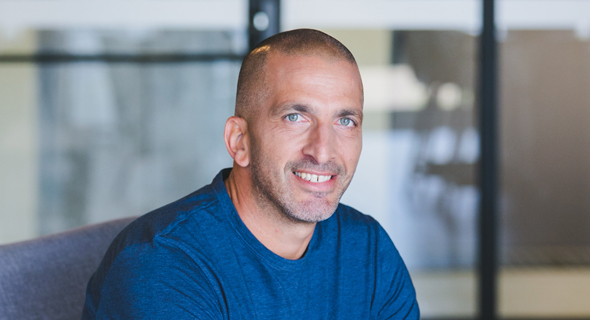 Nimrod Cohen, TAU Ventures. Photo: Adi Ekstein

What trends are you most excited about investing in?

I'm excited about investing in traditional industries that have not been disrupted in a long time and therefore have lots of potential and available capital.

What's your latest, most exciting investment?

Verobotics, the first and only autonomous AI-based robotics solution for building exterior upkeep, monitoring, maintenance. Verobotics offers a scalable, plug-and-play, hardware-software robotics service for various building sizes, from small residential buildings to skyscrapers. They are cutting costs, improving efficiency, and eliminating risks with their innovative solutions.

In reference to the previous question, the conventional solutions to facade upkeep have not changed since the 1950's. Currently, it is done mostly manually. Overall, the global market today of facade upkeep is valued at $20 billion. The potential within this market is significant. Verobotics is disrupting this industry by offering a robotics solution that is automated, delivers better performance, is easy to integrate, and costs up to 50% less than existing manual solutions.

Which industries seem well-positioned to thrive long term? What companies are you excited about (whether in your portfolio or not), which founders?

We see tech companies growing rapidly all over the world, with larger engineering teams. These engineering teams have more needs given their rapid growth. So we see that DevOps tools are required more and more, as seen in the case of our portfolio company, SWIMM.

SWIMM is a tool which helps engineers contribute to codebases at speed and scale. Swimm's continuous documentation platform solves code gaps and knowledge sharing problems caused by outdated documentation. Teams can easily onboard new hires, immerse in multiple codebases for new projects, and outsource work with peace of mind and ease. SWIMM units highlight important parts of the codebase and automatically generate smart walk-throughs for teams and individuals.

What areas are either oversaturated or would be too hard to compete in at this point for a new startup?

In a world where technology is so advanced and constantly changing, there is almost no field that is oversaturated. As we see it, strong teams can bring innovative solutions in nearly any sector.

What are you - as an investor - looking for in an entrepreneur or a startup?

We look for a strong team that will give us confidence that they know the market better than me and better than anyone else for that matter, with a clear understanding of the journey they are entering, and bring a professional approach to their thinking and work.

What is your approach to VC involvement in the management of the companies they invested in?

The persons who should be managing the company are the founders. We as investors need to help them in any way we can. It's important to set expectations. So founders who want their investors to be very involved should pick investors who like to be involved, and vice versa. It's a balancing act that requires constant communication around the expectations of both sides.

What should be the level of a fund's involvement in solving a company's HR problems?

HR is one of the most challenging topics for startups. VC's should do as much as they can to help in this respect. One of the ways is to create an ecosystem of connections and knowledge sharing between the founders, including benchmarks, data and candidates.

For us at TAU Ventures, we also support our companies around hiring through Tel Aviv University's resources. For example: matching interns and university graduates with our companies, use of the University's mailing lists (career center, the student association, alumni organization, participation in an employment conference, etc). At the end of the day companies have to get creative on how they approach this challenge and we strive to support our portfolio companies as much as we can.

Where will the solution to the HR crisis come from?

There is no magic solution – there has to be a combination of all the pillars mentioned above: investment in education for students to find employment in the tech industry, as well outsourcing in specific remote R&D centres when needed.

How long will the current upsurge in wages continue?

No one knows until when the spiral of wage increase will continue. As long as there is more demand for existing talent pools, the situation will last.

How harmful is it to companies, to the investors?

On the one hand, this is indeed harmful for investors, as more capital is needed to employ the same amount of workers as in the past. On the other hand, we are seeing companies growing faster and larger than ever before, therefore like in other cases this has two sides.

Share with us your golden tip for an entrepreneur presenting a pitch.

Do your homework, have professional materials, and come focused and prepared on the message you want to bring forward.