Torq raises $50 million Series B for no-code automation platform
"We raised the round at a significant valuation. We won't reveal it, but we are very close to being a unicorn," said Ofer Smadari, the CEO of the Israeli cybersecurity startup
Torq, which has developed a no-code automation platform for security teams, announced on Tuesday a $50 million raise in Series B funding, led by New York-based global private equity and venture capital firm Insight Partners with participation from SentinelOne. Existing investors GGV Capital and Bessemer Venture Partners participated in the round, bringing Torq's total funding to $78 million.

"We have built a platform that allows any member of a company's security team to automate the process of securing data," Torq co-founder and CEO Ofer Smadari told Calcalist. "We collect all of the alerts coming in from the different cybersecurity systems and provide solutions for all the alerts that until now had to be addressed manually."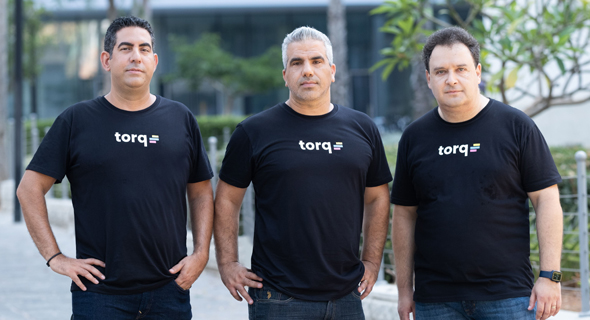 Leonid Belkind (from right), Ofer Smadari and Eldad Livni. Photo: Guy Hamawe
Torq gives security teams a single, no-code platform for connecting security infrastructure and communication tools and automating workflows across these systems. By delivering intelligent automation, and data transformation in an intuitive visual interface, Torq helps security teams accelerate threat response and remediation, and deliver protection at the speed of modern business.
Torq was founded in 2020 by Smadari (CEO), Leonid Belkind (CTO), and Eldad Livni (CINO) and currently employs 70 people out of its offices in Tel Aviv, Portland, and New York. The company intends to reach 160 employees before the end of 2022. "We had no concern raising money from SentinelOne, even though they are also a cybersecurity company, as we have worked with them very closely and that is how we got to know them," noted Smadari. "We raised a significant amount in order to build a big company and we are growing rapidly."
Smadari said that Torq will likely need to raise more funds soon. "I believe that we will have to raise more money in order to continue the company's accelerated growth. Every sector needs our product, with current products not suitable for today's flexible world," he explained. "We raised the round at a significant valuation. We won't reveal it, but we are very close to being a unicorn. We had a great opportunity to raise funds from two strong organizations like Insight and SentinelOne."
"As cybersecurity systems grow in complexity, effective threat response becomes increasingly difficult for security operations teams," said Tomer Weingarten, CEO of SentinelOne. "At SentinelOne, we're committed to reducing complexity so our customers can reduce risk with autonomous cybersecurity. We're thrilled to find in the Torq team a group that is just as dedicated to that vision and to participate in this investment round."