J-Ventures Investor Conference kicks off second year with an emphasis on Impacttech
The conference, now in its second year, invites guests and LPs to discuss how to make a better world through powerful investments
J-Ventures, a Silicon Valley-based community-driven VC fund, on Monday conducted its second annual LP Meeting and investor conference, with 2021's theme focussing on impact investments and 'Tikun Olam', the Jewish expression loosely translated to 'Repair The World'. During the event, which took place both in-person and online, a variety of portfolio companies and special guests joined to discuss some of the ways the venture capital community can raise money for a good cause.

The opening remarks of the conference were dedicated to launching J-IMPACT, J-Ventures' first Tikun Olam fund. Managing Partner Eran Sandhaus and J-Ventures Managing Partner Oded Mermoni added: "J-IMPACT is extending the J-Venture Group to invest and accelerate technology startups that are making substantial social or environmental impact. This is not a regular fund, but a community empowered fund that is based on global leaders - VCs, Executives, founders from Silicon Valley, Israel, and 30 communities."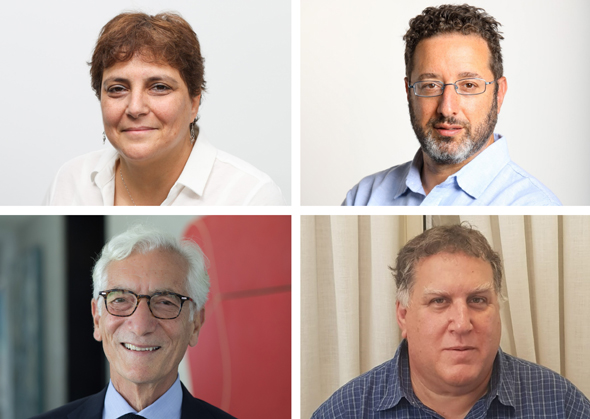 Clockwise from top left: Dganit Vered, Oded Mermoni, Dr. Gal Yarden, and Sir Ronald Cohen. Photo: N/A/Roy Bar

The keynote speakers included Sir Ronald Cohen and Laura Lauder in a 1-on-1 discussion about impact and leadership, followed by a Q&A session. Sir Cohen is the Chairman of The Portland Trust and Bridges Ventures, as well as the founder of Apax Partners. He is also the founding Chair of Big Society Capital, Britain's first social investment bank. Lauder is former Chair of the Jewish Community Endowment Fund of San Francisco, with over $2 billion in assets.

"There is a revolution taking place today, an impact revolution," Sir Cohen said in his opening remarks. "This time, it's a revolution driven by three very powerful forces. The first is the force of changing values… the second force is technology, which is taking huge leaps with artificial intelligence, machine learning, augmented reality. The third force is that this technology helps us measure the impact of companies. You can measure in dollar terms the impact the companies create on the environment, on people, through employment practices, and on the planet through their products."

As well as the keynote event, a variety of panels and discussions took place. J-Ventures Venture Partner Michael Matias conducted 6-minute interviews with eight J-Venture portfolio companies including Adam de la Zerda, Founder and CEO of Visby Medical; Omer Davidi, Co-founder and CEO of Beehero; Amit Haller, Founder and CEO of VEEV; Aaron Tartakovsky, CEO and Co-Founder of Epic Cleantech; Adi Wallach, CEO and Co-Founder, Calmigo; Dr. Jessica Green, CEO and Co-Founder of Phylagen; Oded Kraft, CEO and Founder of GrayMatters; and Jeff Cole, CEO and Co-founder of Hidden Level.

Two areas were highlighted as sectors of interest during the conference that suggests how companies and VCs might be able to help with their aim to 'repair the world'. During the 'Changing The World' Panel, Agtech and Climatetech were addressed by experts such as Dganit Vered, CEO of Smart Agro fund, and Dr. Gal Yarden, Co-founder & CTO of AgChimedes Group.

"During Covid-19, we all understood that the resilience of food is probably the most critical issue threatening our food supply and food security," said Dr. Yarden. Vered added that "when you look at climate change, we're heading towards a brick wall in a train very fast. It's not like a slow motion movement to try and feed the world. It is a problem that is accelerating extremely fast."

"We decided to do something about the emission which comes from transportation and we focused on Trucks," said Lior Ron, Head of Uber Freight, which serves 1 million truck drivers and who is part of Uber's management. The panel moderated by Sandhaus discussed Energy and the transfer to EV across different sectors and it included Neil Schloss, former CFO at Ford Mobility and Controller of Ford Motors; David Arfin, who invented SolarCity's solar lease; and Josh Richman, Chief Revenue Officer for PsiQuantum.

Ron continued: "Seven percent of the global emission is coming from trucks. The industry can solve the emission in two ways: one is moving to EV trucks, but the adoption is hard, as batteries are heavy and it's hard for big trucks. So instead, there's a push on hydrogen. The other way is to optimize the freight. Forty percent of the miles of trucks are trucks that are driving empty - and this is what we tried to do: organize the fright in the U.S and around the world and now we have 1 million truck drivers we minimize the empty trucks by 30%. This is substantial in terms of impact."

The event had 28 speakers, all of who were either investors in the fund or founders from its portfolio, and 400 participants. J-Ventures operates as a collaborative community of leaders with shared values and a network of connected capital. Its fund is backed by 250 experts across a variety of industries. Its two funds have invested in Hourly, Allstar, Hoopla, BeeHero, and more. Its management team has invested in companies like face.com (acquired by Facebook), Yotpo, and IMGN (acquired by Warner Music Group).