Nanit's baby-cam can help new parents finally sleep easy
Its smart baby monitor acts as a sleep coach, growth tracker, and digital baby book for newborns
New parents can be faced with endless nights of cradling, feeding, crying, and diaper changes. The first few months are filled with anxiety as each parent navigates their new responsibility and settles into a routine that will define their lives.

Or so I've heard.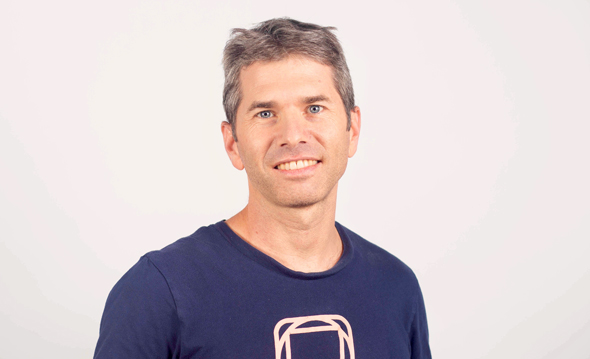 Tor Ivry, the company's Co-Founder and CTO. Photo: Noam Atia

Nanit, which offers a smart baby monitor that can track the movement of newborns, aims to alleviate some of the stress. Using an AI-powered HD camera attached to the baby's crib, the company can track newborns and their breathing habits, sleeping trends, and growth development. The information is sorted neatly into an app dashboard that can then show parents memorable moments from their child's night of sleep.

"It's like a leap board for the next phase of how to do parenting," said Tor Ivry, the company's Co-Founder and CTO. Seven years ago, he founded the company with Assaf Glazer, its Chairperson, after Glazer was doing his Ph.D. at the Technion focussing on cameras, computer science, and machine learning. After accepting the opportunity to join the Runway Program at Cornell University, Glazer decided to go ahead with Nanit. He called Ivry right away and the company has been led by CEO Sarah McCollum Dorsett since 2019.

"We can do so much more instead of them sitting by the screen or listening to the intercom of their baby," Ivry continued. "We can actually tell them when things are actually important for them to know. At that time my wife was pregnant for the third time. We had quite a few issues with sleep with our older boy and so I was really excited about the opportunity to help her around this problem of sleep understanding and how to solve the issues with this."

Ivry couldn't reveal how many devices it has sold over the seven years, although he reveals that Nanit has been "a very successful commercial business." What's more, the company claims that the data it has collected on all the children it monitors over the years has made its technology better than ever before - and definitely better than conventional studies conducted by research centers. Ivry claims that its data set is much larger than the few hundred babies that might be used by any given trial and that the company is cooperating with academic institutions to help with parenting and baby development research.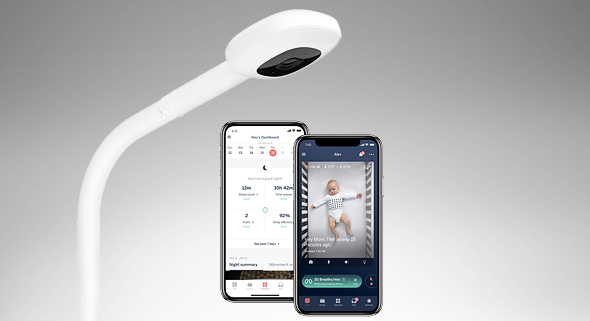 The company's Nanit device. Photo: Nanit.

The Nanit Pro Camera starts at $299 and provides height and sleep tracking as well as a built-in digital baby book to monitor their wellbeing. Its complete monitoring system, for $379, comes with a multi-stand to help make it more mobile and includes other additional features. Parents are gifted with one year of Nanit insights and then are required to pay a tiered subscription for data after that. Prices generally range from $50 per month (or $50 per year) to $30 per year (or $300 per year), with Ivry claiming most parents pay for the premium package.

"The sweet spot is probably 6-18 months of age, especially for the sleep where it's the most interesting," he said, clarifying how long new parents can expect to use Nanit. "But many of our users are using it for 2-3 years, even when they're taking babies out of cribs and into beds they keep their Nanit because they really like the morning reel that shows them what happened last night and the statistics around sleep."

There are genuine concerns about integrating AI technology into something as instinctive as parenting a newborn child. Even some of the most experienced drivers cannot remember the route to their favorite restaurants if their Google Maps isn't plugged in. Over time, parents usually become attuned to the specific sounds of their babies - what happens if the Nanit app breaks down and they lose their data-driven instincts?

"It's not a gene, it's something amazing that humanity created to help us be better and do more," Ivry admits when challenged on the idea that Nanit could create a generation of tech-reliant parents. "You know how to do your job, we are just providing you the information a little bit better and providing some reassurance that things are actually moving in the right direction. It's not really about replacing, it's about extending or augmenting," he assured CTech, while making a comparison to the popular internet-connected Peloton Bike that took the world by storm during the pandemic.

Perhaps. Some traditional parents - maybe the parents of today's Nanit owners - might favor the old-school ways of doing things. However, a generation that lives increasingly in camera-facing realities might just view a smart baby monitor as a natural evolution into the connected home system. A few months ago, Nanit launched its own online forum where people can consult with other parents as a place to ask about eating, sleeping, or health-related concerns to find a sense of community online.

Nanit was founded in 2014 and has raised a total of $74.6 million, according to Startup Nation Central. Prominent investors include Jerusalem Venture Partners, Capital Nano, RRE Ventures, Upfront Ventures, and GV.