Interview
High tech is turning a blind eye to transgender employees
Employee harassment, being passed over for positions and promotions, and micro-aggression in the cafeteria: Although the high tech industry is considered progressive, it's still an exclusive men's club for transgender employees
When Bianca Lewis came out as a transgender woman nearly a decade ago, she was surprised by the positive response she received. She worked as a marketing manager at a small startup in Jerusalem, and hesitated to tell her boss, who was a religious Jewish male. But those fears quickly dissipated. "My boss, colleagues, and the entire team responded amazingly," she says. "They gave me the support and feeling that the world is a wonderful and accepting place. We're still friends today, and my boss even helped my son out during his bar mitzvah just like any father would." But Lewis' journey to being accepted in the high tech industry didn't end there. It only began.

A few months after coming out, the startup was sold and the acquiring company brought on its own sales team, leaving Lewis to look for a job elsewhere. "For a few months I struggled finding work," she says. "I had already served in pretty senior positions, and managed a successful sales team. I knew I had the necessary skills for any sales position, but I went from one interview to the next where recruiters gave me the once-over from head to toe, judging me based on how I looked. In the end, they hired people far less qualified than me."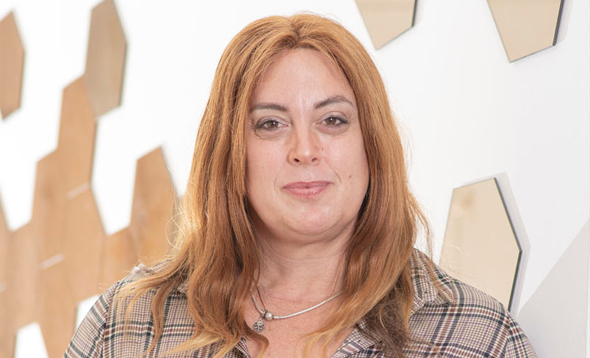 Bianca Lewis, a transgender woman at Opster, said she experienced setbacks working in the high tech industry which was less than accepting. Photo: Yuval Chen


What was their issue?

I was undergoing a sexual transition, and even if I could hide it, I could only change my documents to a certain stage. The interviews were very difficult and made me uncomfortable; I got told the craziest things. One recruiter said to me: 'I can't employ you, just listen to your voice.' That position specifically involved calling people over the phone and selling them software."


What was it like to go from being employed and respected to chasing down failed interviews?
"The lesson that I learned from that is that at my previous job, we all knew each other as human beings. I was already successful in what I did, so it was kind of like, 'well, we don't care if you're a man, woman, dog or horse if you're doing good work. However, undergoing a transition while looking for a job is an entirely different thing."
Lewis decided to take a step backward. She deleted all of her social media accounts including her YouTube channel where she provided support for people on the trans gender spectrum. Her reason for shutting down her accounts was particularly painful: "I was forced to erase my past so that I'd have a future," she says, explaining how she concealed any prior professional experience from her resume, so that her coming out would be seen as the "new" start of her career. With a fresh resume in hand, she was able to find employment within two weeks, but only in a junior position.
Seven years passed until she was able to rebuild her resume and climb the professional ladder high enough to feel unafraid. Lewis also believed that she held a moral obligation to help others on the transgender spectrum like her, and demonstrate visibility that high tech companies employ people like her. But being accepted in the workplace and feeling comfortable with who she was at work wasn't that simple. "It wasn't like I woke up one morning and told everyone how I came out as trans; it was a process. Now, I've given a talk at an LGBTQ event, but back then I only told a few people. I only shared my coming out story with my workplace last year."
Today, Lewis serves as Chief Revenue Officer at Opster. She previously served as Head of Sales and Customer Success. Currently, she is the only openly trans woman that serves in C-level management in Israel (the second most important in corporate hierarchy). "For nearly a decade I worked in stealth, so who knows, perhaps there are other managers at my level who still haven't come out yet."
Despite her senior position, she still receives disrespectful treatment from time to time. "Recently, I was on a professional Zoom call, and someone asked me: 'did you undergo the surgery yet?' I was in shock. That's no one's business."
Not creating 'safe spaces' can lower corporate productivity
Lewis' story accurately depicts several others' in the trans community in Israel. It seems as if a sector that holds liberal values in high esteem, promotes diversity and inclusion of the most vulnerable and discriminated populations in the labor market, and values open-minded academic education, wouldn't stand for this sort of behavior. And yet, the majority of high tech companies still operate as an exclusive straight and white men's club, therefore making it infected with the same ignorance and transphobia as other industries.
"The Israeli high tech industry promotes this image that it's just a bunch of friendly, liberal people but today research shows a different picture," says Sivan Kaniel, CEO of LGBTech, an organization founded in 2011 to promote diversity and inclusion of the LGBTQ community in the industry. According to an employment survey it conducted in 2020, 94% of participants on the trans spectrum reported that their employers did not take active steps to help create a supportive environment, with 90% of discrimination cases in the workplace left unreported or dealt with.
How do you explain the dissonance between the image being promoted and reality?
"Organizations are made up of individuals, and despite defining themselves as liberal, they have a certain blind spot. They just aren't aware of it yet. It's easy to talk about the Pride Parade or the Facebook post the company wrote about it, but it's far more difficult to discuss transgender bathrooms, undergoing a transition, or equal adoption rights for gay couples. That's why we make a point of getting down to the knitty gritty, and asking the less sexy questions," she said.
The picture becomes even more complex the farther away one gets from the liberal city of Tel Aviv. An unnamed trans woman who works for a high tech company in central Israel told Calcalist that her attempts to convince management to throw their official support behind the trans community is met with strong opposition, and that her company is afraid of upsetting its more conservative employees, and its ultra-Orthodox ones who have received backing from senior executives.
"Israeli employers often hold this idea of 'not upsetting anyone,'" Kaniel says. "Over the past few years, I've worked in human resources for both European and U.S. companies and the discourse is completely different. They think: 'How can we learn and be more educated about this community?,' while here it's more like: 'Let's stay out of their issues.' You hear off-the-record that employees are afraid of the community, when they say things like: 'Everyone got upset when we invited that gay lecturer to speak. Maybe it wasn't such a great idea.' Instead of leading a positive discourse that could prove challenging, the total separation between the trans community and company-policy only increases polarization."
People on the trans spectrum comprise between 0.3%-3% of the overall population and despite their increased representation in the media, ignorance toward their community persists, and leads to harassment and violence. They are ten times more likely to attempt suicide (40% compared to 4% of the general population). According to figures from the Equal Employment Opportunity Representation group, a third remain unemployed. And that's why the LGBTQ Legal Forum, founded a month ago, has set itself the goal of addressing the issues that trans people face.
Giving trans people the tools to cope at work
"There are several obstacles that prevent those on the trans spectrum from getting hired in the workplace," said Elisha Alexander, who serves as the founding-director of Ma'avarim, an organization that works to empower the trans community. "A recruiter could be hostile to the community. Let's say they speak over the phone with a trans woman who has submitted a sound resume but has a male voice; they'll then reject that applicant. Sometimes it's difficult to hide a sexual transition from a resume. Let's say a trans man studied in a religious all-girls high school, so questions as to why the person was there would arise. It leads people to delete entire sections of their resume."
And the difficulties don't end with recruitment. "There are people on the trans spectrum in the workplace. Some think this could lead to a decrease in company productivity. I worked at a high tech company prior to my transition, but didn't feel comfortable coming out, so I left my job and went to work at a hummus place," added Alexander. "Employers must show interest in creating a 'safe space' at work, where people feel free to express themselves. It doesn't make sense to train people who later leave the company.
"Ma'avarim gives trans people the tools to cope with the unique challenges they face. We hold workshops for people struggling with the dilemma of how to share their coming-out story or how to conduct oneself in interviews. We explain to them that just as recruiters aren't meant to ask a woman whether she plans on getting pregnant, they're also not entitled to ask questions about any medical procedures that an applicant has or hasn't gone through," Alexander said.
In addition, the group holds training sessions for employers to help them empathize with trans people in the workplace, understand the unique difficulties they face, how they cope, and how an employer, colleague, or human resources manager could be more trans-friendly. The organization also offers academic scholarships. "A lot of people have good intentions, and want to employ trans people, but there are some scenarios that present plenty of dilemmas. That's where we come into the picture," he said.
Lily Stone, a technical support engineer at the adtech company Natural Intelligence told Calcalist that she "feels normal nearly 98% of the time. No one has an issue at work whether I'm trans." In the past however, she experienced discrimination and was not accepted by her co-workers. One stinging scenario involved a senior manager who "showed real disgust toward me, which is that language of hate", she said. This ruined her chances of ever receiving a promotion.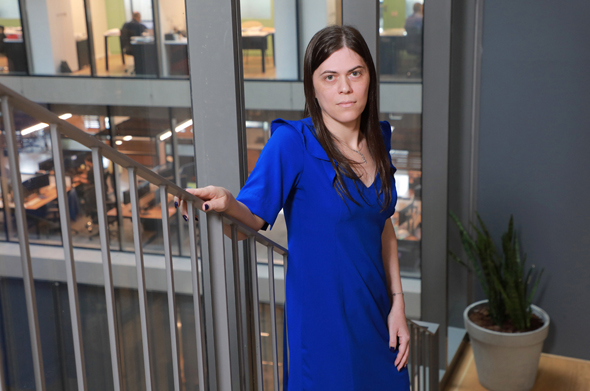 Lily Stone, a transgender woman at Natural Intelligence said she experienced discrimination at a prior workplace. Photo: Dana Kopel
Hiring based on merit, not mercy
The high tech industry didn't get its liberal reputation for no reason. Several companies have taken active steps to assist their employees on the trans spectrum, including those in the LGBTQ community. Fintech company Intuit provides NIS 150,000 ($47,500) for employees who wish to undergo gender reassignment surgery, and another NIS 30,000 ($9,500) for additional procedures; while Microsoft, Monday.com, and PayPal have donated scholarship funds to Ma'avarim; and Natural Intelligence has worked to embrace the community.
Neta Feller, a VP of Human Resources at Natural Intelligence, who also serves as a Board Director for LGBTech, said that it all started five years ago, when she heard that one of her employees was afraid to come out at work. "In the beginning, I was shocked that someone would be afraid to come out at our colorful, cool, Tel Avivian-company, but then I realized that we weren't doing enough. Since then, we've been focused on proper communication and education, from recruitment to onboarding the employee, and long afterward. We also have been hosting Ma'avarim for three years now, and they are part of us. We supply them with mentoring and infrastructure across different industries, and they hold their employment workshops here."
Trans employees face a lot of discrimination, and when they get hired for a position many think that companies recruit them over cis-genders out of political-correctedness and not due to talent. Others are troubled as to commercial companies' interest in community affairs. "We used to ask whether the private sector should cover for the state's shortcomings, deficiencies in public services, or what responsibility it holds in regards to social change, but now it is so obvious it should," said Alon Livneh, a content writer at Riskified, who came out as a trans man three years ago. "The high tech industry has a huge influence on the market: it employs a lot of people, many of whom are the leaders of social change. That's why companies have an inherent social responsibility to lead that change."
The question is how much social responsibility from private companies is advisable or wise. "When companies partially cover costs of gender reassignment surgery it sends the message: 'we see you.' On the other hand, some companies also partially fund surrogacy proceedings for its employees, which is a contested issue," Alon continued: "I feel lucky. When I interviewed at Riskified it was back when I was a woman, as Alona, but right before I began working I sent my boss an email that I would be undergoing the procedure. He said the company would be honored to accompany me on my journey. The transition really terrified me, and it is a period ripe with harassment, but luckily I underwent it in an open and accepting environment."
There is one issue that everyone agrees on: the industry needs to integrate more trans people, which also has an economic justification. According to a study conducted by the McKinsey & Company consulting group, companies with more gender diversity are 25% more likely to yield above-average revenues.
"Diversity at the workplace is a key part of the success behind any team I've ever led," said Lewis. "When I put together a new sales team, and hire a white, straight young man - because those are 99% of my candidates - from my experience what happens is that at some point a certain atmosphere is created where everyone talks about the same things, sports for example, or does the same things, and feeds off of each other's energy. They won't improve their skills or learn new ones. But if suddenly, I bring on the team a new female immigrant from London, they'll realize that she listens more and still yields better sales results, and they'll think for a second: 'Maybe I should be more like her.' This slight diversity within the team makes it more productive. My dream team would include a black woman, an Asian man, a straight white woman, a person on the trans spectrum, a lesbian woman, an Arab person, and a religious person."