Unicorn Forum
Bright Data CEO: "We have crossed $100 million in annual revenue"
"We acquired three companies from the money in our account without requiring any external funding just this year," said Or Lenchner, speaking on a panel with Gong CEO Amit Bendov, Immunai CEO Noam Solomon and Hailo's Hadar Zeitlin
"There is an inflation in the usage of the term unicorn," claimed Amit Bendov, CEO and co-founder of Gong, the conversation analytics startup which was valued at $7.25 billion in a funding round earlier this year. "Five years ago the reaction to becoming a unicorn was 'wow'. But now almost any company with annual sales of $10 million is already worth $1 billion. However, there is also the real thing: Companies that are building a real business which the market is expecting to go a long way and is pricing them accordingly."

Bendov was speaking during a panel hosted by Sophie Shulman as part of Calcalist and Discount Tech's Unicorn Forum held on Sunday. "A company needs to grow and reach its real value and ultimately be profitable and create cash. Gong could be profitable today, but we decided to take the money from our growth and invest it in more growth," added Bendov.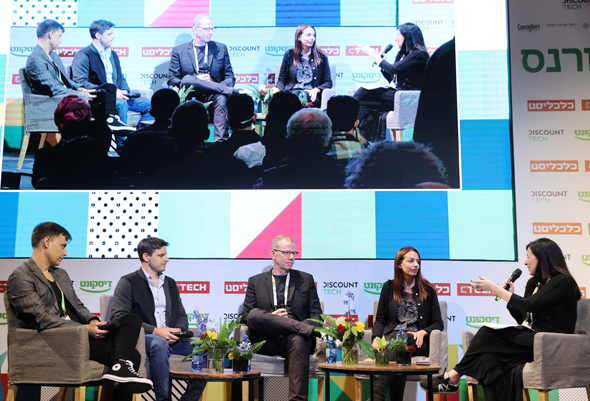 Unicorn Forum panel. Photo: Orel Cohen

"We are focused on creating value," added Noam Solomon, CEO and co-founder of Immunai, the biotech startup that reached a value of just over $1 billion in its latest funding round. "Our goal is to be a market leader and to reach a situation in which we are developing drugs that are helping cure people. A business needs to be profitable and there is a dilemma regarding how many investors to bring in and how to dilute shares."

Or Lenchner, CEO of Bright Data, noted that his company was focused on being profitable from day one. "We acquired three companies from the money in our account without requiring any external funding just this year," said Lenchner. "We crossed $100 million in annual revenue a while ago and for me this is a far healthier position to be in as a company as we are not occupied by raising money and can focus on our product and people."

Hadar Zeitlin, CBO and co-founder of AI chipmaker Hailo, which reached a $1.1 billion valuation in June of this year, spoke about the challenge of recruiting quality employees, even as a unicorn. "A corporation has the ability to offer conditions that a startup has a tough time matching," she said. "There are additional factors like the technological challenge and personal growth which people take into account, and of course handing out options is also a very significant tool for a startup. We recently allowed employees with a certain tenureship to sell shares in secondary deals and that allowed some of our employees to already meet the money now."