Unicorn Forum
"Companies with a real product are the ones we will see in the long-term"
Said Shaul Meridor, CFO of Lightricks, at a panel with Philippe Bouaziz, Deel CFO, Aaron Mankovski of Pitango, Qumra's Boaz Dinte, and Dr. Guy Navon, Director of Discount Tech Capital during the Calcalist and Discount Tech Unicorn Forum
"You do not have to go to Mauritius to understand what is happening with salaries," said Shaul Meridor, CFO of Lightricks, during a panel at the Calcalist and Discount Tech Unicorn Forum Sunday, hosted by journalist Sophie Shulman.

"This is a challenging time for companies because employee conditions tend to stay with us even after the hype passes," Meridor said. "We have to make the right consideration, compete for talents, and in this aspect, Jerusalem is an advantage. Nobody is looking to steal talents from our lobby."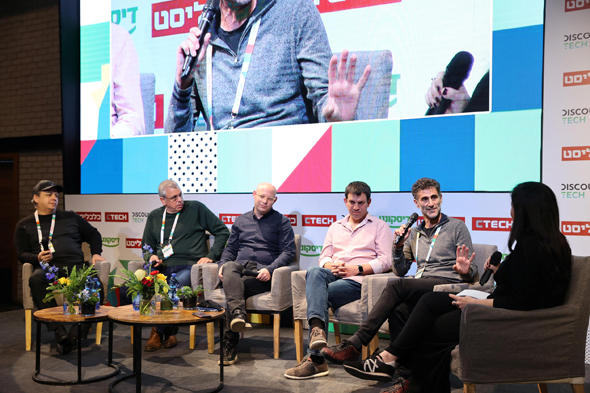 Philippe Bouaziz (left), Aaron Mankovski, Dr. Guy Navon, Shaul Meridor, and Boaz Dinte Photo: Orel Cohen

Philippe Bouaziz, Deel CFO and founding board member, said that: "We are recruiting 40 people a month and our product portfolio is starting to grow. Being a CFO is a challenge as I deal with the legal issue, as well as the product. It is hard work and you have to encourage development without stopping the business, that is the challenge."

According to Aaron Mankovski, managing partner at Pitango, "there is a synergy when looking at growth funds, it is a different kind of investment and overall there is a synergy that works very nicely. It is true the food chain goes from top to bottom, but the market will change, the public markets will change and everyone will return to their natural place. I believe that over time we will see a stabilization."

Boaz Dinte, managing general partner at Qumra Capital, provided his insights on the question: Is there a bubble? "Last year, Israeli companies were sold at a combined value of $100 billion, so we understand why a lot of money is invested here. The second figure is whether the companies are real, are they selling a dream or are they real? This year there are 52 real companies, these are real companies that sell, not dream companies and not bubble companies. The mega-funds came to Israel for a reason. The market has moved very fast in the last three years. I am not saying there won't be any corrections in the private market, but when there are funds with tens of billions looking to make money, this correction will take a long time. "

Dr. Guy Navon, Director of Discount Tech, which reports to the business division headed by Yuval Gavish, said that "eventually there is a connection between funding factors and Israeli banks. There is a real industry being built here, which goes into all areas of business activity. These are companies that have sales, are growing, and need capital and a variety of sources of financing."

Meridor added that "we must innovate and produce all the time. I think the Israeli economy has matured, at first everyone was dealing with exits, we are no longer there, this market is constantly evolving, the funds were here in the beginning, but in the round we did, there are Israeli institutional investors and banks. In the end, companies with a real product are the ones that we will see in the long-term."

Mankovski also said that "we are now experiencing a quiet correction, not talking about it as a crisis. We are seeing companies building a base and having revenues. But the high-interest rates in the U.S. cannot be ignored. I think companies that have a solid base will not be affected, people should continue to buy products through e-commerce, scammers will be around, and defending against them will be required."

Meridor concluded by saying "we have workers who are not high-tech professionals at all, we have gardeners, cleaners, designers - and everyone benefits from this economy. The state should not touch high-tech, there are places that are better remained untouched. This tsunami is something the government can not help, the world is undergoing a revolution and Israel is in an excellent position for the beginning of the revolution."