Israel's SavorEat presents its plant-based burgers to the general public
Burger-based franchise chain BBB Group will serve the patties at some of their 100 locations across the country
SavorEat, the Israeli foodtech company that has been hard at work producing a plant-based burger for consumption, finally revealed its flagship product today at burger restaurant chain BBB in Herzliya. The burgers were ordered by members of the press via their mobile phones and presented alongside fries, onion rings, and fried cauliflower.

"From the beginning, we believed that the food industry is in need of significant changes in order to remain relevant," said Racheli Vizman, SavorEat Co-Founder and CEO. "We choose to boldly look at the changes of our future and to challenge the status quo in the food industry. Through the technology we have developed, we will be able to get to know our customers better, respect them and give expression to their changing needs."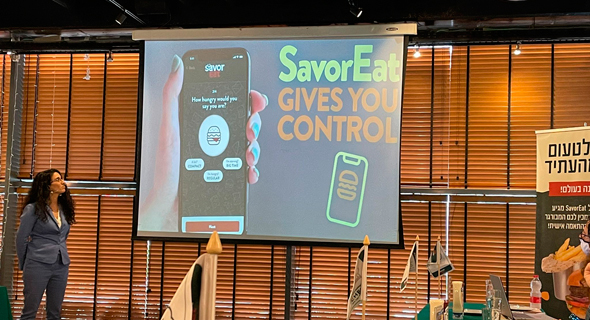 SavorEat announces its official launch at BBB. Photo: James Spiro/CTech

In opening remarks to a room full of hungry guests, Vizman outlined her vision for the future of food. Using their phones, restaurant clientele at 100 locations across Israel will be able to order personalized 3D-printed burgers that will each have unique tastes, textures, and dietary needs based on the requirements of each person. Once sent to the in-house Robot Chef, the patties are printed without allergens, products of genetic engineering, or gluten. Customers will soon be able to order the plant-based burgers at chains such as BBB, Moses, Burgerim, Moses Shop, and the Meat Deli delicatessen chains.

Earlier this year CTech was invited to the SavorEat headquarters in Rehovot to taste the burger while still in development. Since then, guests can now be offered three different patties: Classic, Chef, and Sporty. Each one had a similar genetic makeup with the same ingredients but had tweaks in their development to make sure the dietary requirements were met. For example, 'sporty' customers would order the latter patty, which is high in protein and dryer, and those who value an oily burger - like this writer - would likely favor the Chef or Classic patties.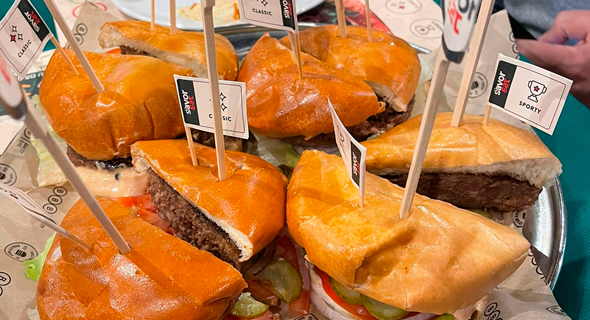 Multiple taste tests were conducted to determine the best patty. Photo: James Spiro/CTech

This time around, the patties were a vast improvement from the visit earlier in the year. Since then, SavorEat has developed a more juicy patty that is messier and richer than its earlier versions. For those who prefer a messy patty, the SavorEat burgers have evolved far beyond their initial attempts to be technically perfect and instead focus on the taste and experience of the meal. A personal preference was the 'Classic' patty which had the perfect blend of oils and proteins that match meat-based expectations from previous experiences. This writer had three portions just to make sure his decision was final.

"The idea that for the first time ever, a customer can come to a meat-oriented hamburger restaurant, and with a push of a button on an app order a juicy, digitally manufactured, vegan burger is nothing short of revolutionary and creates an extraordinary and unforgettable experience," added Ahuva Turgeman, CEO and one of the owners of the BBB restaurant chain. "We believe that an organization that doesn't constantly strive forward, will eventually be left behind. This is why we are constantly engaged in identifying and developing sustainable, high-quality, and nutritious products that will provide a diverse solution for all of our guests. We thank Racheli Vizman and the entire team for this fruitful cooperation."

SavorEat has had quite the year. As well as the official launch of its 3D-printed burgers, the company also partnered with Sodexo to commercialize its robot chef in American college campuses and established a new subsidiary called EGG-N'UP to develop plant-based egg alternatives. According to previous reporting, 47% of young people identify as 'flexitarians', individuals who are actively seeking to cut down their meat intake by adopting more vegetarian diets.

SavorEat was founded in 2018 by Vizman, Prof. Oded Shoseyov (Chief Scientist), and Prof. Ido Braslavsky. It was the first foodtech company to complete an IPO on the Tel Aviv Stock Exchange. With the help of its Robot Chef, the company hopes to help transform the food industry by helping those achieve more healthy and environmentally friendly diets through plant-based alternatives to conventional meat.