Exclusive
SundaySky targeting $300 million Tel Aviv IPO
The Israeli company, which developed a platform allowing organizations of all sizes to produce, distribute, and optimize video at scale, is aiming to finally go public 14 years after it was founded
After a couple of quiet months in the tech IPO market, Calcalist has learned that Israeli company SundaySky, which develops video solutions, is planning an initial public offering on the Tel Aviv Stock Exchange (TASE) at a $300 million valuation before money. SundaySky is currently in the process of preparing its prospectus for the Israel Securities Authority.

Unlike other tech companies that have risen to fame in no time over the past couple of years, SundaySky is a relatively mature company, being founded in 2007. After 14 years and raising a total of $76 million, the company is now seeking a possible exit for its investors by going public on the TASE before moving on to Nasdaq. Companies such as SundaySky explain that their long road to going public is the result of their innovative technology being too early for the market, which meant that the development process and adoption stage were stretched out over a relatively long period. Viola Ventures is the leading shareholder in SundaySky, with Avi Zeevi, co-founder of the Viola Group, serving on the company's board.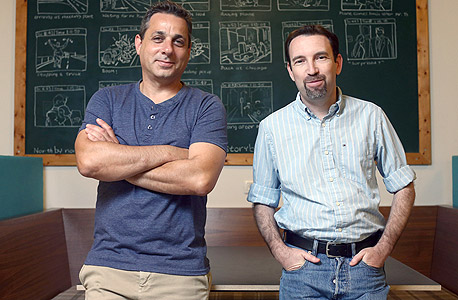 SundaySky co-founders Yaniv Axen and Shmulik Weller. Photo: Amit Shaal

SundaySky will hope to lure investors with reports of annual revenue reaching $40 million over the past year and the expectation of an increase to $50 million in 2022. SundaySky can also boast some big-name clients, including Citi, TripAdvisor, CVS, and Hilton.

SundaySky employs 160 people, most of them in Israel, and also has offices in New York and Tokyo. Ayal Shiran serves as the company's chairman after joining following its most recent round, a $37 million Series D completed in 2017. SundaySky was founded by Shmulik Weller, who currently serves as President and CPO, and CTO Yaniv Axen. The company's CEO is Jim Dicso. SundaySky's platform allows organizations of all sizes to produce, distribute, and optimize video at scale. 1-800 Contacts, Bank of America, E*TRADE, Okta, Select Blinds, Staples, UnitedHealthcare, United Airlines, Verizon, and many others, are among its clients.