eToro's valuation dips over 15% to $8.8 billion after amended SPAC deal
The deadline for the Israeli fintech company's merger with the Betsy Cohen-backed blank-check company has been pushed to the end of June 2022 after being initially announced in March 2021
Israeli fintech company eToro's valuation has been cut by over 15% to $8.8 billion from $10.4 billion, Betsy Cohen-backed blank-check company FinTech Acquisition Corp V announced on Thursday.

Special purpose acquisition company FinTech said in a regulatory filing the companies will not be able to meet the required closing conditions for the deal by December 31, and hence had extended the deadline to June 30, 2022.

One of the conditions that could not be met was an effective submission of filings by eToro with the U.S. Securities and Exchange Commission that are required for the registration of certain securities by foreign issuers, FinTech said.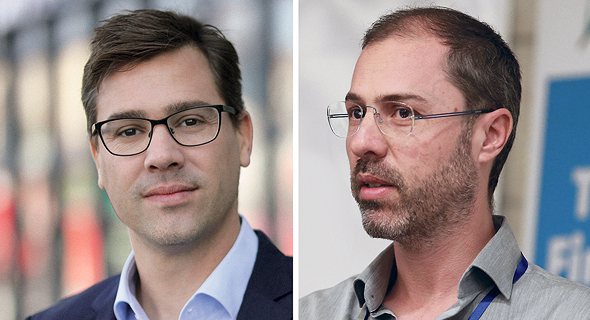 Yoni (left) and Ronen Assia, eToro founders. Photo: Orel Cohen and Dudi Hasson

The delay in the deal could affect it in more ways as the SPAC trend has fizzled recently with the shares of several companies such as Grab Holdings and BuzzFeed, which merged with SPACs, tumbling after going public.

A regulatory squeeze in the broader blank-check market has also led to some deals getting torpedoed, such as those of sports card firm Topps and cannabis producer Parallel.

eToro's deal with the blank-check company was announced in March and drew investments from venture capital firms SoftBank's Vision Fund 2, Fidelity Management & Research Co LLC and Wellington Management.

Founded in 2007, eToro allows registered users to manually invest in cryptocurrencies, stocks, commodities and more, while those who lack time or experience can automatically copy the trades of others on the platform.

The company competes with Robinhood, which has become hugely popular with young investors for its easy-to-use interface.

The SPAC merger was expected to inject into eToro $250 million from the SPAC's funds, as well as another $650 million from institutional investors raised in PIPE funding (private investment in public equity).

The Israeli company seems likely to reach a target of $1.2 billion in revenue by 2022, but the situation in terms of profit is far less bright. The annual EBITDA forecast is expected to be $15 million. In the first two quarters it did not seem to be a problem to meet the target with a profit of $69 million. However, in the third quarter a negative EBITDA of $25 million was recorded, meaning it must present at least the same result in the fourth quarter to meet expectations.

Beyond the SPAC-related expenses, eToro recorded high accounting expenses ($60 million in the third quarter) for allocating options to employees and also invested large resources in penetrating the U.S. market. Against this background, its operating expenses doubled to $203 million in the quarter.

eToro still has $370 million in cash, so can afford to run even without fundraising in the near future. However, this is a fairly old company whose shareholders - including the Barkat brothers' BRM fund; Hemi Peres, a founding partner of the Pitango Venture Capital fund, and veteran high-tech investor Eddy Shalev - already want to see a significant exit. Furthermore, becoming a public company is supposed to help eToro strengthen its brand when competing with Robinhood.