Israel's Ministry of Health takes its Covid-19 wastewater project nationwide
Kando has been conducting research in the country's sewer systems since 2020
Israel's Ministry of Health has launched a nationwide project to help detect Covid-19 in the wastewater of its citizens with the help of Kando, an AI and Big Data company that analyses wastewater to improve public health and the environment. After successful pilot projects in several Israeli cities over the last two years, the Ministry has started applying the technology in hundreds of control units across the country.

According to the new plan, regions that house more than 20,000 people will be monitored twice a week via the wastewater that households produce. The samples that are collected are sent to laboratories at Ben Gurion University where PCRs suitable for wastewater are then conducted. If positive, additional tests are conducted to quantify the Omicron variant. The procedure is understood to take 24 hours, a relatively quick time to determine the health of the public in regional areas.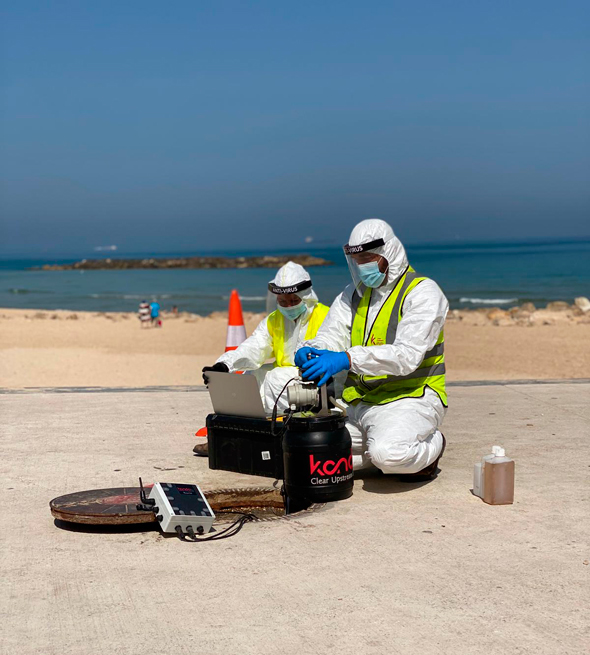 Kando tests in action. Photo: Kando

The project is being conducted in collaboration with the Ministry of Health, the Virology Laboratory at Sheba Medical Center at Tel Hashomer, Kando, researchers from Ben Gurion University including Professors Ariel Kushmaro, Nadav Davidovitch, and Jacob Moran-Gilad, as well as Professor Eran Friedler from the Environmental, Water, and Agricultural Engineering Unit of the Faculty of Civil Engineering at the Technion, Israel Institute of Technology.

The expansion of the project comes after a two-year trial conducted by Kando, together with leading Israeli institutions, in the city of Ashkelon. At the time, Kando CEO Ari Goldfarb said that "monitoring our sewers is like taking a 'blood test' of a city," and that "we can offer actionable insights to authorities, alerting them to outbreaks even before residents are symptomatic."

Israel is currently battling a wave of Covid-19 due to the highly contagious Omicron variant. This week, it was estimated that one-third of all Israelis are expected to contract Covid-19 in the next three weeks.

Kando was founded in 2012 by Goldfarb, Zohar Scheinin (CRO), and Gili Elkin (CGO). Its technology runs on systems deployed in municipal sewage systems and can provide analysis and insights based on the wastewater produced by citizens in regional areas. Those insights can then be shared with authorities to determine the health of citizens in Covid-19-affected areas. Kando is backed by Bridges Israel, an impact investment fund investing in Israeli businesses relating to social and environmental impact.