Interview
Fighting fires with technology
With the flick of a button, Telefire's sophisticated fire control panels in smart buildings can contact firefighters, fight off cyberattackers, and alert people to evacuate
Technology is becoming more sophisticated, and yet fire alarm systems haven't seen major upgrades over the past few decades. And with the uptick in arson crime, the ease at which cyberattackers can hack into a building's security system and disable fire alarms, and natural disasters related to climate change, those solutions are needed now more than ever. Telefire, a 40-year-old veteran Israeli company proposes using state-of-the-art technology to halt fire in its tracks. Two years ago, the company developed a sophisticated smart system for smoke and fire detection, which includes voice evacuation, can be controlled remotely via a tablet or smartphone, and is connected to a secure cloud platform that enables it to monitor ongoing situations in real-time emergencies.

"Telefire began by proposing simple solutions for fire safety, and then evolved to the more technological side of the industry and now designs, manufactures, and installs very sophisticated systems for smoke and fire detection. We're a leader in smart-building technology. We also have a very advanced cloud platform, to enable data to be transmitted in real-time, processed, and displayed via mobile and web applications," said Telefire Senior Vice President David Rotenberg in an interview with CTech.
Telefire's smart system helps firefighters battle fires. Photo: Shutterstock

The company is Israel's largest manufacturer of fire safety systems. Its proprietary fire control panels, which aside from cloud capabilities, are also protected against cyberattackers, and comply with international cybersecurity standards. In the digital age, attackers can easily hack into a building's system and disable fire protection standards such as sprinklers, alarms, or voice evacuations, Rotenberg explained. In addition, in the past if a factory worker set off an alarm by mistake, then turning off the alarm system would require manpower on-site to manually switch off the alarm in the fire panel, but Telefire's approach allows factory managers to control everything remotely from their smartphones. "If someone has remotely tampered with a smoke detector, disabled it, and caused a fire event in the building, it damages property but can also cost lives," Rotenberg added, quoting a recent publication from the British National Cyber Security Centre (NCSC) that describes the increasing harm in the digital age. "As we go digital, all those systems must be secured. Manufacturers of smart buildings have many easy-to-use and energy-saving features, but aren't aware of dangers in the cyber aspect. That's where we come in."

Relying on cloud capabilities

Telefire's solution has unique IoT (Internet of Things) capabilities to deliver data to the cloud. Its software also provides users with a map of the entire building. "If a detector goes off, you can see the exact location in real-time on the map and send it to firefighters or other emergency responders right away. We plan on doing the same thing with other technologies in smart buildings that can also malfunction, such as energy management, heating, ventilation, air conditioning, and lighting."

Although smart buildings have gone digital, not all of the internal systems know how to communicate with one another. "In the event of a fire, the authorities expect our system to control everything - whether that be sprinklers, fire detectors, elevators, air conditioning and ventilation, to provide them with as much information as possible and help them get the job done." So far, Telefire's fire control panels have been installed in buildings across Israel, such as the Da Vinci Tower project, Dizengoff Center mall, the Israel Museum, and Herzliya Medical Center.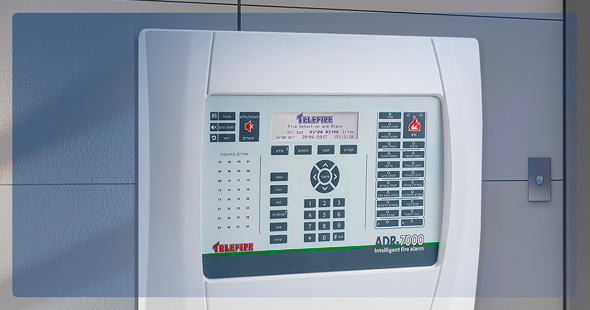 Telefire's smart fire panel system can be easily installed and controlled remotely via a smartphone. Photo: PR

Telefire believes that technology in smart buildings can't completely replace manpower but can act as an auxiliary assistant tool. "Our vision is for buildings to become 'smart,' and help save lives." In the event of a fire, a smart system could detect the presence of a fire far faster via its sensors. The system would report this data to a fire brigade, who would be able to obtain data from the building in real-time, including a detailed map that notes the location of the fire, its intensity, and type. By implementing smart AI algorithms, the system could recommend what next steps personnel should take, such as what entrances to use, or locate which people need rescuing and their precise location, or whether there are flammable materials in a certain location.

As of now, the company is privately-owned, and Tene Investment Funds, an Israeli private equity fund, controls 70% of the company's shares. Tene has also helped push the company to expand to new markets, and its fresh CEO and other newly-appointed executives hope this will translate to growth in other markets outside of Israel. Now, the company's main focus is on offering digital products. The Petach Tikva-based company also has undisclosed plans to operate in other areas around the globe. Saving lives is a full-time business after all.