MeMed raises $93 million to translate the immune system
The Israeli company recently received FDA approval for its MeMed BV test to help healthcare providers distinguish between bacterial and viral infections
Israeli healthtech company MeMed announced on Monday the completion of a $93 million Series E. The round brings MeMed's total funding to date to over $200 million, including support from the U.S. Department of Defense and EU Commission. The latest financing brings together new and existing investors including Horizons Ventures, Shavit Capital, Social Capital, La Maison Partners, Touchwood Capital, Caesarea Medical Holdings, Union Tech Ventures, ClaI Insurance, Phoenix Insurance, Poalim Equity and Western Technology Investment. MeMed, which develops diagnostic solutions to translate the immune system's complex signals, didn't disclose the valuation at which it raised its Series E, but noted that its valuation increased significantly since its previous round.

"This funding round and the recent FDA approval, which opened many opportunities for us, concludes a journey of a decade that began with a sketch on a napkin in grandma's kitchen," Eran Eden, MeMed's co-founder and CEO, told Calcalist. "The human immune system is an accurate tool for finding out what is happening in our body and we track the immune system in order to provide solutions for modern medicine. We tried to work with all of the big pharmaceutical companies in the world but didn't succeed and we understood that we needed to develop a system that could track proteins in the blood in real time. This was the stage in which the U.S. Department of Defense and EU Commission came into the picture with $30 million in funding and we managed to track these molecules within 15 minutes."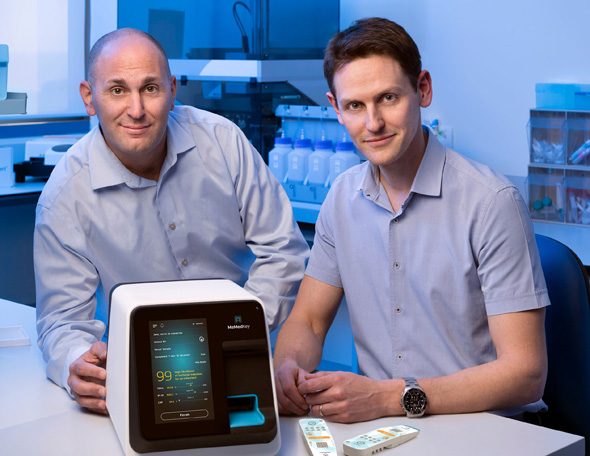 MeMed Cofounders Eran Eden and Kfir Oved. Photo: MeMed

Eden explained that the FDA ultimately provided the company with a more-expanded approval than it was originally seeking, allowing it to enter more markets. "In the coming year we will reinvent ourselves. We currently face three challenges. The first is manufacturing, which will all take place in the U.S. and Europe. The software is very easy to manufacture, the hardware is difficult and the biological element is very difficult. We are beginning to bring a lot of knowledge from around the world to Israel so that we will have this knowledge close to our R&D center in the country," said Eden. "Our second challenge is commercializing our product, with our profits to come from selling test kits. Our current focus is on populations that visit the ER. We have recruited 25 people in the U.S. to approach ERs across the country. The third challenge is to expand from one product to a variety of products that are capable of treating a large number of diseases."

MeMed was founded in 2009 by Eden and Kfir Oved, who serves as CTO and Chairman. The company employs 100 people in Israel, Europe and the U.S., with the majority being headquartered in Haifa.

In September, the U.S. Food and Drug Administration (FDA) granted 510(k) clearance for use of the MeMed BV test on the point-of-need platform MeMed Key to help healthcare providers distinguish between bacterial and viral infections. The technology has been cleared for both children and adults. MeMed has also developed the MeMed Covid-19 Severity test for predicting severe outcomes in Covid-19 patients, which has been cleared for use in Europe.