Second Nature raises $12.5 million for its AI-powered interactive sales coaching platform
The company offers a software platform for immersive sales simulations in natural language with an AI-powered conversation partner named 'Jenny'
Second Nature, an AI-powered sales coaching solution, has today announced that it has raised a $12.5 million Series A round. It was led by signals Venture Capital, StageOne Ventures, Cardumen Capital, and Zoom Video Communications, Inc. via the Zoom Apps Fund. The closing of its Series A brings the total amount raised to $15.5 million.

"This demonstration of confidence from our new and current investors will help us transform enterprise sales productivity at scale," said Ariel Hitron, Co-Founder and CEO at Second Nature. "In the growing sales tech landscape, Second Nature has established itself as a leader in AI-powered simulation and role-play for customer-facing roles. By helping companies transition their sales coaching from being ad hoc to data-driven and structured, we're empowering executives to drive real change in their organizations."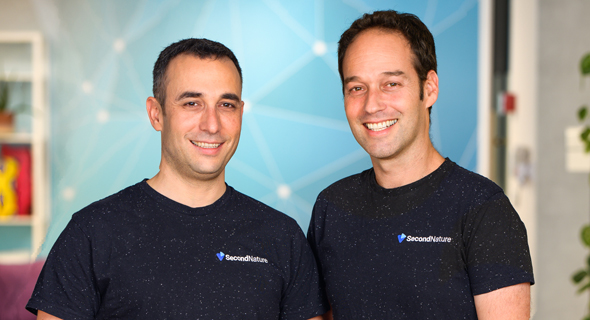 Second Nature founders Ariel Hitron and Alon Shalita: Photo: David Garb

Second Nature offers a software platform for immersive sales simulations in natural language with an AI-powered conversation partner named 'Jenny'. Sellers can raise the quality of their skills and managers can spend more time focusing on generating revenue since they no longer need to watch recordings. The solution has already been deployed by Zoom.

"After more than a year of our global sales team training and certifying on Second Nature, we truly understand the enormous potential in AI-driven sales training," added Colin Born, Head of Zoom Ventures. "We decided to become a strategic investor in Second Nature because we're already enjoying the fruits of this cutting-edge solution – and expect to continue reaping benefits in the years to come."

Second Nature is powered by AI and NLP to provide virtual practice partners from a variety of ages, ethnicities, and genders that hold voice discussions with salespeople. It then scores them and helps the individual improve their skills. The space can be easily deployed in WFH or hybrid environments while also providing team skill visibility and insights to their managers. It is understood that Jenny can help sales professionals with their knowledge of new services, practice selling, and streamline more deals.

Christian Weniger, Managing Partner at signals Venture Capital, states: "In a world of ever-shortening product life cycles, enabling the sales force to keep the pace and effectively sell new offerings is a key factor to success. We believe that the Second Nature team has built the ideal solution for this challenge and are excited to join them on their journey."