BiblioTech
CTech's Book Review: The 3 must-have traits to be a successful leader
Liav Chen, Co-Founder and CEO of Humanz, shares insights after reading "The Hard Thing About Hard Things: Building A Business When There Are No Easy Answers" by Ben Horowitz.
Liav Chen is the Co-Founder and CEO of Humanz, an AI-powered influencer marketing platform. He has joined CTech to share a review of "The Hard Thing About Hard Things: Building A Business When There Are No Easy Answers" by Ben Horowitz.

Title: "The Hard Thing About Hard Things: Building A Business When There Are No Easy Answers"

Author: Ben Horowitz

Format: Audiobook

Where: Home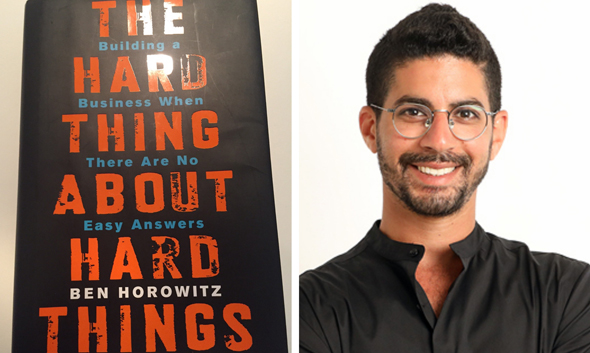 Liav Chen, Co-Founder and CEO of Humanz. Photo: PR/Amazon

Summary:

This book follows Ben Horowitz and his experience founding and running a startup. In it, he shares his knowledge, his insights, and his mistakes. And he outlines a crystal clear picture of what it's actually like as an entrepreneur. The ups, the downs, the good, the bad, and the incredibly ugly.

It's a vulnerable and informative look at what it's like being a leader. Plus, he offers actionable advice and real-life examples to demonstrate each of his points. So if you're looking for a roadmap to success, this is as close as you're going to get. Even though, according to Horowitz himself, there's no such thing as a clear-cut path.

Important Themes:

- It all comes down to the people around you and how well you understand them. Great companies work because they've attracted the right people. Morale stays up when people enjoy the work they're doing. But at the same time, huge projects can come to a screeching halt because a single person gets stuck on a task. So it's critical to understand your employees, your executives, and yourself if you want to hit those short-term and long-term goals.

- Expectations have the power to make or break you. If your expectations are way too high, you will fail — there's no way around that. And if they're too low, you'll get the same results. So take a beat, look around you and what's going on, and find a way to balance those expectations and make the tough decisions.

- Accept that struggle is permanent and that it's actually a good thing. To me, this feels like the book's central theme because according to Horowitz: "the struggle is where greatness comes from." There's no way around problems except through them and on the other side is where we find priceless things like experience, knowledge, and resilience. So embrace the struggle because it's not going anywhere and life's a whole lot easier when you do.

What I've Learned:

If you've ever talked with an entrepreneur, a CEO, or really any business person, you almost certainly heard this book come up. It's one of the most recommended books I've come across and after reading it, it's not surprising why. Every page is packed with insight, but if I had to boil down everything I absorbed into a few points, it would be these:

- If you want to be a successful leader, there are three must-have traits. You have to have a vision that you can articulate. You have to have ambition. And you have to have the ability to achieve that vision.

- There's no such thing as a silver bullet but that's where the magic happens. For a lot of us, we have to answer questions that have no right answer. Or solve problems that don't have a one-size-fits-all solution. So if we want to be successful, we have to get creative and focus on finding the best fix even when there's no recipe for it. Oftentimes, this is how we come up with new and exciting ideas.

- There are two kinds of leaders and it's important to know the difference between them. Some leaders are great at knowing what to do. They like making decisions and they love picturing a path forward. Other leaders are great at knowing how to get the company to follow that path forward. They're great at implementing strategy and motivating others. The key is figuring out who is who and putting them in the right position so they can successfully lead.

Critiques:

The book sways between reading like a narrative and reading like a textbook. In this way, I think it's perfect for different types of learners, but I can see how it might turn someone off.

Who Should Read This Book:

Anyone who's in the business of innovating, especially entrepreneurs.