Interview
How one female CEO overcame adversity to find a cure for Uveitis
"I see us building a large company that will focus on the eye, beyond Uveitis. Our technology has tremendous potential to treat other diseases that cause blindness, and treat millions of patients," says Dr. Daphne Haim-Langford, who suffers from Uveitis and founded Tarsier Pharma
Dr. Daphne Haim-Langford was 16-years-old when she met someone who'd change her life forever and spurred her to complete her doctorate. It was none other than a doctor who she saw during a routine checkup due to her recurring eye inflammation. She proudly told him that she planned on pursuing a degree in biology and chemistry, and dreamt of one day becoming a scientist. "She looked at me and said: 'Why are you trying so hard? Go be a secretary. You won't be able to see in a few years to even complete school," she told Calcalist in an interview. "And I didn't understand what he meant. I thought it was simply inflammation, not a big deal."
Haim-Langford was diagnosed with Uveitis, a chronic disease that causes recurring eye inflammation, and is considered to be one of the leading causes behind middle-aged blindness. Two-thirds of those who suffer from the disease will have their vision irreversibly damaged, and 22% will go completely blind. Haim-Langford (48) was first diagnosed at the age of 8, after telling her mother that she saw shifting dots and lines when she tried to read. During the course of her childhood, she tried several treatments and underwent numerous examinations, including steroid drops and eye injections, chemotherapy, and even surgeries. But none could surmise that the disease would eventually damage her eyesight or cause her to lose her vision. "It was back in the 1990s, before anyone ever pulled up Google and began to diagnose themselves," she explains. "I'd race to the doctor, receive a treatment or an injection, and be convinced that it was all over, but it wasn't."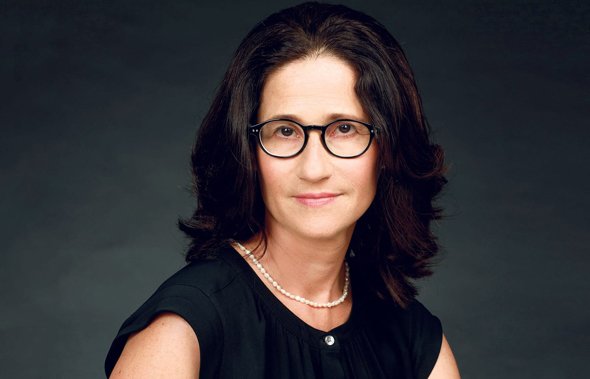 Daphne Haim-Langford. Photo: Elon Besor
But those insensitive doctor's words felt like a slap in the face, and made her understand that it wasn't over. She decided to start searching for a preemptive solution. "The next day I skipped school, and took two buses to the Israel Center for the Blind, and asked them whether they could teach me to read and write in Braille," she recalls. "I entered this dark room, where the association's chairman sat and he asked me: 'Why are you here?' I told him: 'I want to be a scientist and the doctors told me I can't, so I need to come up with another solution.' In hindsight, I probably owe that doctor and his senseless prediction a lot, and since then I've completed my doctorate in biophysics at the Technion Institute of Technology. He behaved irresponsibly, but he wasn't the last doctor to offer a patient an insensitive diagnosis."
However, Haim-Langford's personal crusade didn't end there. In 2016, she founded Tarsier Pharma, a biotech company that develops medical solutions for autoimmune and inflammatory eye diseases. Since its founding, the company has raised $20 million, from Indian biopharmaceutical giants like Sun Pharmaceutical Industries Ltd. and BioLite Life Sciences and others. The company's flagship product combats Uveitic glaucoma, which develops in one third of patients due to a continual use of steroids and can cause blindness. Currently, the drug is in stage three of its clinical trials, and the company plans on filing its results to the FDA by 2023.
Late last year, Haim-Langford's big break came when she beat out 260 scientists from around Europe, and was awarded the EU Prize for Women Innovators 2021, an astronomical accomplishment with a 100,000 euro grant ($112,600).
But her main accomplishment that she is most proud of is saving patients' eyesight. "In the mornings when I check up on our clinical trials and see that we've saved yet another patient's vision - I'm so happy," she says. "The fear of going blind is the greatest human fear of all. And when everyone around you is discussing the drug, and the process of obtaining regulatory approvals, I think: 'Stop for a second, we just helped someone.' And they're real people who I can easily relate to, since I know how it feels."
The sense of solidarity and personal responsibility brought Haim-Langford to speak for the first time publicly about her disease - a difficult step for the energetic and determined businesswoman, who has refused to accept special treatment her entire life. "It's been difficult for me to be up-front about it," she clarified. "Even in my close-knit circle, no one knows that in one eye I barely see fingers on a clear day, or nothing at all. They know I have something wrong with my eye, but not much else," she admits.
You've already proven yourself professionally, so why is it still difficult for you to talk about it?
"I don't like the terms 'sick' or 'suffering,' and don't want to be known as 'that sick lady who founded a company,': I'm a professional even without that title."
So what made you decide to discuss it?
"People have told me that it harms my company, since many assume that 'if' I have Uveitis, it must not be that bad. That's why I decided that I'd like to tell you a bit about the disease, why it is very difficult to cope with, and why it's so important to treat."
Fell in love with a molecule
The first thing that comes to mind when meeting the accomplished businesswoman, is Haim-Langford's exceptional positivity. "In every scenario, you can always look for the positive angle," she says, "everything is solvable, we just need to think how to solve the problem or from what angle we can approach it. I'm constantly searching for new solutions."
The second characteristic that one picks up from her in conversation is her healthy dose of dark humor. "At a clinic run by a Uveitis expert, people either appear really thin because of chemotherapy or really puffy from taking steroids. So you really need two separate wardrobes for each situation. It's a good reason to go shopping," she says with a smile.
She grew up in England, Givatayim, and Yehud, and currently resides in Zichron Yaakov with her husband and two children. She has always had an insatiable interest in science, which she gained from her father David, who in her words is a "serial-problem solver and inventor." During the course of her military service, she served in the Education Corps despite being exempt on account of her illness. She later took the fast-track to complete her doctorate in biophysics at the Technion.
Surprisingly, Haim-Langford chose to enter ophthalmology quite late in her career. She wrote her doctoral thesis on electric mechanisms in the pancreas, and led the small PerAssist incubator company in 2006. Later, she was appointed as VP of Business Development at Medingo Ltd., which develops an insulin pump.
Parallel to her career, in 2009 she co-founded the Israeli Biomimicry Organization with colleague Dr. Yael Hoffman-Cohen, which promotes learning and attempting to imitate nature's forms, processes, and ecosystems to solve humanity's issues in a more sustainable way, and offers lectures, conferences, and open-courses. That was the main guiding principle she later applied when building her company.
In 2011, her life leapt forward once again, when she was appointed as VP of Business Development at Xenia Venture Capital, where she managed the medical portfolio, and conducted due diligence for dozens of biotech companies. She served on the boards of no less than ten companies simultaneously, including that of Eximore, which develops tiny implants for delayed-release of eye drugs. That's where Haim-Langford first encountered ophthalmology.
Some of those portfolio companies were later sold for millions of dollars, among them OrthoSpace Ltd., which developed a "balloon" for treating shoulder injuries and was acquired by Stryker for $220 million; and Medi-Tate, which developed a product for the treatment of benign enlarged prostate glands, and was sold to Olympus Corp. for $300 million. But Haim-Langford's interest in that field waned. "I sat in on too many board meetings where we discussed prostate glands, and I don't even have one," she said with a smile. And in 2015, she fell in love with a molecule that changed her life.
This molecule, TRS, emerged from a study about intestinal worms. The study noted that in certain areas of the world where intestinal parasites persist, autoimmune diseases such as multiple sclerosis or juvenile diabetes are rare. The hypothesis claimed there was an affinity between the two, and the study discovered that the worms secrete phosphorylcholine, a molecule that suppresses the host's immune system and enables them to survive within the host.
Prof. Yehuda Shoenfield and Prof. Miri Blank from Sheba's Center for Autoimmune Disease Research combined this molecule with Tuftsin, a small peptide that is produced naturally in the spleen and helps regulate the immune system. The duo created a new molecule that has shown to be effective when treating mice with autoimmune diseases such as lupus, arthritis, and ulcerative colitis. And when Haim-Langford came across their research, she recognized its potential to treat Uveitis and other autoimmune eye diseases, and decided she had to try experimenting with it.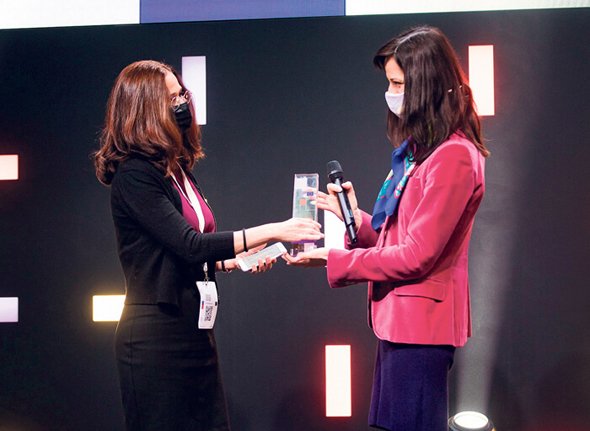 Daphne Haim-Langford receives the prestigious EU prize. Photo: AFP
It isn't simple to leave behind a senior position and found a startup.
"That wasn't even part of it. There's a sense of personal responsibility at play here, and I had the chance to make it reality, with the right set of tools, connections, and capabilities. When I came across this molecule, I knew it was meant to be, that it was written in the stars you could say. And the chance was mine for the taking," she says. "I began to wonder why no one ever developed a drug to treat Uveitis."
What's the first thing you did?
"I made an appointment with my doctor - Ron Neumann (former Corporate Medical Director of Teva Pharmaceutical Industries Ltd.), and told him: 'After 20 years of being treated under your care, we're now meeting as colleagues. I need to understand my disease better.' So we met over carrot juice - since when you're meeting up with your ophthalmologist it's only fitting - and we talked. He agreed to become my company's chief medical manager."
"It was second nature to say yes to Daphne and join her on this project," said Neumann. "The 'drug' that she's developing is the holy grail of ophthalmology - and can be just as effective as a steroid treatment, but without any side effects. Over the past few years, other drugs have been developed but are administered either as pills or injections, which affect the whole body even though the inflammation is mainly concentrated in the eye. Currently, there's still no medical response adequate enough to treat patients' needs, and that's what we're trying to develop."
So where did the name Tarsier come from?
"It's a type of monkey that hails from the Philippines," explained Haim-Langford, "which has the largest visual cortex (the area in the brain where visual information is processed) of any mammal relative to brain size, which grants it excellent vision even in the dark."
"No one cares about your disease"
When Haim-Langford set up Tarsier in 2016, she knew it would be difficult to raise money from investors for the treatment of a relatively unknown disease. "As a businesswoman, it bothered me that no one tried to ever develop a treatment for Uveitis. Quickly, I had to devise a way of raising funds, bringing the product to market, finding ways to please regulators, figuring out how much money this project would cost, and why no one had ever invested in this idea."
Why not?
"When I began to dig deeper, investors simply told me: 'No one cares about Uveitis.' I was shocked. I sat there as the representative of my species and told them: 'How dare you tell me no one cares?!'"
The real reason is this: Uveitis is a rare eye disease. In the U.S., only 350,000 adults have it, meaning only around 0.1% of the population. Another reason for the disinterest is that it is supposedly possible to treat it with steroids, but the solution is far from perfect, since it causes intraocular pressure that slowly and consistently damages optic nerves.
Haim-Langford got back to the drawing table, and decided to change course. She didn't plan on developing a drug for every patient who suffers from Uveitis, but only for those diagnosed with severe cases who later developed secondary or uveitic-glaucoma due to continual steroid use. "When there's an Uveitis flare-up, steroids are administered, but after it passes, the dosage is gradually reduced. For 70% of Uveitis patients, this method works 50% of the time."
"Glaucoma is a disease that causes intraocular pressure. It's the silent thief of sight, and is the leading cause of blindness in the Western world. How can we treat uveitic-glaucoma, if the only treatment available during a Uveitis flare-up is to use steroids that cause the intraocular pressure to rise? And nothing else can really be done, because we need to drain the area as soon as possible otherwise it could cause scarring that can lead to blindness. We approached the FDA, and it felt like someone finally opened the door and said: 'Ask whatever you want, we're listening.' Somehow, it all worked out."
Haim-Langford and her team built a persuasive business plan, and developed a TRS-formulation that could be administered to the eyes. Two years ago, the company began conducting clinical trials after experimenting on rats, rabbits, and dogs. Haim-Langford added: "Experimenting on animals is terrible and dreadful, but these are the terms that the FDA demands, and I didn't have a say in the matter. I became a vegan during the clinical trials period."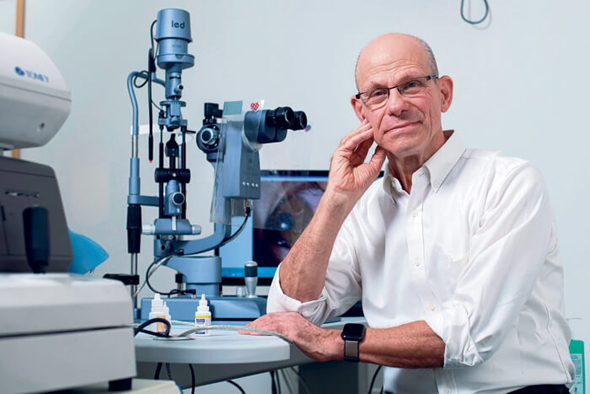 Ron Neumann. Photo: Yuval Chen
Haim-Langford won't ever forget meeting her first patient, who was brave enough to be the first to willingly volunteer to undergo the clinical trial. After undergoing treatment for two weeks, the woman's eyes were cleared of inflammation. But despite the success, the company has had to cope with an infinite number of challenges, which threatened to shut them down.
That has happened too often, since developing a drug to treat eye inflammation isn't easy, nor is raising funds. But the patients give Haim-Langford and her team the strength to keep plowing through. "In the first phase of our clinical trials, a 30-year-old young woman came to one of the clinical sites. She had been receiving chemotherapy for ten years, medication for five, and still lost her eyesight. She came to us with a terrible flare-up in one eye, but her eyes were in such a terrible state that the investigator didn't want to endanger her even more by giving her steroids. After a week with our drug, we saw that she was improving, and three weeks later her eye was completely clear. It was amazing.
"A different patient came to one of the clinical sites with uveitic-glaucoma in both eyes, in extreme pain. She suffered in indescribable ways. We didn't want to cause her even more pain by admitting her into the clinical trial, but the investigator tried to treat her pain. It's different when you experiment on animals, because they can't tell you whether or not something hurts," she says with a sad smile. "But suddenly after a week went by, her pain was gone. That was it."
Have you tried the drug out yourself?
"You know I can't answer that."
What will happen to your company after it receives FDA approval?
"I see us building a large company that will focus on the eye, beyond Uveitis. Our technology has tremendous potential to treat other diseases that cause blindness, and treat millions of patients, such as DME (Diabetic macular edema), which is caused by diabetes and causes rapid vision deterioration and blindness for those 50+. Age 50. This is the age where people want to enjoy their lives, and suddenly are at risk of going blind. It's terrible."
What would you say to the 16-year old you who received that insensitive comment from that doctor?
"That I did exactly what she told me to. She told me pretty clearly - move forward. I don't know whether I did so out of optimism or fear, but I'm always looking forward. I've heard it all: that I'm a 'lost cause' or 'stuck in a hopeless situation.' And I thanked them for their time. Some people call it a 'disease,' but I call it a 'challenge.' And we all have challenges."