Verto raises $1.2 million Seed funding for AI-driven 3D product visualization
The Israeli startup's solution fully recreates a 3D object from smartphone photos, whether it is a piece of jewelry, shoes, eyewear, or another product
Israeli startup Verto, an AI-based company developing 3D imaging solutions, announced on Monday that it has raised a $1.2 million Seed round from a group of private investors led by Chaim Chizik. This adds to the grants it has already received from the Israel Innovation Authority, totaling $3.5 million in funding. Verto was established in 2017 by Nadav Dadon (CEO) and Didi Dvash (CTO).
Verto also announced the expansion of its AI-driven 3D product visualization solution, making it commercially available to customers across various industries. Using advanced AI-based imaging techniques, Verto fully recreates a product, whether it is a piece of jewelry, shoes, eyewear, or another product. The software renders and creates a fully-fledged 3D object, including a 360-degrees video image of any item from just a few pictures taken from any smartphone. Users of the service upload either photographs or CAD files to Verto's website, where once processed will be altered to a fully rendered 3D video for immediate use.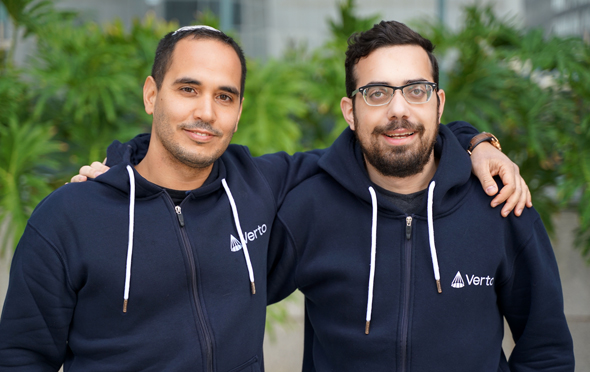 Nadav Dadon (left) and Didi Dvash, co-founders of Verto. Photo: Verto
Verto's growing customer base includes jewelry companies such as 77 Diamonds, Israel Diamond Exchange, and Martin Flyer, and now the company is expanding its footprint to eyewear and footwear, with early adopter customers such as GlassesUSA.com.
"Consumer spending over the last two years has continued to shift into online due to lockdowns and changing of purchasing behaviors," said Nadav Dadon, CEO and co-founder of Verto. "What we are offering is a way for e-tailers, designers, architects, and product development teams to offer a full 3D view of an item that consumers can literally inspect every corner of by rotating it in any angle. All without having to invest in costly photographers or 3D scanner equipment and software."
The Verto imaging services can be available and purchased via a SaaS-based licensing or subscription model. Pricing is determined via the size of an organization and the number of deliverables required and is suitable for both SMBs and enterprise customers.