Intel acquiring Israel's Tower Semiconductor for $5.4 billion
Tower specializes in analog chips used in the automotive, mobile, medical and aerospace industries. It had a market capitalization of $3.6 billion as of Monday's close
UPDATED 12:00PM
Intel Corp is buying Israeli firm Tower Semiconductor for $5.4 billion as the U.S. company looks to advance its strategy of contract manufacturing chips for other businesses.
Intel will pay $53 per share in cash. Intel said that the acquisition "significantly advances Intel's IDM 2.0 strategy as the company further expands its manufacturing capacity, global footprint and technology portfolio to address unprecedented industry demand."
"Tower's specialty technology portfolio, geographic reach, deep customer relationships and services-first operations will help scale Intel's foundry services and advance our goal of becoming a major provider of foundry capacity globally," said Pat Gelsinger, Intel CEO. "This deal will enable Intel to offer a compelling breadth of leading-edge nodes and differentiated specialty technologies on mature nodes – unlocking new opportunities for existing and future customers in an era of unprecedented demand for semiconductors."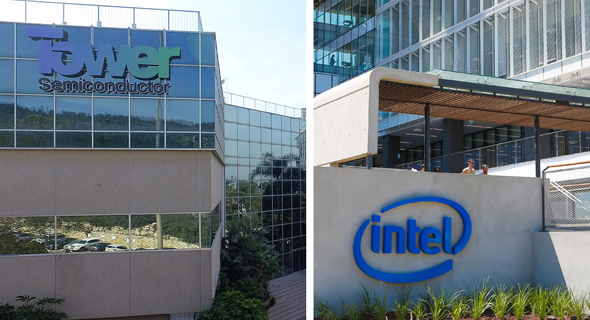 Intel and Tower offices. Photo: Intel and Tower

The purchase deepens Intel's presence in a space dominated by Taiwan-based TSMC, the world's largest contract chipmaker. It also comes at a time when the global semiconductor shortage has hampered the production of everything from smartphones to cars.

Tower Semiconductor, whose U.S. shares surged 53% in extended trading, specializes in analog chips used in the automotive, mobile, medical and aerospace industries. It had a market capitalization of $3.6 billion as of Monday's close.

"With a rich history, Tower has built an incredible range of specialty analog foundry solutions based upon deep customer partnerships, with worldwide manufacturing capabilities. I could not be prouder of the company and of our talented and dedicated employees," said Russell Ellwanger, Tower CEO. "Together with Intel, we will drive new and meaningful growth opportunities and offer even greater value to our customers through a full suite of technology solutions and nodes and a greatly expanded global manufacturing footprint. We look forward to being an integral part of Intel's foundry offering."

The U.S. chipmaker said last month it would invest up to $100 billion to build potentially the world's largest chip-making complex in Ohio. The move is aimed at restoring Intel's dominance in chip-making and reducing America's reliance on Asian manufacturing hubs.

Intel was also looking to buy GlobalFoundries for about $30 billion, according to a Wall Street Journal report in July, but the chipmaker went public a few months later.

Chipmaking is expensive and difficult, so most companies either design or produce. Intel has opened up its factories to rival semiconductor designers to spread costs.

Intel shares were up 0.4% after the news on the Tower Semiconductor deal, which was first reported by the Wall Street Journal.