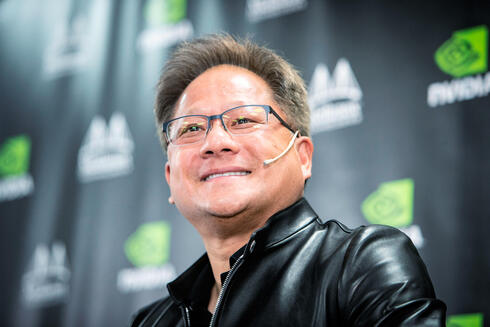 Why did Jensen Huang credit an Israeli company for Nvidia's remarkable success?
The CEO of Nvidia directly credited the purchase of Israeli company Mellanox as an important part of the success of Nvidia, which is heading for an unimaginable annual revenue rate of about $50 billion
Wall Street has been biting its nails throughout the past week awaiting the quarterly reports from Nvidia, which has become the fastest growing and most powerful chip company in the world.
Many found it hard to believe that the company, which currently holds the leading technology for processors that can run generative artificial intelligence applications, would be able to meet the ambitious forecast it set for itself three months ago. And even less so, to be able to increase even further its forecast for the rest of the year.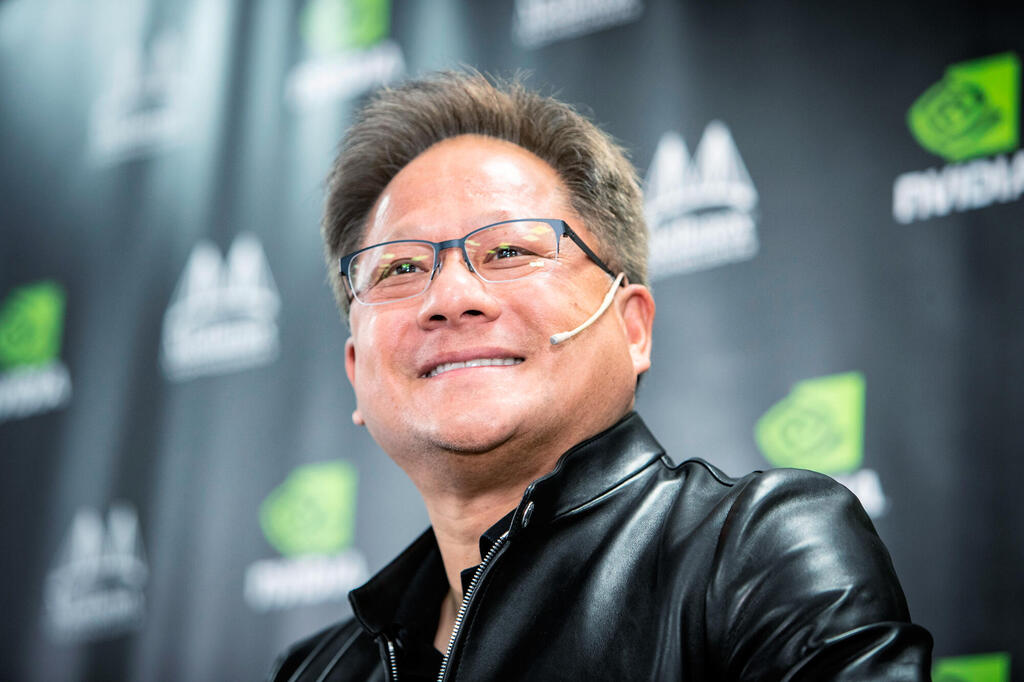 Nvidia left the skeptics stunned, and this will have consequences for Wall Street as well, but also for Israel, where Nvidia employs more than 3,000 workers, and plans to hire hundreds more people in the coming year.
Nvidia's growth is unprecedented. Even the current trillion dollar stars, from Apple to Amazon, have not been able to double their revenue in one year. Apple grew by almost 70% between 2010 and 2011, the years in which the iPhone took over the global smartphone market.
The home shopping frenzy during the pandemic brought Amazon one of the best years it has known with a jump of about 40% in revenue. Tesla is the closest case with a 90% jump in revenue between 2017 and 2018, with an increase from $12 billion to $21 billion.
But Nvidia, which is already dealing in high numbers of more than $10 billion per quarter, managed to surprise analysts on Wednesday with a 90% growth between quarter to quarter and the doubling of revenues compared to the corresponding quarter. At the current rate, after reporting $13.5 billion in revenue in its fiscal second quarter and providing a revenue forecast of $16 billion in the current quarter, it is on pace for an annual revenue of approximately $50 billion. This number is five times higher than in 2020.
The case of Nvidia is also unique because of its profitability which rises at the same time as the accelerated growth in revenues. Exponential growth usually results from taking advantage of an opportunity to take over market share and is therefore accompanied by increased expenses. This is not the case with Nvidia, which on Wednesday reported a net profit of $6.2 billion, three times the profit in the corresponding quarter. The fact the rate of increase in profit is even greater than that of the revenues reflects the jump in the net profit rate from 10% throughout 2022 to 46% in the current quarter. This is unusual profitability for a company whose majority of revenue comes from hardware, although Nvidia is also expanding the software part of its operations. To illustrate, Intel in its best years, reached a profitability of about 30%.
Israel has an important part in this success, and there are not many CEOs of companies valued at a trillion dollars who mention Israeli companies that they purchased and attribute them part of their success. In fact, until today there were none. The closest was when the CEO of Apple sent map users to Waze.
Jensen Huang, Nvidia's founder and CEO, mentioned Eyal Waldman's Mellanox, which Nvidia acquired for $7 billion four years ago, as one of the reasons why its solutions have become a must for any computing infrastructure that wants to run powerful generative AI applications. "NVIDIA GPUs connected by our Mellanox networking and switch technologies and running our CUDA AI software stack make up the computing infrastructure of generative AI," is the exact quote from Huang that appeared in the official announcement of the financial results.
In the U.S., as mentioned, Nvidia's stock is already being called "the new Tesla" - that is, a fascinating company that leads innovation in an important field, but also one whose stock attracts all investors of all kinds, which fills it with hot air. However, Nvidia proved the skeptics wrong on this level as well. After many thought it would not be able to stay above the rare dream mark of a trillion dollars in market value after making its impressive forecasts last May, it ended trading on Wednesday, even before the results were revealed, at a record value of $1.2 trillion.
In late trading it jumped and its share passed the price of $500, completing a jump of 240% since the beginning of the year. It really looks like an excellent point to take profits, but in terms of multiples and based on the new forecasts that Nvidia provided for revenues of $16.5 billion in the current quarter, its current share price is not outrageously expensive. Certainly not the way Tesla was in 2020 or 2021. Nvidia's current earnings multiplier on next year's expected revenue is 22. This is a high multiplier, it is overwhelmingly higher than all the chip companies, but Huang shows that like Tesla, he has created his own league in a field that has many old competitors who are used to dividing the market between themselves.
And above all, Nvidia's report reflects on all of Wall Street. At the moment, Huang represents the bulls in the American stock market and he is going head-to-head with the representative of the bears, Fed Chairman Jerome Powell. What will affect investors more: Nvidia's phenomenal report or the Powell's Jackson Hole speech which, according to estimates, will leave an opening for another interest rate hike.
Considering the timing of the events - towards the end of August and the traditional return of American investors to action after Labor Day in early September, it is likely that the chips will beat the macro. Powell, even if he does not say that interest rates will not be raised again, is not expected to drop bombs in either direction. Nvidia, which has become this year's best performing stock in the S&P 500 index, offers the dream, a look at the innovative future. Therefore, the likely scenario is that the numbers that rocked Wall Street last night will serve as an opening shot for an early year-end rally.