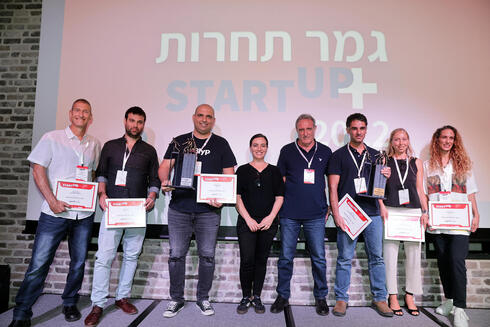 StartUp+

Pickommerce AI Robotics crowned winner of Calcalist and Poalim Hi-Tech's StartUp+ competition
The startup's Dumbo system is a robot that is able to analyze the item in front of it using AI, figure out how to hold it and how to arrange it inside a box in a smart and economical way. "The people who are here today will succeed, not necessarily because they will love what they do but because they will be curious about it," said Michal Kissos Hertzog, CEO of Poalim Hi-Tech
Pickommerce AI Robotics was crowned on Wednesday as the winner of Calcalist and Poalim Hi-Tech's StartUp+ competition for 2022. Pickommerce's system, known as Dumbo, is a robot that is able to analyze the item in front of it using artificial intelligence, figure out how to hold it and how to arrange it inside a box in a smart and economical way. Dumbo works at a rate of 500 to 600 items per hour. At the moment, the grasping process in the world of commerce is still performed in a manual process by human workers. This is because robots today have difficulty identifying items with different weights, shapes, and textures.
Startup Blyp finished the competition in second place. Blyp's system analyzes company information and sends the business owner messages in real time about business insights regarding the store, products, customers, and marketing. The updates explain what happened at the business, what the proposed solution is, and how the events will affect it.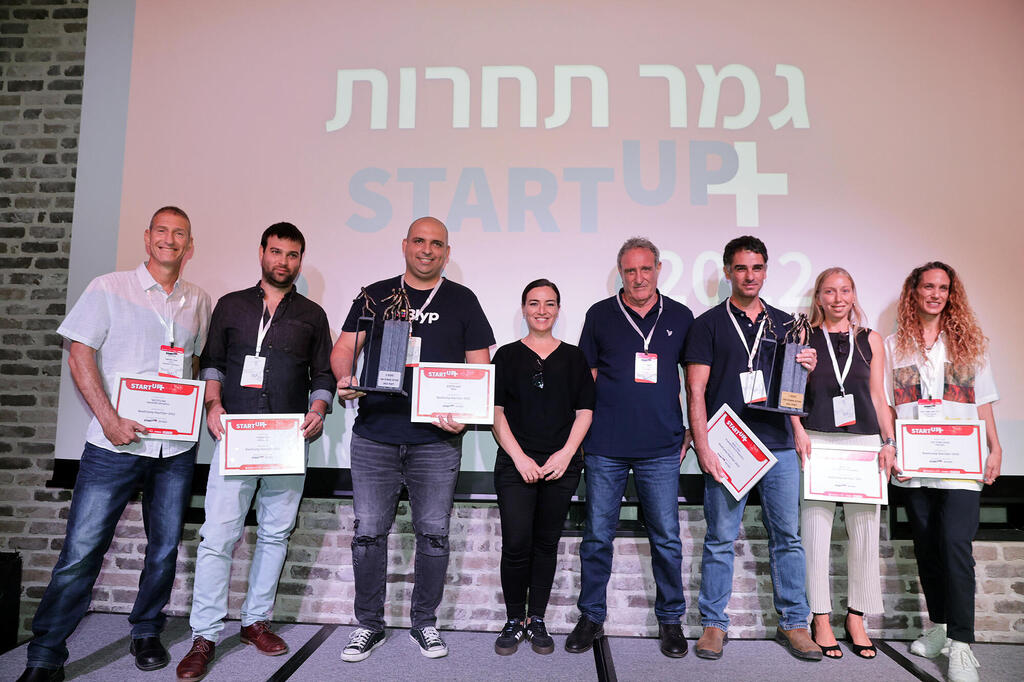 Ruben Krupik, Chairman of the board of Directors of Bank Hapoalim, presented Pickommerce with a NIS 40,000 prize (approximately $11,700) and thanked Calcalist for the initiative. Pickommerce will also receive four hours of expert guidance from Poalim Hi-Tech and NIS 40,000 worth of advertising on Calcalist's website.
The StartUp+ competition was taking place for a third straight year. The competition is designed to accompany new startups on their path to growth. Through the competition's framework, 20 chosen startups got a chance to take part in the special Zell training program for young entrepreneurs at Reichman University. The five finalists appeared in the finale in front of a panel of judges who include partners from some of the leading venture capital funds in Israel.
"The people who are here today will succeed, not necessarily because they will love what they do but because they will be curious about it," said Michal Kissos Hertzog, CEO of Poalim Hi-Tech.
This year's panel of judges included: Renana Ashkenazi, General Partner at Grove Ventures; Dr. Yaron Daniey, Partner and Head of aMoon Alpha; Michal Kissos Hertzog, CEO of Poalim Hi-Tech; Tal Slobodkin, Managing Partner of StageOne VC; Guy Yamen, Managing Partner of TPY Capital; Yair Cassuto, Partner at Pitango VC; Maya Pizov, Partner at Amiti Ventures; Yael Elroy, partner at Viola Ventures; Rotem Eldar, Managing Partner at 10D VC; Nofar Amikam, Partner at Glilot Capital Partners; Avichay Nissenbaum, Managing Partner at lool Ventures; Assaf Wahrhaft, Partner at UpWest VC; Emanuel Timor, Managing Partner at Vertex Ventures, and Elihay Vidal, Editor-in-Chief of CTech.