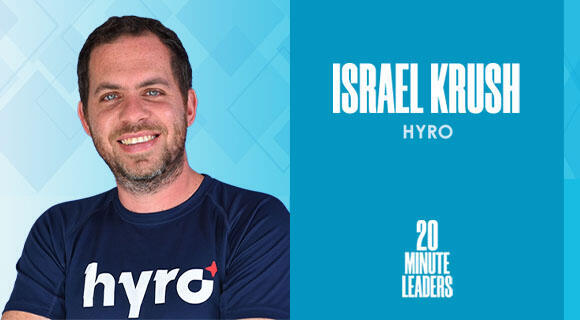 20-Minute Leaders

"In the future, human agents will be focused on complex tasks and the virtual assistants will take the repetitive tasks."
Most people try to avoid talking to virtual agents and chatbots today, says Hyro Co-founder and CEO Israel Krush, and most of them aren't great.
Most people try to avoid talking to virtual agents and chatbots today, says Israel Krush, and most of them aren't great. That's what Hyro, where he is a co-founder and CEO, is trying to change. They are working on conversational AI tools that are more focused on helping people get what they need rather than sounding exactly like a human. Krush explains this will help users get information or get simple tasks done quickly and free up human agents to deal with more complex issues. He shares that he is very interested in how technology will adapt to humans and natural language rather than people having to adapt and learn to use the technology. Consumer behavior is shifting with the generations so that younger people expect technology to understand them. In his role at Hyro, Krush is also learning how to keep a growing team aligned on a single vision.
Four years ago, you set out to look at conversational AI and the way that organizations and enterprises interact in two-way conversations. What is it about conversational AI that sparked your curiosity?
Throughout my career, from 8200 to being in a bunch of startups, I was fascinated with Human Computer Interaction (HCI). I moved to the States to get my MBA. I got exposed there to Alexa and Google Home, back in 2017. I got very excited. Almost immediately, very disappointed with the lack of sophisticated use cases that they can solve.
But I became obsessed with this notion that unlike in the past where we needed to adapt to communicate with technology and learn various gestures, like pinching and tapping, in the near future, technology is going to adapt to human beings. The strong belief that the way that humans are going to communicate with technology, it's going to completely transform to natural language interfaces: that's what drove me to pursue this space. I met my co-founder at Cornell Tech. That's how we started Hyro.
Where are you today in your relationship with conversational AI? Has this understanding or your passion changed?
Absolutely. I think one of the main changes I see in myself is how practical I'm trying to be with what type of problems conversational AI is trying to help us with. We focus on the natural language understanding part. We're trying to become very goal-oriented.
What changed in my view, and potentially it's a bit controversial, is that virtual assistants are virtual. Hence, they don't need to sound like a human being. They really need to help you focus on achieving your goal or to find the information that you want. A change that I've been seeing is this focus around goal completions.
What is the impact of conversational AI in your eyes as we're developing these solutions?
Hyro operates in multiple verticals. But the two main ones are healthcare and real estate. In healthcare, especially with COVID-19, I think that they've realized their contact center problem. They simply couldn't answer all of their calls. Everyone wants to get the information as fast as possible, online 24/7, from everywhere. I think that the new expectations by consumers as well as the operational inefficiencies of these organizations on the contact center drove a lot of them to seek for conversational AI solutions to automate a lot of these interactions.
In healthcare, one of the most significant implementations that we've done was around automating conversations to the call center around COVID-19. In 2021, it was a lot about vaccination eligibility. We were able to automate in one implementation 85% of those interactions using the virtual assistant. That led to significant results, both for the business and also for the patients that were looking for this information.
From the consumer's perspective, how do you see people now responding to conversational AI, chat bots, virtual assistants?
In 2022, the initial reaction is, "Agent, agent." And for good reason. Until now, most chatbots and voice assistants kind of suck, to be completely honest. That's what we're trying to change. However, there are organizations today that will not give you access to a live agent without identifying you first and understanding your status. This is maybe the extreme case.
Let's take another case in the real estate market. You found an apartment that you really like. You want to schedule a tour as fast as possible. But you saw it at 10 p.m. Would you prefer to wait for 8 the next morning or talk with this virtual assistant that, if it's good enough, will be able to schedule a tour for you for the next day immediately? I think that it really depends on what you're trying to achieve and what your other options are.
We will get to an inflection point where you're not sure whether it's a real person or a virtual agent. How does the world change at that moment?
A lot of different areas of technology advancements lead to us humans having more time to do more complex tasks. Let's take GPS as an example. Once, at least I remember myself going on a road trip with a map, memorizing routes, and figuring out what's the best way. That's something that I don't need to do anymore. It's in my phone. Now, I have one more hour to maybe play with the kids because I don't need to plan this trip.
For example, on the customer success or support teams, answering the same repeating easy questions that people can find online and even scheduling appointments: humans won't need to do that. That will leave them a lot of time to focus on things, like talking about a mischarge. That's something that even an agent will take a lot of time on. So what I believe will happen is that the human agents will be tasked and focused on a much more complex set of tasks and will have much more time to deal with humans, whereas the virtual assistants will take the more mandated, repetitive tasks.
I'm thinking for myself, I never used a map. Even for this new generation, talking to a real agent would be almost silly.
Let me tell you a story. We came to the States, me and my family. Back then we had one kid at the age of three, Bar. We went on a road trip in the car. Bar, from his backseat, shouted, "Alexa, play 'Wheels On The Bus.'" And I was like, "What are you doing?" For this kid, he doesn't know what the radio is. He just asks for a song, and the song plays automatically.
For all he knows, he says to the world, "Alexa, play a song." And it plays.
Exactly. The demands of the consumers are constantly changing. Thinking about the next generation, it's really crazy to think about their expectations for technology to be able to understand them and not the other way around.
Today, with Hyro, tell me about where you fit in as the CEO.
I'm very excited when things happen in the company without me knowing it. When the company is at the stage of three, 10, or 20 people, you know everything. Today, we have an executive team, team leaders, and a lot of super talented people that are just advancing the company forward. As CEO in this company, I care about three main things.
One is vision alignment. I'm constantly learning how hard it is to align everyone on the same vision. That's one thing that I'm really spending a lot of my time on. The second thing is making sure that we have amazing people in the company, both to get them on board and then to make sure that they're constantly challenged professionally and have a good time personally. The third thing that I'm doing is making sure that the company has money, on the fundraising front but also being strategic with customers and the budget.
When your mind wanders, does it wander more toward the technology, the consumer behavior shift, or the company's growth?
In the last couple of weeks, I want to say we are going into a completely different market. A lot of my mind is dedicated to how we stay alive while our competitors are going to die. How can we actually seize this opportunity to capture a larger market share? Today, I'm much more go-to market-driven and execution-driven. In order to capture a large market share, especially in this market, you need to have some sort of an unfair advantage. Building a very unique technology allows you to get these unfair advantages. But I constantly think about how it serves the business.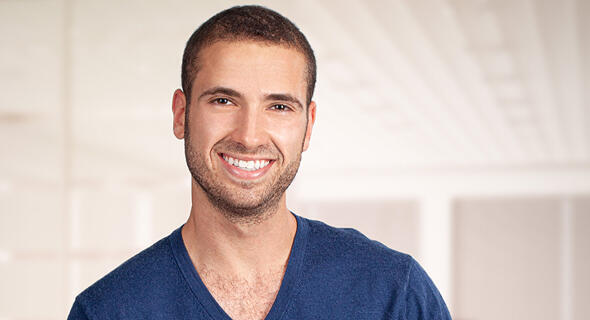 Michael Matias, Forbes 30 Under 30, is the author of Age is Only an Int: Lessons I Learned as a Young Entrepreneur. He studies Artificial Intelligence at Stanford University, is a Venture Partner at J-Ventures and was an engineer at Hippo Insurance. Matias previously served as an officer in the 8200 unit. 20MinuteLeaders is a tech entrepreneurship interview series featuring one-on-one interviews with fascinating founders, innovators and thought leaders sharing their journeys and experiences.
Contributing editors: Michael Matias, Megan Ryan