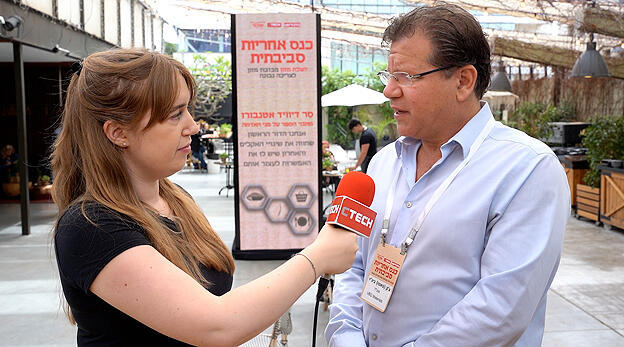 CTalk

"The only way to combat landfills is to create alternative technologies"
Jack 'Tato' Bigio, CEO and Co-Founder of UBQ Materials, spoke to CTech at the Food Waste and Sustainability conference in Tel Aviv about combating food waste and landfills
"We're depleting our natural resources and we cannot afford to continue in this linear waste consumption way of living," said CEO and Co-Founder of UBQ Materials Jack 'Tato' Bigio to CTech during Calcalist and Sufersal's Food Waste and Sustainability conference in Tel Aviv last week.
Founded in 2018, UBQ Materials turns unsorted household waste, including all organics, into climate-positive, cost-competitive, and fully recyclable raw material. A sustainable substitute to plastic, UBQ is a circular solution that diverts waste from landfills and incineration, and preserves finite natural resources. They produce a variety of products from household waste including boxes, construction pipes, car parts for Mercedes-Benz and McDonald's food trays.
Bigio emphasized the importance of finding ways to combat the scourge of landfills, particularly in Israel which is expected to soon run out of room for landfills. "In Israel, the landfill fees are very low. In Europe, there are five times more. In Japan, it's 15 times more. The only way to combat landfills is to create alternative technologies."
"UBQ has developed quite a revolutionary technology that enables us to take household waste…and convert them together without the need of separation into a new thermoplastic material that is green, climate positive and sustainable. The difference between our plastic and the conventional plastics is that they're made out of oil and ours is made entirely out of household waste," Bigio says. "And when I say household waste, I'm speaking about chicken bones, banana peels, your salad leftovers, mixed plastics, diapers, cardboard, pizza box with the pizza - that is the raw material."
You can watch the full interview in the video above.