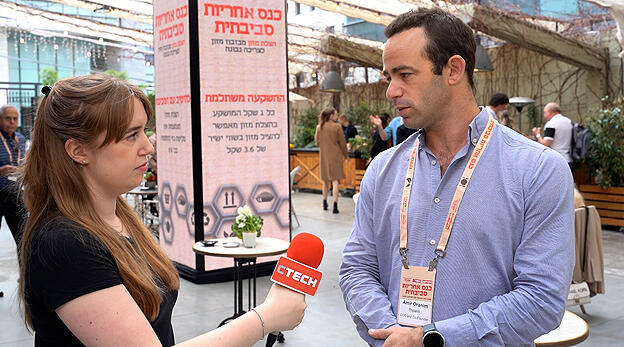 CTalk

"Bioplastics can replace any application of traditional fossil-based plastics"
Amir Oranim, CEO and Co-Founder of TripleW, spoke to CTech at the Food Waste and Sustainability conference in Tel Aviv about why converting plastics is the best tool to address food waste
"Bioplastics can replace any application of traditional fossil-based plastics and an added value is that we solve three problems: the food waste problem, the second is the plastic problem, and we are developing a very environmentally [friendly] process which can save many greenhouse gasses from reaching the atmosphere," said CEO and Co-Founder of TripleW Amir Oranim to CTech during Calcalist and Sufersal's Food Waste and Sustainability conference in Tel Aviv last week.
Founded in 2016, TripleW is a biotech R&D company that develops an industrial process for production of biodegradable bioplastic from waste. It upcycles food waste into high-value, high-demand lactic acid, utilizing a climate transformative technology.
TripleW recently raised $16 million in its latest funding round. Oranim says that TripleW intends to use those funds to scale up their operations. "We're going to use the funds that we just raised in order to implement our technology in food waste sites around the world. We have great partners both in Asia, the U.S. and the EU and this will help us bring us to scale in terms of implementing the technology in multiple sites around the world."
Regarding the current state of food waste policy in Israel, Oranim expressed concern. "I think that the current policies do not implement advanced solutions for food waste. Most food waste is going to landfills, for example," he added. "Because we work with EU partners and partners in Korea and the U.S., we see that the situation there is much more advanced than what's going on here. I hope that soon a more advanced policy will be implemented."
You can watch the full interview in the video above.