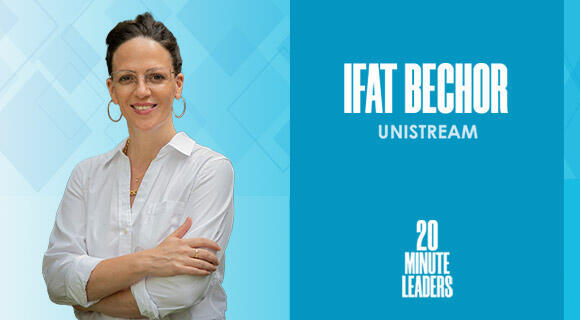 20-MinuteLeaders

"Israel is an amazing startup nation, but it's not yet an inclusive startup nation."
Israel is not yet an inclusive startup nation, says Ifat Bechor, CEO of Unistream. But her organization is working to change that.
Israel is not yet an inclusive startup nation, says Ifat Bechor, CEO of Unistream. But her organization is working to change that and give every teenager an equal chance at success. She shares that Unistream works with teens from Israel's social and geographic peripheries and teaches them to build startups in a multi-year process at 22 entrepreneurship centers. Going through the process of entrepreneurship is life changing, Bechor says, because of the skills and methodologies the students learn. Unistream also has a program it offers to younger students in 90 municipalities. While the number of teenagers they reach is impressive, she explains that it is the individual stories that help her really understand the privilege it is to help these young people. After career stops in marketing, Friends of the IDF, and Birthright Excel, Bechor says she brings together business, social impact, and entrepreneurship in her current role.
Ifat, tell me a little bit about yourself.
We just moved back a few months ago. We were living in New York, and now we're in Tel Aviv. I have three amazing kids and my husband. When I started my career, I was in marketing. I worked in Publicis for many years. Then I moved to New York to work in entertainment marketing. Then someone offered me to replace her in Friends of the IDF. I stayed there for nine years. Then moving to Birthright, leading Birthright Excel.
My unique value proposition, I would say, is this triangle between the business world, social impact, and entrepreneurship/innovation. What I did in the last few years was the leadership and education line that connects these three elements. I think that Unistream is a great place to work and support the younger generation of Israel.
Share with me a little bit about Unistream, the story of Unistream, and the strategy of running it.
Israel is an amazing startup nation, but it's not yet an inclusive startup nation. There are still 30% of Israel's children who live under the poverty line. About 20% do not have computers at home, 27% do not have internet.
We work with teenagers from Israel's geographic and social periphery, and we work with them on building startups with the idea that entrepreneurship is a model that can be a life-changing experience by the skills that it gives you. It's really about believing in yourself, feeling comfortable within the non-comfortable zone, and giving an equal opportunity for success to every teenager in the country.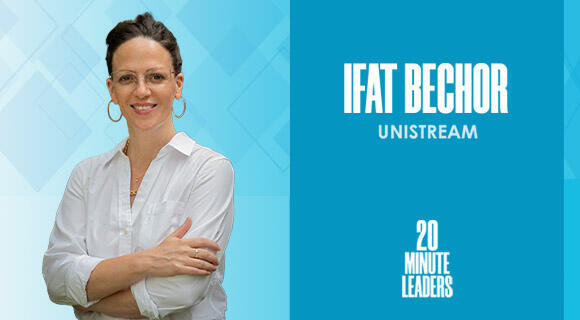 What does the program consist of?
We work with about 3,500 teenagers from everywhere in Israel. From Kiryat Shmona to Eilat. We have 22 entrepreneurship centers where we work with teenagers, mostly in ninth grade to 11th grade, on startup creation: team formation, ideation, validation. They get to work very closely to the business sector. It's a great inspiration. It's a great network. It also gives them the confidence and methodologies for life.
We also have an amazing collaboration for a program with Israel's Innovation Authority and education office, which allows us to give this amazing program to over 90 municipalities, usually for seventh and eighth graders.
They have competitions, work on business models, and learn how to fundraise. Every year, we have an event with about 2,500 people coming to see them. It's the most exciting expo of ideas you can imagine.
Walk me through what an average participant may experience.
We talk a lot about the quantitative, but when you listen to the individual stories, that's when you really cry and you understand what an amazing privilege you have to work with these brilliant teenagers.
We accept every teenager that has the motivation to come and work with a team. They will start by thinking locally about the community, and national and global challenges. It's a lot about problem-solving. They will think about some ideas, then they will meet with some business people, with Go/No Go committees.
The second year, they decide if they want to be the finance person, the CEO, the product person, and then we will help them understand more about that niche. They will then build business models and continue the committee's meetings.
The third year, it's already about marketing and fundraising. We have three centers of what you call "shared society," Arab and Jewish teenagers working together. When you speak to them, you understand that the center is much more than just the center; it's a second home for them.
We continue working with our graduates during their academics, or some go to the IDF. We also help them integrate into professional life.
Why is motivation and commitment an important part of the Unistream experience?
We want to make sure that you accept every person even if he's more on the quiet side or even if he's a person that has a hard time. The only thing is that he is willing to dedicate the time, work with a team, and stay there for a year, two, or three years. I think that more and more, they also see the potential. They understand that they are going to join an amazing community that will support them and give them many tools.
What's the goal here? To create amazing startups or something more about the participants?
We are working now on even better defining the evaluation and the research that we do. What is real mobility when it comes to economic mobility, social mobility? What is our place in the place of the high-tech?
We encourage a symbiotic relationship between the business sector, the public sector, and us. We also have an amazing group that can be the next entrepreneurs and employees of the high-tech industry. Right now, 16% of our graduates work in the high-tech industry. Our goal is in the next three years to bring it to 30%. It doesn't mean that those who will not go (into high-tech) will not be a success story as long as we help them maximize their dreams. We still have the responsibility and the ability to bring more teenagers into the high-tech industry.
Talking about the triangle that Unistream is trying to piece together, who are the different counterparts? How are you making sure that everybody is creating a win-win-win situation?
First and foremost, it's about the participants. If 20 years ago Rony Zarom understood the place of entrepreneurship as an enabler, in the last few years, it became an element that the government sees the importance of. The minister for education wants to bring coding and entrepreneurship into formal education. The business and the high-tech industries understand that they have to support and plant the seeds for their next employees. The triangle is basically a win-win that will allow all sectors to enjoy the fruits of seeing the teenagers, supporting them, giving them the tools, and helping them get to this inclusive startup nation.
How are you thinking through scaling while maintaining quality? What are the big pillars?
First, look at a few elements that are very important. English is one of them. English is a huge barrier in Israel, not enough spoken English. We take English to the next level by really bringing them to speak with teenagers from all over the world just to practice English and to work on hackathons together.
In terms of the scale, we are right now doing an amazing process of rethinking the product. Are we still relevant to our teenagers, the young Gen Z? They're always two steps ahead of us. How do we make sure that, with the technology, with the extra curriculum in English and a little bit of coding, that we are still two steps ahead so they have enough value to say, "We want to be there"?
Once they are there, they become family. But to make them come, it's really about always being agile. It's also about finding the right partners that see the potential and will invest with us.
Is this a model that could work in different countries that may not have a startup nation mentality yet?
Absolutely. I had a few discussions with Argentina and Costa Rica. Actually a hedge fund there said that Costa Rica is not producing enough entrepreneurs. They brought entrepreneurship into formal education, but it's too formal. They're trying now to understand how the informal system can bring a methodology, like Unistream's methodology, into their agenda and work. Also South Africa. I would say that the United States is a great place for collaboration, but they have enough entrepreneurs.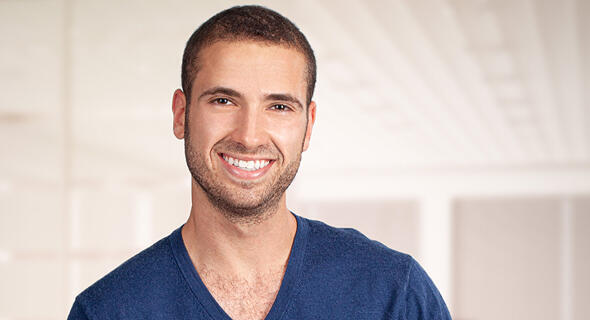 Michael Matias, Forbes 30 Under 30, is the author of Age is Only an Int: Lessons I Learned as a Young Entrepreneur. He studies Artificial Intelligence at Stanford University, is a Venture Partner at J-Ventures and was an engineer at Hippo Insurance. Matias previously served as an officer in the 8200 unit. 20MinuteLeaders is a tech entrepreneurship interview series featuring one-on-one interviews with fascinating founders, innovators and thought leaders sharing their journeys and experiences.
Contributing editors: Michael Matias, Megan Ryan