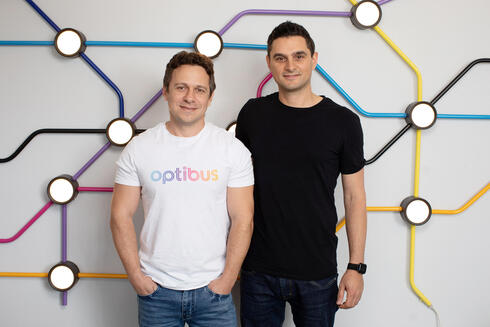 Top 50 Startups List

Optibus CEO pauses to reflect one year after obtaining unicorn status
In the economically unstable year that has passed since Optibus was ranked number one on Calcalist's annual list of the most promising Israeli startups, the company has doubled its revenues and workforce
Optibus was one of the last Israeli companies to become a unicorn exactly one year ago, shortly after it was ranked number one in Calcalist's list of the 50 most promising startups for 2022. The company raised $100 million at a valuation of $1.3 billion, and while the global economic downturn has impacted the value ​​of many unicorns, this has not been the case with Optibus whose value has remained stable.
Among the reasons for this is that while many Israeli software companies tend to sell their product to other high-tech companies which have been hit hard by the global economic downturn, Optibus works with low-tech organizations. It was the right place to be in 2022, and it is still the right place today.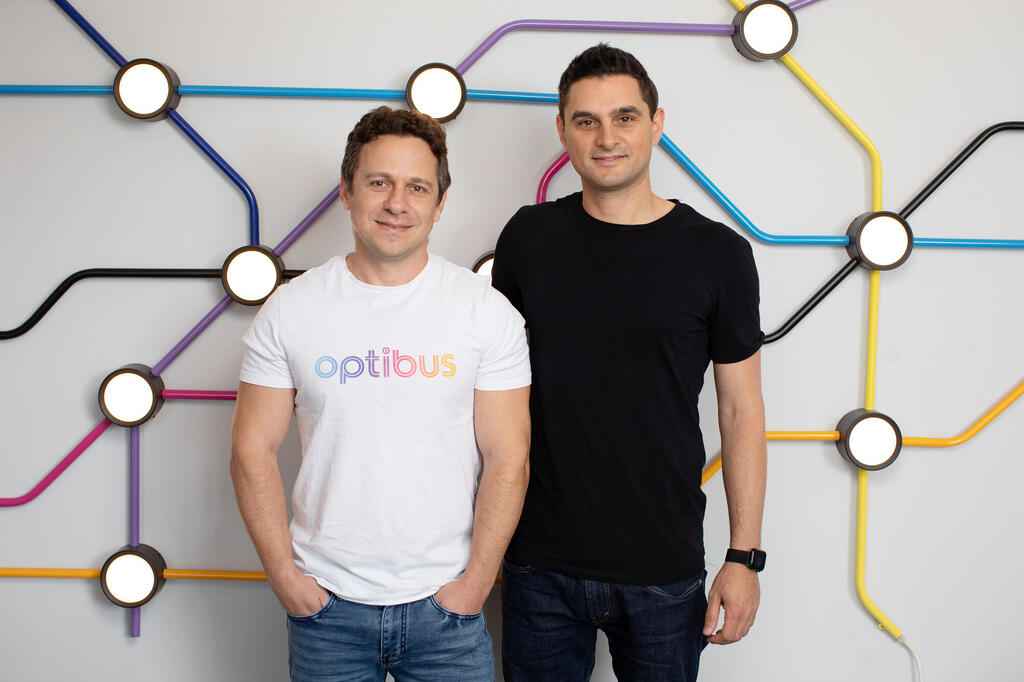 Founded by CEO Amos Haggiag and Eitan Yanovsky in 2014, Optibus developed software for the management of public transportation. Until Optibus, this kind of data was managed via paper and a pencil or an Excel table. Optibus enables the visualization and analysis of ridership data directly on the map during the network planning phase, giving planners deeper insight into how the city moves.
Optibus operates all over the world, even in developing countries, where the aftershocks of the rise in interest rates have been felt to a lesser extent. This decentralization of the company was unusual for the Israeli tech sector, but it is partly why Optibus was not hit as hard by the economic slowdown of the past year. On the contrary, the company has doubled the number of cities in which it manages public transportation, from 1,000 at the beginning of 2022 to 2,000 within the year.
"In the last year, we have grown nicely, because the economic situation works differently for us: in times of crisis, people give up cars for economic reasons and switch to public transportation. During crises, governments also initiate more projects, including transportation," Haggiag told Calcalist.
"We entered cities with some of the largest public transportation systems in the world - Sao Paulo and Rio de Janeiro in Brazil. When we start in a new place, it sometimes requires a real revolution. In Wales, for example, we rebuilt the entire bus system, in a process that lasted more than a year and included planning new lines, schedule boards, and more. In Kampala, Uganda, there was no public transportation at all, and there we were part of a huge project that also included buying buses and planning the layout of stations."
Last year you said that your software manages 80% of public transportation in Israel, but it is hard to say that this is a particularly accurate or effective system. Did you fail?
"The public transportation system in Israel is very unique, because here the Ministry of Transportation is responsible for planning the lines, and the operator has no ability to improve them. Everything is dictated from above. The official explanation, at least historically, is that it is a small country. For comparison, in the United States, there are public transport operators that are responsible for areas that include 5,000 residents. In Israel, they started processes designed to change the situation and allow the municipal authorities to plan transportation, but this has not happened yet."
Due to the economic woes of the past year, it has been challenging to measure how the companies included in Calcalist's 2022 ranking fared. With the exception of Mobileye, which was re-issued in the fall of 2022, and a few companies that completed IPOs that were signed as early as 2021, the IPO market on Wall Street was practically shut down. M&A's were also few and far between. This is within the context of many companies cutting expenses and laying off many workers, in order to survive until the industry recovers and attracts investors again.
Contrary to the trend in layoffs, which included some of the biggest companies in Israeli high-tech, Optibus doubled its workforce to 400 people, and it is still recruiting. "We are living in a new economic environment, so this year we will not double the number of employees," says Haggiag. "We could have grown more, both in employees and in revenues as a result, but that would have required additional investments and increased expenses, which we did not want to do in a year like the last one. Last year, we released a new product for managing public transportation in real-time, but we are consciously slowing down the addition of customers for this product because the support and implementation require many hours of work." In the meantime, Optibus has still doubled its revenues and is estimated to reach $100 million by the end of the year.
Do you already see an IPO on the horizon?
"We still have a lot of money in the coffers from the May 2022 funding round. Conversations about an IPO will happen when the time is right, in terms of the market and the company. Last year we saw what happens to companies that issue too early. It is true that the entire market was affected, but such companies were affected more significantly. We don't want to be in that situation."
Some of your investors got in just before the markets crashed. Did they pressure you to cut back?
"I've heard this from many companies, but with us, most initiatives for recruitment and expansion came from management, and everything we presented to the board was approved. We did not receive instructions to lay off or become more efficient, perhaps because they saw that we were thinking about expenses anyway. For example, we did quite a bit of work on the product, which was intended to allow for the same number of employees to support more customers."
In addition to reducing costs, what are the growth engines that will bring you to Wall Street?
"The trend of electric buses, which is becoming more prominent due to regulation in many countries, for example, in England, or California, which requires that new buses have zero emissions. President Biden built an entire plan around environmental development and the electrification of transportation, also out of a desire to bring transportation to the American heartland. This is more than a trend: by 2035, most of the buses in the world will be electric, and the main challenge is in planning and managing an electric fleet. Unlike normal fueling, it is impossible to charge too many buses in one city at the same time; you have to plan the schedule, and when two buses arrive at the same charger together, you have to decide which one will be charged first. On the one hand, these are new problems that need to be solved, and on the other hand, it is also a larger and more complex market, which can no longer be managed manually. Another engine of growth is the railway sector, where everything works more precisely, but this is also a very outdated world when it comes to planning driver shifts, for example. We already have quite a few clients in the field, including one of the largest railway companies in Germany."
To what extent do the events of the last few months regarding the judicial coup affect business?
"We are not seen as an Israeli company. We have local companies in 25 countries, and the contracts are always with the local company. It's not that we hide the fact that we are an Israeli company, but locality is important because of the nature of the market: there should be a local office that offers support in case of a bug because then the public transportation system will be impacted."
Do investors not ask questions about what is happening in Israel?
"Of course there are questions. Investors are concerned that the situation is unstable and know that there are problems in Israel, without delving into the specific changes in the judicial system. That is why it is very important that the situation stabilizes. The board expressed concern, but they did not specifically tell me to 'take the money out of Israel.' It is the decision of the CEO and management regarding which direction to take. Of course, if I decide to take the money out of Israel, investors won't object because it would be spreading the risk."
Unlike many high-tech companies, whose founders and leadership are involved in the protests against the coup, you've been absent. Why?
"We have great diversity among the employees, and I felt that if the management expressed a position it would hurt certain employees. We did speak out when there was an attempt to pass laws that create clear discrimination, and we also allow any employee who wants to strike or demonstrate to do so without restriction, because at Optibus employees have unlimited days off."
In conclusion, what does it mean to be a unicorn?
"I don't know if that has any meaning, but you do feel what it is to be a large company. Every year there are completely new challenges and a different focus. The money we raised also allows us to make acquisitions. We made one last year in the United States, and we will acquire companies this year as well."