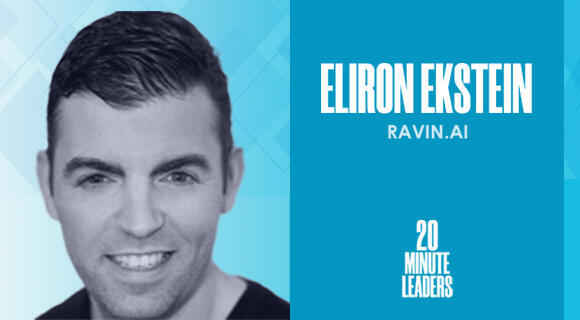 20-Minute Leaders

"Once you dive in from your starting point, you suddenly realize there's this whole world of opportunity."
Every entrepreneur needs a starting point, shares Eliron Ekstein, co-founder and CEO of RAVIN.AI. But from there, you find an even bigger world of opportunity.
Every entrepreneur needs a starting point, shares Eliron Ekstein, but from there, you find an even bigger world of opportunity. His starting point came from looking for ways to expand services at Shell gas stations and realizing that AI car inspections could help the drivers there. The idea blossomed into RAVIN.AI, where Ekstein is now CEO. With the RAVIN platform, a car's physical condition can be assessed via a web tool and algorithm. This helps fleet managers and car rental companies save time and register damage and also helps people gather more information on a used car remotely, he shares. By doing more thorough research before seeing the car physically, purchasers can save time, effort, and emotional investment in the process. This allows a final decision to be made more quickly. Ekstein is excited about the automotive space because the impact on people and the economy is huge.
Tell me a bit about yourself. Why are you so passionate about cars and AI?
I'm half British, half Israeli. I've spent most of my career in the UK. My education comes from finance and business. I did my MBA in London Business School. I ended up in a position with Shell, the energy company. We figured that we have more than 25 million drivers daily driving through our gas stations and we sell them just oil products and coffees. Shell sells more coffee than Starbucks. We have this captive audience, which is massive. We thought, "What can we offer them other than coffee?" We ended up investing in companies that have all these cool solutions. I ended up as a CEO for some of these products and companies. One of them was FarePilot, trying to sell a software that helps professional drivers optimize between the different ride hailing services.
When we spun that out and I went back to Shell, RAVIN came up. We thought, "Can we actually film those cars and tell something about the cars to those drivers?" We can tell them, for example, that they have got rust they have to take care of. Or something that is just wrong in your vehicle.
It makes a lot of sense. How many times do we actually go to a mechanic to check on our tires? If we get a response that we need to change, it's probably long overdue.
Correct. That's the starting point. That's the interesting thing about being an entrepreneur: you've got to have a starting point. But then once you dive in, you suddenly realize there's this whole world of opportunity.
Once you look at vehicle inspections, you realize that a vehicle is actually a very expensive asset. For many households, it's the second most expensive asset they'll ever own. It's always exposed to the elements. It's always exposed to this random bicycle that could run into it. The cost of replacing parts, the cost of repairing, the cost of the vehicle being off the road is enormous. It's a real pain. So that got us going.
How did you decide where to focus?
That's when you step back and use your consulting skills. You think about the market size and where there is room to enter. It took us a while to figure out the exact verticals and use cases we wanted to focus on. The first use case is fleets and car rental where there's a lot of transition and handoffs of vehicles. We want to give a snapshot to the owner of how well the driver's been handling the vehicle. The second use case was used car assessment. We realized that some of our scans could shed light into the condition of a vehicle for an unprofessional buyer.
You would imagine that people would have a lot of great tools to make good decisions on a vehicle purchase. This is a really big deal.
Absolutely. When you think about the process today, you invest a little bit of research upfront before you pick a vehicle to actually go and investigate further. You only get to the in-depth inspection when it's almost too late and you are already invested in the process. What we do with RAVIN is we give more tools for ordinary people to look at a vehicle remotely, before they emotionally invest and invest their time and effort into it.
Is this product already live? Is this making an impact already?
Absolutely. On the fleet side, we've been live with different companies. We have a client in New York called Buggy TLC, and they rent cars to Uber and Lyft drivers. We've seen the accountability going up and level of damage on the vehicles going down, thanks to using the tool. In the used car space, we have partnerships like with KAR Global that operate used car markets across North America. This tool saves time and adds transparency to the transaction.
It sounds like a great problem to solve. But why is this the most exciting thing for you right now?
I think the role of cars and trucks in our system, in our economy, is massive. Probably hundreds of miles were driven just for you in the last three days. The impact that transportation and vehicles have on our economy is enormous. If we can generate savings, if we can actually use less vehicles for more of society's demands, that's a major improvement on human life.
You're changing the way that we are thinking through this process of car inspections. Where does the bigger step function, if you had to guess?
It's something that is embedded in different steps in the process. I'll give you an example. You're researching your next used car online; this is another tool that helps you filter out the bad and focus on the good ones that meet your requirements. It saves you lots of time and effort. You only travel and meet the seller that you feel strongly about. You also spend less money on physical inspections. You're creating a lot of transparency that creates, in turn, an efficiency. On the fleet side, lots of savings on driving back and forth to get a car estimated for repair. Lots of different efficiency points once you adopt this kind of tool.
Different fleet managers, car providers, purchasers, what is their interaction with your product today?
The way we built it as a platform, the most common use is that you get a web tool and you can click on a link. Once you pick up a car or return a car, it opens the camera on your browser and you're then guided by the tool to document the vehicle. Using computer vision, an algorithm that we use on the front end and also in the cloud, we can create a profile of that vehicle and identify potential areas of problems. In the rental experience, you'll have a log of the condition of the vehicle over time. In a used car setting, you'll have a snapshot of the vehicle at that time.
However, if you think a few years down the line, you could start creating a database for the vehicles of the world and start logging all these inspections as the history of that vehicle.
You provide some information through the inspection. Is this enough for them to make a decision? Do they then need to take it to a thorough in-person inspection?
For a buyer of a vehicle, in many cases, our inspection will be enough for them to make the decision. We can give an indication that translates into a very tangible outcome, which is a grading of the vehicle. Our algorithm is sophisticated enough to give that grade, and it would be roughly what a human professional inspector would give that vehicle.
If you're extrapolating this further down the line, what is your vision here? How do you grow RAVIN.AI, and what are you trying to make it to be?
The idea is that everywhere that you hand over custody on a vehicle, the tool is so seamlessly embedded in every process and every transaction that it is becoming a stamp. Obviously, we'll need to add much more tools around mechanical condition, electric conditions, battery condition for electric vehicles.
But at least on the physical status of the vehicle, we can already create a really good representation, which expedites the transaction, which creates a peace of mind. I think the use cases will continue growing as we see more shared mobility. You're no longer renting from Hertz and Avis; you're renting from a neighbor.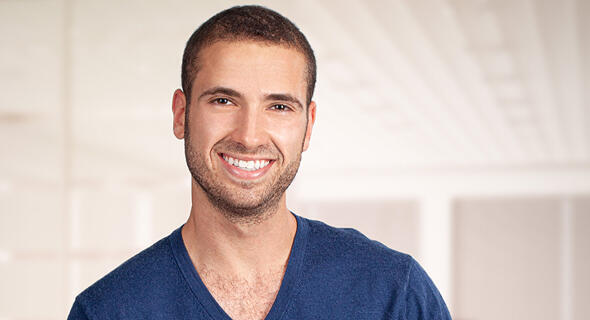 Michael Matias, Forbes 30 Under 30, is the author of Age is Only an Int: Lessons I Learned as a Young Entrepreneur. He studies Artificial Intelligence at Stanford University, is a Venture Partner at J-Ventures and was an engineer at Hippo Insurance. Matias previously served as an officer in the 8200 unit. 20MinuteLeaders is a tech entrepreneurship interview series featuring one-on-one interviews with fascinating founders, innovators and thought leaders sharing their journeys and experiences.
Contributing editors: Michael Matias, Megan Ryan