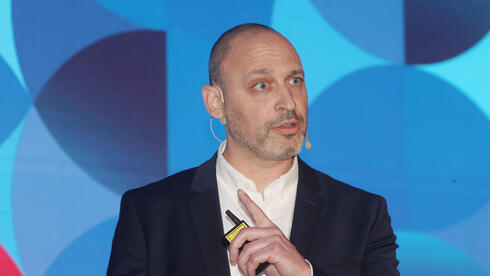 Mind the Tech London 2023

Doral CEO: "Imagine all of Tel Aviv covered in solar panels"
Yaki Noyman, whose company was the first to connect a solar system to the electricity grid in Israel, explained at the Mind The Tech conference in London, that in order to reach zero carbon emissions in Israel by 2050, many innovative solutions are needed. "We are on our way to establish a green hydrogen production facility, for the first time in Israel"
Yaki Noyman, CEO of Doral, presented a picture of Tel Aviv at the beginning of his remarks at the Calcalist and Bank Leumi Mind The Tech conference held in London this week. "Its area is about 50,000 dunams," he said. "Now imagine the city covered entirely in solar panels. This is the size of the solar project Doral is currently building in Indiana, which is the largest project in the US. It will produce enough clean electricity for more than 250,000 homes - that is, 1.6 gigawatts of green electricity - and the governor of Indiana is an enthusiastic supporter of it."
The Doral Group is a global entrepreneurial company that operates in Israel, Europe and the USA. The company also has a division that deals with environmental infrastructure and an innovation and investment arm - Doral Energy Tech Ventures - which invests in synergistic technologies for the company's activities. Doral Tech's activity creates a distinct competitive advantage for Doral thanks to the investments In technology, integrating innovation in entrepreneurship and business development and business connections.
Calcalist's annual Mind the Tech London conference focused this year on the changes experienced by the high-tech sector over the past year. The conference assessed how the shakeup in the markets affected the high-tech economy, reviewed the next trends in the world of technology, as well as which sectors took a leap forward and those that received an opportunity to reassess their course. ‍
You can watch his full remarks in the video above.