Teva's Perfect Storm Sends Tel-Aviv Stock Exchange Down
Teva's stock price dropped sharply on Thursday and Friday after the company released quarterly revenue and profits that fell short of analysts' forecasts
Hit by a perfect storm Teva Pharmaceutical Industries' stock price plunged 33% last week. The Tel-Aviv stock exchanged delayed Sunday morning's trade start to cushion the effect of an 18% price difference.
Burdened by a continuous decline in generic product prices in the U.S. market, Teva's stock price dropped sharply on Thursday and Friday, after the company released quarterly reports in which it wrote-off $6.1 billion, falling short of analysts' revenue and profits forecasts.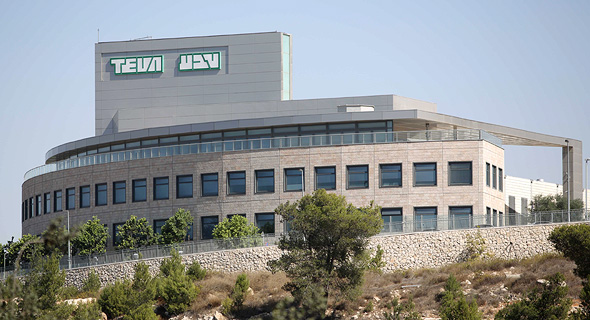 Teva's manufacturing plant in Jerusalem
As part of cost cutting plans Teva intends to close or divest 15 plants in 2017 and 2018 and pull out of 45 markets, the company's interim CEO Yitzhak Peterburg said on an earnings call Thursday.
The TA-Index—an index tracking stock prices of 125 of the biggest companies traded in the Tel-Aviv Exchange—was down 1.05% this morning.
Founded in 1901 in Jerusalem, Teva is the world largest seller of generic drugs and the biggest Israel-based commercial company.
Headquartered in Petah-Tikva, 6 miles to the east of Tel-Aviv, it is the largest company by market capitalization on the Tel-Aviv stock exchange, and a big domestic employer, with around 7,000 employees in the country.
It is also one of the brands most often associated with Israel's economic success and the country's prowess as a technology and innovation hub.
The company's stock currently trades at its lowest price level in over 14 years.
In August 2016 Teva completed the acquisition of Allergan's generic unit Allergan Generics for $40.5 billion, raising Teva's debt load to $36.8 billion. Together with the expiration of patents related to Teva's flagship multiple-sclerosis drug Copaxone, it sent the company's stock price down over 50% in the course of the next ten months.
Following a series of business missteps, Teva was left in February without a CEO, after Erez Vigodman stepped down. Mr. Vigodman was
replaced by the company's chairman Yitzhak Peterburg on a temporary basis.
At the end of June, Teva's chief financial officer Eyal Desheh resigned as well, leaving the world's biggest generic drugmaker in a precarious position.
The past month has been especially difficult for the company.
Last month, Teva's ongoing efforts to recruit an experienced CEO were foiled. Following a Calcalist report about talks the company held to sign AstraZeneca's chief executive officer Pascal Soriot, the Anglo-Swedish drugmaker reportedly hurried to renegotiate with Mr. Soriot, making sure he stays at the company's helm.
Teva's incorporation documents state that the company's CEO needs to reside in Israel, making the hunt for the company's future CEO more difficult.
On Wednesday last week, a New-York state supreme court rejected Teva's claims concerning an alleged fraud by the owners of Representaciones e Investigaciones Medicas, also known as Rimsa, a Mexican drugmaker it bought for $2.3 billion in 2015. Shortly after the acquisition, Teva shut down Rimsa's operation. On Thursday last week, Teva said it would continue to pursue a breach of contract suit against Rimsa's owners.
The same day, a lock-up period on 100,000 Teva shares transferred to Allergan as part of the 2016 deal to acquire the latter's generic unit ended. Allergan had to write off $2 billion dollars due to the drop in Teva's stock price in its 2017 first quarter reports, tipping its bottom line to losses.