Regulation Hinders Innovative Drug Development in Israel, Executives Say
Despite Israel's advanced medical infrastructure, excessive red tape steers pharmaceutical companies away
Excessive regulation is blocking the development of innovative drugs in Israel, say industry executives who participated in a panel moderated by Calcalist on August 28.
Ranked four in the world in 2013 by Bloomberg, Israel's medical system is among the most advanced in the world. But stifling regulation is prolonging clinical research cycles in the country, and pharmaceutical companies are taking their business elsewhere. In Eastern European countries it takes just 90 days to recruit patients for clinical trials; in Israel, it may take four to five months, according to David Gal, general manager at pharmaceutical company Eli Lilly and Company.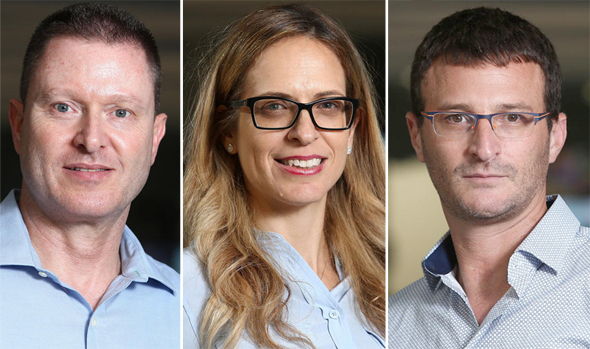 Left to right: Raphael Blum, Idit Chernovitz, David Gal

With over 250 multinational corporations with research and development operations on ground in the country, only a handful of pharmaceutical companies have set shop here, going beyond local marketing teams.

Only four drugs developed in Israel have been approved by the U.S. Food and Drugs Administration so far, the first of them being Teva Pharmaceutical Industries Ltd's Copaxone 20 mg in 1996.

The troubled generic drugmaker has failed to develop a new blockbuster drug since, choosing instead to toe the line and sink money into the development of both generic and brand-name drugs.

Teva's generic drug-related acquisitions proved pricey but not profitable, costing the company nearly $2 for every dollar of revenue, and at the same time, the company has no new superstar brand-name drug to show for the $4 billion it invested in clinical development over the past decade.

Last week, Gilead Sciences Inc. announced it signed a definitive agreement to buy Santa Monica, California-based cancer-treatment developer Kite Pharma for $11.9 billion. The latter was founded by Israeli-born Arie Belldegrun, utilizing patents developed at Israel's Weizmann Institute of Science, and the company raised funds from Israel-based investors. Mr. Belldegrun previously founded and sold two other companies—both in the U.S.

With the global spending on pharmaceutical research and development reaching $157 billion in 2016, it's no wonder local companies want their share of the cake.

To address these issues, a joined team was recently established by the Israeli Ministries of Health and Economy. Headed by Moshe Bar Siman Tov, director general of the Ministry of Health, the team intends to promote the establishment of a pharmaceutical research and development center in Israel.

"The long time it takes to approve clinical trials in Israel prevents such trials from being performed here," said Mr. Gal. "It's a market and business like any other, and every country wants these resources invested in it. It's competition."

"Patents are granted for 20 years, 10 of them spent on development. Very little time is left to return these investments. The bottom line: when regulation is slow, there's not a good enough reason to choose Israel," added Raphael Blum, general manager at pharmaceutical company AbbVie Inc.

"We try to convince (companies) that it's worth it, that the resources here are better than everywhere else, but frankly I'm not always sure that's true," elaborated Mr. Gal. "We perform this work out of patriotism because we want to bring the pharma industry to Israel."

Aside from resources, clinical trials could save lives in the countries where they're held.

"It would be nice if an experimental drug that could slow a disease would be tested here," said Idit Chernovitz, secretary general of Pharma Israel, the Israeli association of research-based pharmaceutical companies. "Not only do trials make Israel money, but the doctors heading them are at the global forefront."